Expatriate living in Malaysia : looking for an apartment in Malaysia
If you have decided to take the plunge, or if you are planning to move to Malaysia, here are some quick tips we can share with you.
Again, this is only based on our own personal experience.
The criteria will differ from one family to another.
Searching for an apartment in Malaysia is not a very difficult mission, as long as you know what you want exactly.
Criteria to be taken into account
There are plenty of accommodation offers in Malaysia, especially in Kuala Lumpur.
Coming from the Paris area, there is a very big difference here: you can, as we said in our apartment search videos, do the "difficult".
If you are completely free geographically, for example, you work online, then the choice will be even greater.
Here are some of the criteria we used to make our selection:
Apartment or house?
This will depend mostly on your geographical obligations. In Kuala Lumpur, you will have a lot more choice for apartments, in condominiums (these are residences with usually several amenities: swimming pool, sport rooms, tennis courts, basketball courts, etc.).
Close to schools?
If you don't have children to send to school, then you won't have to worry about this.
There are many international schools in Kuala Lumpur, but also all around Kuala Lumpur, such as in Selangor, especially if you are interested in Cyberjaya.
I remind you that as a foreigner, you will not be able to enroll your child in public school. We will make a video about education and school in Malaysia.
Furnished or not ? Area ?
It's up to you to choose if you prefer a fully furnished apartment, and accept the proposed decoration, furniture or beds not necessarily new.
You will also have to choose according to the number of rooms you want.
Duration of commitment
Generally between 1 and 2 years.
You can always negotiate, if you go through the owner directly for example.
Budget
Of course, the most important criteria is the budget.
You can find apartments for less than RM1000 to apartments for more than RM10000.
In short, it's pretty much the same criteria as anywhere else in the world, except that here you can be much more demanding, especially if you have the means.
In the Paris area, we used to make concessions on what we wanted, here, it will be the opposite: you can get better than what you expected.
But be careful, it's not all good and rosy either.
Pet
If you have a pet, check with the owner to see if you can bring your own.
In our residence, pets are not allowed (on the papers), but many people have a dog.
Work and customization
If you want to redecorate, before signing the contract, ask them if this is possible.
For example, in new residences, it is not possible to do some work because the apartment is still under warranty.
In one of the residences we visited, painting the walls was not allowed.
According to the owner, it was to avoid conflicts with the manufacturer's warranty…
Where to live in Malaysia?
Kuala Lumpur, the capital : a safe place to start
If you don't know Malaysia at all, then Kuala Lumpur seems to be the most logical choice to start.
You won't have the beach, but you'll find everything you need: schools, shops, entertainment, airports, train stations, etc.
A few flaws that could be cited, again, this is personal:
The center of Kuala Lumpur is often crowded, noisy, and very old.
If you are a Muslim, and your goal is to make the hijra in Malaysia, Don't expect to have the mosque right outside your door (not impossible, but not easy in Kuala Lumpur either), or to hear the call to prayer (adhan) from your window.
Rents are generally more expensive in Kuala Lumpur, especially in the city center.
Some of the most popular areas in Kuala Lumpur:
Bukit Damansara,
Mount Kiara,
Bangsar South,
TTDI (Taman Tun Dr Ismail),
KLCC (Kuala Lumpur city center), etc.
Once again, everything will depend on the criteria and tastes of each person!
The suburbs of Kuala Lumpur
There are many popular expatriate neighborhoods around Kuala Lumpur.
The state surrounding Kuala Lumpur is Selangor.
Beware, it is much larger than Kuala Lumpur.
In fact, if you don't want to go too far from Kuala Lumpur, you should rather go to the area called KLANG VALLEY.
Klang Valley generally implies the Kuala Lumpur area, and several districts around Kuala Lumpur.
For others, Klang Valley includes Kuala Lumpur, Selangor and Putrajaya.
There are no official limits.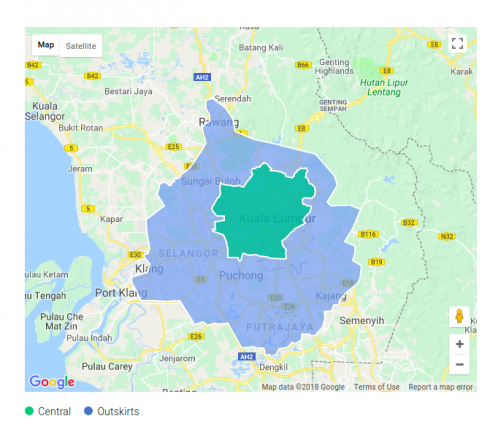 Klang Valley districts :
District Petaling which includes the cities of Shah Alam, Petaling Jaya (Kota Damansara district for example), Subang Jaya.
Klang District
Gombak District
Hulu Langat District
Sepang District which includes for example One South, etc.
Kuala Langat District
A little further away : Cyberjaya / Putrajaya
Cyberjaya is located in the state of Selangor, in the district of Sepang.
Cyberjaya is located about 26 km south of Kuala Lumpur.
It is generally included in the Klang Valley area.
We appreciate this area. You can find many more "private" neighborhoods of houses, with gardens.
For a family, it is really the best in our opinion.
On the other hand, the car will be indispensable.
Penang Island
Penang is a popular place for many expatriates.
You will find an airport there.
Between Penang and Kuala Lumpur, it takes 55 minutes by plane.
By car, it is better to plan about 5 hours for 350-370 km, including breaks.
Other cities
We are not going to make the tour of all the cities of Malaysia, but some held us the attention, as for example:
Kota Kinabalu, which on the eastern part, Borneo
Kuantan,
Kuala Terengganu,
Johor.
How to look for an accommodation in Malaysia?
[Section réservée aux membres]
How much should I expect? Budget accommodation Malaysia ?
[Section réservée aux membres]
The payment
[Section réservée aux membres]
Some videos of our apartment visits in MALAYSIA
We visited a multitude of apartments in Kuala Lumpur, and also some in Cyberjaya.
You can find all our videos on our YOUTUBE channel.
Apartment in PUCHONG (Selangor)
Apartment on Cyberjaya (Selangor)
Apartment in Kuala Lumpur Center
Our advice
Take an airbnb for a few weeks while you look for your ideal accommodation.
Start researching before you arrive in Malaysia : locate the areas, or residences, that interest you.
Always make visits with different real estate agents, even for the same apartment : the price and service can be different.
Think about the day-to-day details: think concretely. It's silly, but for example, check if the parking is not complicated, if your parking space is quickly accessible (and you don't have to drive up and down 8 floors every day…), if the common areas are well maintained if the neighborhood seems to be correct, if there is a dominance of nationality or not (you can find community residences, Japanese, Chinese, Indian, etc.) etc.
Before making a decision, it is interesting to read the MANAGEMENT OFFICE of the residence (if you are in a condominium or residence) to know the functioning of the residence (opening hours of the amenities, swimming pool, rules, etc.).
After moving in, contact the management office of the residence to finalize the administrative part (billing of charges such as water, if necessary).
We also offer a service to help you find your apartment in Malaysia, remotely.
We take care of contacting the real estate agents, then we will make the visits for you.
We will then provide a 15 to 30 minute video (depending on the size of the property) within 48 hours of the visit.
You save time and reduce stress!