Best time to visit Malaysia : avoid the rainy season
When to leave Malaysia? the question that every nature and water sports lover asks himself. Malaysia, this country in Southeast Asia attracts tourists from all over the world. With huge metropolises, beautiful islands and magnificent rain forests, Malaysia is undoubtedly a must-see destination in Southeast Asia. If you want to know more about how to plan your vacations in Malaysia, I invite you to read our article holiday in malaysia.
Due to its shape and geographical location, Malaysia has two different seasons that vary depending on which side you are on. On one side you will find Peninsular Malaysia and on the other side East Malaysia. If you want to know the right time to visit Malaysia, this guide is for you.
The climate in the different coasts : avoid the monsoon
When to visit Malaysia? Throughout the year, Malaysia's climate is hot and humid with tropical showers.
The monsoon season starts in November and ends in late February on the eastern side of the peninsula : it is therefore the monsoon season on the Perhentian islands, Redang, etc. between November and February.
It is also monsoon on the western side of the Sarawak region (on Borneo).
This is the period during which the eastern coast is sunny and dry: it is a good time, for example, to go to Langkawi.
While on the west coast, the monsoon season starts in April and ends in October.
There are 2 monsoons, but to make it simple, remember that between November and February, you will not be able to enjoy the islands of the east side.
Where and when to go in Malaysia?
If you aspire to visit the West Coast of Malaysia, we recommend you to travel during the months of December to February.
This is the ideal season to travel to Pulau Penang and Pulau Langkawi.
If you want to visit the eastern coast of the country, we recommend you to go during the period from April to September. This is the ideal time to travel to Perhentian Island, Pulau Redang, and Tioman etc.
The weather changes more often in East Malaysia than in Peninsular Malaysia.
Moreover, even in Western Malaysia, the weather can be totally different between Penang and Kuala Lumpur.
However, Malaysia remains hot and humid all year round except in the Cameron Highlands, where the evenings are humid enough to require you to wear a jacket.
You will only have to worry about the rainfall and the sea state of some islands. For scuba diving lovers, you can fully admire the fauna of West Malaysia in Taman Negara. The ideal time to do this is during the months of March to October.
If you want to observe birds, we recommend you to go during the period from March to July. Keep in mind that July, August and September can become hot and humid. Often during this period, forest fires from neighboring Indonesia are triggered due to global warming. During this time, we recommend heading to the Cameron Highlands or escaping to the west coast to avoid the summer haze.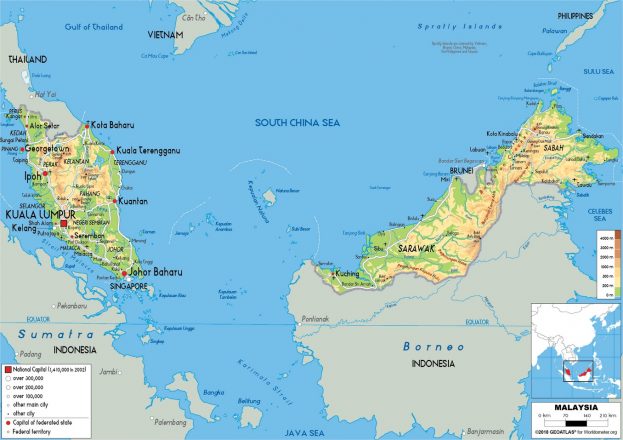 And what's about Borneo ?
If you want to visit Borneo (which we think is the best part of Malaysia), you can enjoy dry and pleasant weather, usually OUTSIDE the period from November to February.
We have already been personally 2 times in April, and we had perfect weather.
We went back in March 2022 and had a little rain.
Then in April 2022, the weather was nice.
Finally, we did a tour of Sabah in August 2022, and we had pretty decent weather.
You should know that the high season of tourism, on this side of Malaysia, starts from May to September.
Also, the weather on Borneo is very difficult to predict!
Sarawak remains ideal to visit between June and July.
The beaches around Kuching have the driest weather between April and September. It should normally rain between December and January.
On Sabah, from September to January, it is the rainy period.
From February to August, you will experience the dry period.
The fog and the weather
I. Mist (haze)
Regarding the haze, it is caused by poor agricultural practices on the Indonesian island of Sumatra. Indonesia shares borders with Malaysia. There are different winds carrying smoke across the Strait of Malacca to the peninsula. Overall, haze not only affects blue skies and visibility, but it reaches dangerous levels that can affect human health.
It is called "HAZE".
The burning period is approximately from August to October. It is impossible to predict when and if the fog will affect your vacation in Malaysia. Climate considerations will play a role in your plans. It is best to avoid going when the monsoon tides make the water too rough for water sports and beach activities. Meanwhile, on the peninsular coast, many island resorts may close.
II. Weather
In Malaysia, the temperature is essentially static throughout the year. The average temperature varies between 22 ° C and 32 ° C. Temperatures in the mountain resorts reach an average of 21 ° C during the day and 10 ° C at night. In terms of rainfall, the average monthly precipitation is about 10 inches. During the dry season, they reach about 5 inches of rain each.
In Malaysia, the spring months have calm weather, free of monsoons and strong winds. Rainfall is usually very minimal. We advise you to bring an umbrella, a raincoat and plenty of sunscreen. Regarding summer in Malaysia, it is hot and can be quite rainy depending on where you are. During the period from June to August, the country can be affected by the southwest coast monsoon that moves up from Australia.
Festive periods
Another variable to consider when planning a trip is holidays. On official national holidays, expect government offices to be closed. This is the same case for the majority of stores and restaurants in Malaysia. Afterwards, the closing of the businesses depends on the ethnic origin of the owner.
During Hari Raya Puasa and Chinese New Year, you can expect many closures but also special sales and celebrations. During these holidays, you will also find public spaces, shopping centers and beaches crowded.
There are various other celebrations to consider such as:
I. Hari Merdeka
Hari Merdeka is Malaysia's Independence Day and is celebrated on August 31 every year. It is a festive event with parades, fireworks and many festivities.
II. Rain Forest World Music Festival
The Rain Forest World Music Festival is a 3-day music and cultural event in the city of Kuching. It is usually organized during the period of July and August.
Ramadan
Ramadan is the greatest celebration of the Muslim people.
Its date is based on the lunar calendar and varies from year to year.
During the month of Ramadan, some restaurants and businesses may be closed.
We advise you to show respect for people who are fasting by not eating in front of them.
As an indication, here are the approximate dates (give or take a few days) of the next months of Ramadan:
Ramadan 2023 : 22/03/23 to 20/04/23
Ramadan 2024: 10/03/24 to 08/04/24
We will try to share videos during these holy months in shaa Allah.
Our personal opinion
You can visit Malaysia all year round, there will always be areas to do while avoiding the monsoon.
The beautiful beaches/islands of Malaysia, on the east coast (Perhentian, Redang, Kapas, etc.) are visited between March and November. But the best period will remain, according to us, that outside the high season (avoid, if possible, the school vacations): MARCH to JUNE.
Between November and February, you have the islands of the Andaman Sea, including Langkawi. You can combine with a tour between Langkawi and the islands of Thailand (Kohlanta, Kohlipe, etc.).
Between February and August, it is perfect to visit Borneo, especially Sabah (Kota Kinabalu, the islands of Semporna, etc.)
Weather is not an exact science!
Only God knows the weather: in December, which should be the best time to visit Langkawi, we already had a rainy week…
Avoid monsoon periods
Avoid high season (school vacations)
Avoid the Chinese New Year period (usually late January to early February)
Need help creating your trip to Malaysia and avoiding the monsoon?
We offer different services to create your trip to Malaysia, to choose the best periods and the best places in Malaysia.
Save your time and money with our personalized services.
Through private phone calls, we will prepare a customized tour for you, adapting to your budget and travel preferences.
The ideal service if you have never been to Asia, or if you don't want to waste your time searching for tours, hotels or flights.

If you are already familiar with Asia and Malaysia, this service might be enough for you.
We will help you plan your custom tour in Malaysia.
Read also