Religion Malaysia : Islam and other religions
Malaysia is a country that reflects multiculturalism. Religion Malaysia makes this small country a cradle of tolerance and a must-see travel destination. The official religion of Malaysia is Islam, which is practiced by more than 60% of the population. Malaysia is home to various ethnicities, including Chinese, Indian, Thai and others. All these ethnic groups have brought their cultures but also their religions. Religion Malaysia is as diverse as it gets. To learn more about life in Malaysia, please read our article living in Malaysia.
Although Islam is the dominant religion, this does not prevent other religions from standing out :
20% of the Malay population is Buddhist, while the remaining 20% is divided between Christians, Hindus, Sikhs and others.

Religion in Malaysia : religious freedom
Religious freedom is a hotly debated topic in Malaysia. The country's constitution protects this sacred right, yet religious freedom is often challenged by some political Islamist movements. Religious minorities are constantly defending their rights and interests.
There is some ambiguity around the religious status of the country. Some claim that Malaysia is a Muslim country, while others reject this appellation. The constitution of Malaysia recognizes Islam as the most popular and followed religion, however it does not indicate that the country is an Islamic state.
Here is a video made in 2022, in the mosque of Putrajaya :
Many Malays believe that the government is imposing its religious will by prescribing Islamic rules and norms for the entire population. The federal constitution and the Malaysia Agreement of 1963 prove that the country is a secular rather than an Islamic state. It should be noted that religious freedom is defended by several civil society organizations in Malaysia. Despite some concerns, Malaysia remains a very interesting example of religious diversity.
Here is a small Malaysia map geographical map so that you can place Malaysia on a map :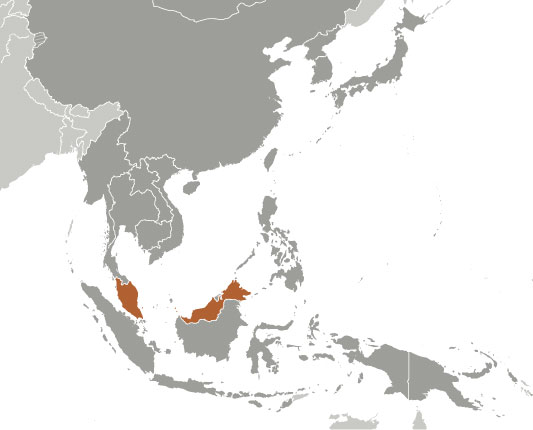 The official religion of Malaysia : Islam
Religion in Malaysia is practiced in an easy and respectful manner throughout the country. However, you should know that some states are stricter than others. Two states stand out in Malaysia, namely Terengganu and Kelantan. These two states are located in the northwest and are known to be the strictest in terms of religion. There, all Islamic principles are fully respected. This is one of the reasons why some Malays believe that religion is strictly controlled by thestate.
Female travelers who are thinking of visiting these two states should dress in the most appropriate way. This will prevent you from being criticized by the local population. Even if you go to the beach in these two areas, try to dress appropriately. It would be wise not to wear a bikini. Otherwise, don't worry, the degree of religious influence depends on each state.
There is no need to be afraid: it is part of the respect when you arrive at a host's home.
Speaking of influence, it should be noted that religious practice is often correlated with a person's cultural background. For example, Malays of Indian origin are generally Hindus, the same is true for Chinese Malays. Most of them are Buddhists with a few exceptions who opt for Christianity.
There are also non-Muslim Malays.
Non-Malays have the freedom to practice their religions freely.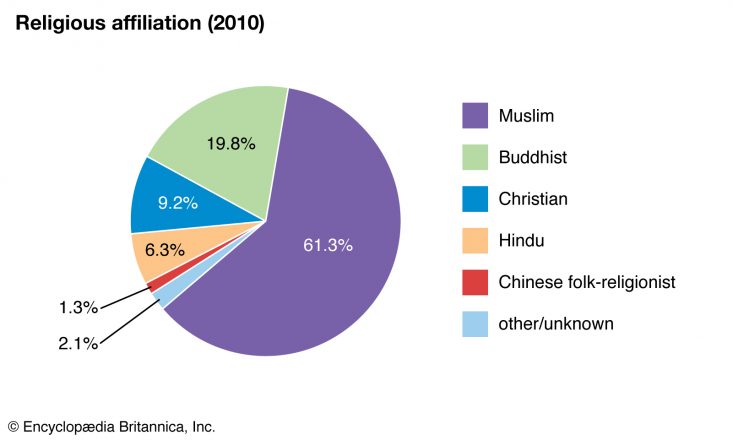 Other religions
Apart from Islam, there are various other religions in Malaysia including:
I. Buddhism
20% of the Malaysian population practice Buddhism, it is the second most popular religion in the country. Over 2000 years ago, Buddhism was introduced by Chinese and Indian traders. The Christian sect that the majority of Christians in Malaysia follow is the Mahayana. Some people practice Confucianism or Taoism. The Buddhist festivals are considered by the population and the faithful practitioners as carriers of messages of peace, fraternity and tolerance. There are several very popular Buddhist temples in Malaysia such as: Thean Hou temple in Kuala Lumpur, Kek Lok Si temple in Penang or Cheng Hoon Teng temple in Malacca.
II. Christianity
Christianity is a minority religion in the country, it is only dominant in thestate of Sarawak which is considered a Christian state. The British and Dutch colonizers reinforced the status of Christianity in the country. They also built superb religious architectural works. When visiting Malaysia, you will find Protestant, Methodist or Catholic churches. There are several popular churches in the country such as: The Dutch Anglican Church of Christ in Malacca, St. George's Church in Penang or St. Mary's Cathedral in Kuala Lumpur.
III. Hinduism
2000 years ago, the various migratory flows from India brought Hinduism with them. The Indo-Malaysian community is very large, the majority of this community practices Hinduism. The most followed deities are Shiva, Devi and Muruga. There are several very popular Hindu temples in Malaysia such as: Batu Caves Temple in Kuala Selangor, Sri Mahamariamman Temple in Kuala Lumpur or Sri Poyatha Murthi Temple in Malacca.
IV. Other religions
Sikhism is also one of the most practiced religions in Malaysia, although the percentage is much lower than the others. Practitioners are generally fromIndia and China. Apart from Sikhism, Malaysia has been influenced by pagan and animist religions. These religions are very well highlighted in several museums in the country. Atheism is also becoming a common practice in Malaysia.
It should be noted that Malaysia's religion governs social relationships. The juxtaposition of the different practices is a pleasure to discover for the many tourists.
Additional personal remarks
Religion is a complex subject, and we will not allow ourselves to spread our religious opinion on this or that subject (turn to the specialists, and scholars ????).
Note that :
The Muslim population of Malaysia follows, in majority, the Shafi'i madhâb. If you come from France or the Maghreb (and you follow the Mâlikî madhâb), there will be some differences in practice : do not be surprised, and above all, do not fall into the "bad" judgment.
You will find many prayer rooms outside. This will make it easier for you to perform sâlat (hopefully, in sha Allah, on time). They are called "surau".
Generally, you will always find a "Surau" in the gas stations.
You will of course find mosques easily ("Mosque" or "Masjid"), but also churches or temples.
Currently, as I write this article, many mosques and prayer halls are closed because of COVID. When they are open, they are usually crowded (especially at the prayer hall of KLCC Suria).
We will add, through our various trips and travels in Malaysia, videos of mosques in Malaysia.
Example of a mosque in Malaysia, here, on the island of Labuan:
Mosque in the state of Terengganu (East coast of Malaysia):
Read also