Discover the city and capital of Perak : Ipoh Malaysia
The cities of Malaysia reflect the country, moreover Ipoh Malaysia does it perfectly. They are a mixture of modernity and tradition. The natural beauty of Malaysian cities is unmatched. If you want to know more about the cities in Malaysia, please read our article Malaysia city.
Despite its small size, Ipoh is distinguished by several criteria that make it a must-see destination in Malaysia. The city has a long and rich history to offer. According to legend, it is one of the oldest cities in Malaysia. Ipoh has an amazing local culinary scene. You will not be disappointed by the delicious dishes of the region. The city also has a very good musical reputation and a great natural wealth. There are several beautiful limestone mountains as well as magnificent caves and hot springs.
If you want to know more about Ipoh, we invite you to consult our guide.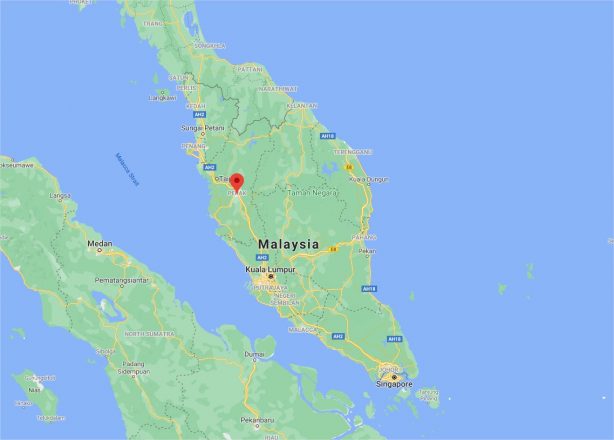 Ipoh Malaysia : history, demography, transport and weather
History of Ipoh
Although it is considered a small city, Ipoh is the largest city in the state of Perak in Malaysia. For a very long time, it served as a home for sultans, colonizers, tea barons, merchants, street artists, entrepreneurs, miners and others. The city reflects Malaysia's multiculturalism, history and traditions. Ipoh is an unexplored gem for most tourists, yet it is the gateway to the Cameron Highlands.
Demography of Ipoh
The city is located in the northwest of the country. Ipoh attracts nature lovers, architecture lovers and gourmet tourists. The city is home to beautiful rivers and hot springs, it also has beautiful old temples and buildings dating from the 19th century. The area is full of excellent restaurants and cafes that offer very special local drinks. Ipoh is undoubtedly one of the most emerging destinations in Malaysia. In 2016, it was listed in the Lonely Planet catalog.
Transportation to Ipoh
To get to Ipoh, you can opt for the bus or the train. Buses and trains run regularly to Ipoh from Kuala Lumpur and take between 2 to 3 hours. Concerning the climate, the city has a tropical climate. It experiences heavy rainfall even during July (the driest month). The monsoon is between September and March, and October is the wettest month. The average temperature is 23 ° C.
Below, I took an example from "The Face Suites", which is an apartment you can find on Airbnb (we booked several there, and it's very decent).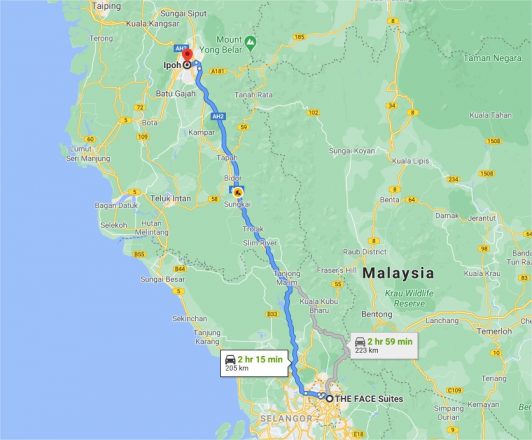 Ipoh Malaysia : tourist activities
Several tourist activities are at your disposal including:
Lost World by Tambun
Lost World in Tambun is popular because of its theme park, residential complex and hot springs. By the way, Lost World in Tambun is among the three most beautiful theme parks in Malaysia. It is located on a large piece of land in the city.
It has a water park and pool with huge waves and slide. The park is suitable for all types of tourists. For those looking for relaxation, you can rest at the hot spring. For family travelers, you will find a children's zoo, which includes several animal species from around the world.
Red Lantern Road – Wives and Concubines
The Red Lantern Road or more commonly known as Wives and Concubines is one of the densest Chinese places in Malaysia. The famous road stands out with its red colors and lanterns, it reflects the ancient Chinese city.
The red lanterns and colorful umbrellas will make you feel like you are in the heart of China. On both sides of the road you will find restaurants, fashion stores and souvenir stores.
Kellie Castle
Built several centuries ago and located on a large plot of land, Kellie Castle is one of the most popular tourist attractions in Ipoh. Kellie Castle was built by a Scotsman, who gave it to his wife as a gift.
For reasons unknown, the castle was never completed. However, it remains a must-see destination in the city.
Ipoh Malaysia : do you want more information ?
The main entry points of Ipoh
Aman Jaya Bus Station, Ipoh Railway Station and Ipoh Airport (Sultan Azlan Shah Airport). Many foreign and local tourists consider Ipoh as a culinary paradise. The city is home to hundreds of restaurants. It is very famous for its night markets.
You will find dozens of merchants offering you their delicious local dishes. Ipoh is also known as the home of Malaysia's famous white coffee. This special coffee is served in the retro cafes of the city.
Street art of Ipoh
Ipoh, like Penang, is also known for its street art. Many tourists prefer the street art of Ipoh than Penang. The street art in the city is painted by the same artist (Ernest Zacharevic). A magnificent collection of art awaits you in Ipoh.
In fact, Ernest is at the origin of a whole movement of local street art. The city is decorated with several murals that give it a unique charm.
Speaking of streets, visit the historic alleys in the ancient city of Ipoh. These alleys have been painted as street art. The most popular of its alleys is the concubine alley. The city's alleys are ideal for strolling or people-watching while enjoying a coffee.
Architecture of Ipoh
Concerning the buildings, the architecture is very particular in Malaysia. Especially the Chinese stores with their five-foot aisles and beautiful tiles. The city combines heritage stores with British architecture. If you like architecture, you will be more than happy to go to Ipoh.
Read also