Expatriation Malaysia : from dream to reality
Going to live in another country is a dream for many French people.
If you have made up your mind to focus on Asia, an expatriation Malaysia is a wonderful experience but it is also a process that needs to be prepared.
As an expatriate you will face many challenges, it is essential to know as much as possible about the country.
Between expatriating to Malaysia, and vacationing in Malaysia, there are big differences.
If you prefer to spend your vacations in Malaysia, we have put at your disposal this guide : malaysia travel.
So where to start living in Malaysia?
We are going to expose some necessary points to expatriate in Malaysia.
Each point will then be detailed in a separate article on our site.
Expatriation Malaysia : where to live in Malaysia?
Going to live in Malaysia is a very good choice for both novice and experienced expatriates.
Malaysia has many advantages.
The cost of living and the developed infrastructure of Malaysia are the advantages appreciated by expatriates: you live, indeed, in a very developed country which has nothing to envy to European countries, with a lower cost of living.
Before going any further, we recommend that you watch our video on the mistakes to avoid if you want to expatriate, whether to Malaysia or another country:
The capital Kuala Lumpur ? Langkawi island ? Penang or elsewhere?
There are many cities that could be a good fit for you.
It all depends on your preferences and criteria.
Among the most restrictive criteria, you will have, depending on your personal situation:
your place of work (unless you are lucky enough to work online in Malaysia like we do),
the children's school, if you are concerned.
Living in Kuala Lumpur
The majority of expatriates will stay in the capital city of Kuala Lumpur. The metropolis is a mixture of modernity and tradition.
Kuala Lumpur is distinguished by its countless skyscrapers offering different panoramic landscapes.
The big companies are usually located here, and this is also the reason why many expatriates are based here.
In Kuala Lumpur, you will find many neighborhoods that you might like.
We have also made a series of videos on our youtube channel of several condominiums in Malaysia:
Living elsewhere than in the capital
Other expatriates prefer a less stressful life and opt for cities such as Langkawi or Penang.
The city of Penang has old remnants of a vain British past.
What attracts expatriates is the presence of numerous professional opportunities and a social climate perfect for relaxation and de-stressing.
Whatever your choice, remember when you ask yourself the question how to live in Malaysia?
You have to live each moment as if it is the most precious moment of your life.
Living in Malaysia is one of the most wonderful experiences in a person's life.
Let us help you learn more about Malaysia and life in the country.
Before making your choice
Before making a decision, don't hesitate to visit the different cities of Malaysia, if you haven't already done so.
This choice is very important, even if it is rather easy to move in Malaysia: the housing supply is much higher than the demand, at least in Kuala Lumpur.
You should also be aware that your monthly budget will vary greatly depending on where you live.
Indeed, expatriating to Kuala Lumpur, in an expatriate neighborhood, will cost you more than living in Malaysia, in the provinces, with the locals.
While expatriating to an island in Malaysia may fit some profiles, it does not fit others.
So take the time, and consider the opinion of your whole family, especially if you are expatriating with your children for example.
Living in Malaysia : expatriation to Malaysia is not so easy
Expatriation Malaysia can be a splendid opportunity to propel your career to the top.
In case you've been living under a rock, Malaysia has quickly become a major financial hub that attracts expats from all over the world.
Expatriation Malaysia has several advantages.
Remember that every change brings gains (or losses), and changing countries is no exception.
Firstly, an expatriation in Malaysia will stimulate your brain, you will have to adapt to a different social and professional environment than in France.
Second, you will expand your professional network.
By choosing expatriation Malaysia, you will have the chance to meet entrepreneurs, investors and other expats.
Who knows? Maybe by talking to one of them you will end up with a new contract or an investment idea.
More details on our page : expatriation malaysia.
What types of visa Malaysia ?
There are many visas to live in Malaysia.
But if you are not expatriated through an international company established in Malaysia, it will be very complicated: this is the big black spot we could mention about Malaysia.
Obtaining a Malaysia visa is a difficult thing to do for various reasons.
We can mention the following reasons (exhaustive list!):
Obtaining a work visa requires compliance with numerous eligibility requirements for both the employer and the employee.
Whether it is a work visa, an MM2H visa, or a Labuan visa, being eligible does not mean that you will be able to obtain a visa: it is on file only.
The laws change very regularly: it is impossible to plan for the long term if you do not have a long-term visa.
There are very few long term visas: MM2H (but you won't be able to work with it), Talent Pass, Social Pass, and Permanent visa among others (almost impossible to get today).
Some details about the mm2h VISA
The MM2H visa has made life easier for people wishing to settle in Malaysia.
The mm2h visa allows you to stay in Malaysia for a period equivalent to ten years.
There are two categories of people who can apply for the mm2h visa:
Job seekers under the age of 50.
Job seekers over 50 years of age.
mm2h visa holders can bring their families to stay with them.
They can also buy private property, with more flexible conditions under certain circumstances.
mm2h visa holders can also bring their cars from their home countries without paying a fee.
In short, it is clear that the mm2h visa represents many advantages for any person who is thinking of residing in Malaysia.
But this type of visa also has its drawbacks (financial, professional, etc.).
You can find more information in our guide : mm2h visa.
Religion Malaysia : Islam but not only…
At a time when religion is the focus of debate in many countries, Malaysia stands out as one of the few countries that reflects religious tolerance.
Malaysia's religion makes it a cradle of multiculturalism and an unmissable travel experience.
The official religion of Malaysia is Islam, which is practiced by more than 60% of the country's population.
The great thing about Malaysia is that it is home to different ethnicities, including Chinese, Indians, Thais and others.
All these ethnic groups follow and practice their religious currents in all tranquillity.
The second most followed religion in Malaysia is Buddhism with 20% of the Malaysian population practicing the religion.
Third, you will find Christianity.
The religion is a minority in Malaysia, it is only dominant in the state of Sarawak.
There are several other religions in Malaysia that shape a beautiful framework of religious coexistence.
Hinduism and Sikhism are among these religions.
Concerning Hinduism, you should know that the Indo-Malaysian community is very large.
Compared to Sikhism, it is also one of the most practiced religions in Malaysia, although the percentage is much lower than the others.
For more information, see our guide : religion malaysia.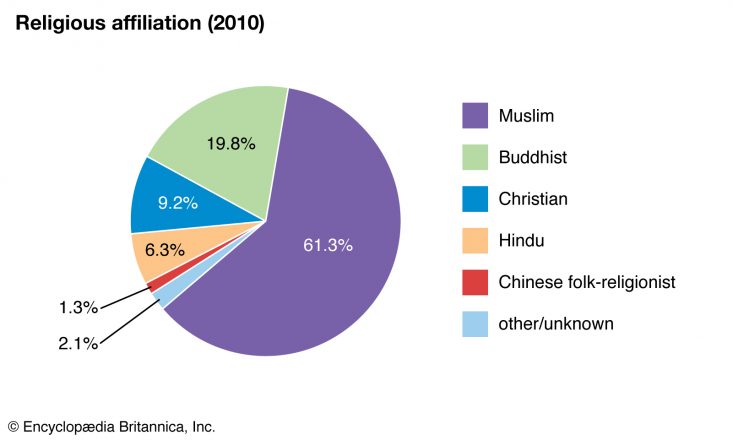 Expatriation in Malaysia : the budget, a crucial point
It is clear and obvious that when you move to Malaysia, the first thing you think about is the cost Malaysia.
Be aware that some of your first expenses will be the initial travel costs such as your airfare, lodging, airport transportation etc.
The cost of living in Malaysia depends on where you live.
Most expatriates choose to live in the capital Kuala Lumpur or on the island of Penang.
It is very likely that you will move to the capital of Malaysia.
Keep in mind that Kuala Lumpur is the densest, largest and most expensive city in Malaysia.
Kuala Lumpur has a very good public transport infrastructure. Public transportation is not expensive, tickets are usually between 1 and 5 RM.
The food in Kuala Lumpur is not expensive and remains largely affordable.
Generally, a simple rice dish or bowl of noodles costs RM8-10.
We recommend that you allow RM 100-150 per day for your daily expenses.
If you are looking for more details on the cost of living in Malaysia, check out the following guide : living cost malaysia.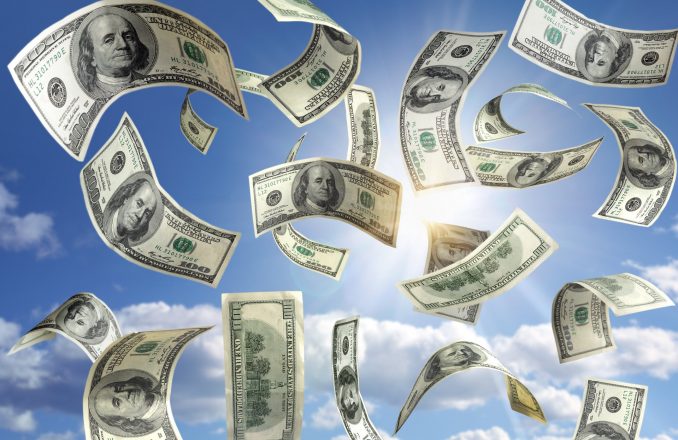 First budget item: housing or apartment Malaysia
If you're moving to Malaysia, you're probably going to stay in a hotel or airbnb at first.
Then, you will have to look for a house or apartment.
All the information concerning the search for an apartment is on the following page : apartment malaysia.
If you are coming to study in Malaysia, you can check out our page dedicated to finding a student room in Malaysia (roommate Malaysia for example).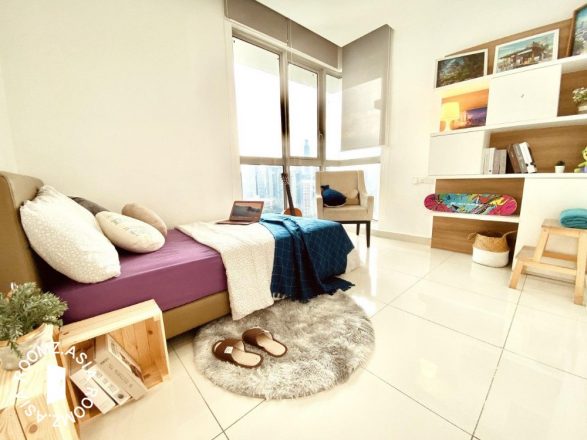 Example of a room at RM850 per month (170 euros)
Expatriate health insurance : not to be overlooked !
One is never safe from illness or accidents, especially during the first days of expatriation.
Expatriate health insurance can save you a lot of money in Malaysia.
The choice of expatriate health insurance is not obvious.
As a new expatriate in Malaysia, you will have many questions, including :
What quality of care would you receive in Malaysia ?
What happens if you can't work because of a disabling condition ?
How will compensation be paid ? etc…
Which insurance should I choose?
Rest assured, Malaysia has many types of expatriate health insurance plans including :
International insurance.
Travel insurance.
Social Security Insurance (SOSCO).
Takaful insurance.
Each expatriate health insurance in Malaysia has its own advantages and disadvantages.
To find out more, visit expatriate health insurance.
If you want to know the insurance we have chosen for the first year: our insurance in Malaysia.
Malaysia education – school for our children : the biggest budget !
Choice between local and international schools
One of the main concerns of many expatriate parents in Malaysia is to provide a high quality education for their children.
In Malaysia, you will be faced with two choices, either to send your child to an international school or to a local school.
We recommend that you choose an international school, as it will be almost impossible to place a foreigner in a local school.
Which international school in Malaysia ?
Malaysia is home to several renowned international schools.
Malaysia schools are equipped with quality facilities that facilitate education for children.
Malaysia schools have several partnerships with schools around the world.
This represents an excellent opportunity for your children to continue their studies at renowned universities.
Among the most famous Malaysian schools for expatriate children, we find :
The International School of Kuala Lumpur (The French School).
The British International School in Kuala Lumpur.
Garden International School.
Below are some indicative rates for the year 2020-2021:
International Islamic schools
In our personal case, we focused on international Islamic schools.
You will find several of them.
Some are Montessori type, others are ecology oriented and related activities, etc.
Here is a list of some international Islamic schools in Malaysia:
International Islamic School Malaysia, on Gombak,
Brainy Bunch International School, in Cyberjaya,
Idrissi International School, in Setia Alam,
Abedeen Academy, in Cyberjaya,
Al-Hamra Integrated School, on Kota Damansara.
I am putting some rates for the year 2020-2021 below.
Please note that the rates are only indicative, as there are many parameters to take into account (including the options chosen).

Other solutions for your children's education
There are other alternatives to these expensive schools.
We can mention for example:
Home schooling, whether online or with a certified organization.
Home schooling with a private teacher.
A few tips
If you want to know more, check our guide : school malaysia.
Take the time to research all available schools.
The price can vary from 200€ a month to more than 1000€ a month per child !
Expatriate in Malaysia and stay in touch with your relatives
One of the biggest concerns when moving to Malaysia is the distance from your loved ones.
Some live it well, others more difficult.
The telephone package in Malaysia
In any case, to make up for this lack (as best you can!), it is essential to have a good phone plan to stay in touch with your loved ones.
Taking a local sim card will save you a lot of time and money. So how do you choose your sim card?
You should know that there are several operators in Malaysia including :
Celcom
DiGi
Maxis
Unifi
U Mobile
There are other new operators as well, which we will not mention to avoid losing you.
Which operator to choose
Secondly, you should know that if you stay in the capital or the islands of Peninsular Malaysia, all networks should be enough for you.
Among the best operators in terms of signal quality and download speed, we find Celcom and Maxis.
Operators offer many good deals at very attractive prices.
You will find more details in our guide : sim card malaysia.
What type of plan should I choose?
We live in an era where everything is connected and in constant communication. To make your life easier in Malaysia during your first days of expatriation, it is essential to opt for a Malaysia phone package. But how to do it ?
The first concept to know is "Postpaid", it is the telephone packages Malaysia.
Be aware that if you want to share your internet connection, you have a connection sharing quota.
So pay attention to your consumption to avoid bad surprises.
Most of the Malaysia phone packages offer you unlimited internet connection and calls.
However, you will have to pay attention to the internet speed, some packages are characterized by a limited connection.
Typically, the price of Malaysia phone packages is between RM 45 to RM 190. It all depends on your needs and your consumption. If you want to know more, please read our guide : phone package malaysia.
Living in Malaysia: where to eat in Malaysia and for how much?
You don't have to be an adventurous expat or a foodie to enjoy the local cuisine of Malaysia.
If you are a food tourist or an ordinary expatriate, it is clear that you have many food options in Malaysia.
The culinary scene is highly appreciated by young and old alike, it represents a unique taste experience.
The question is where to eat in Malaysia?
Order food online in Malaysia
You can either eat in local or international restaurants or order online. To order online, you have different choices of applications in front of you including :
FoodPanda (the most famous),
Grab Food,
AirAsia,
HotLink, etc.
Fast food in Malaysia
As in any country in the world, international restaurants are very popular in Malaysia. Malaysia has several international channels such as :
KFC (the most popular in Malaysia),
McDonald's,
Texas Chicken,
Burger King,
Pizza Hut,
Subway,
Dominos Pizza and
A&W.

What is the budget to eat in Malaysia ?
One of the advantages in Malaysia that is often repeated is the cost of living.
But beware, there is something for every taste and especially for every budget.
You can eat for less than 2€ as well as eat for 50€ per person.
So watch your spending, it can go up very quickly, especially if you have certain culinary requirements!
If you want to taste the traditional dishes in Malaysia, we recommend you to go to Melaka or Penang.
You will discover the richness of the Malaysian culinary scene.
For more details, visit our page : where to eat in malaysia.
Getting around in Malaysia: how and how much ?
How to get around in Malaysia ?
Among the concerns of any expatriate is transportation.
Regarding this aspect, don't worry, Malaysia has a very good air, land and sea infrastructure.
There are several ways to get around in Malaysia, among them are:
Bus,
Airplane,
Car,
Cab (with for example, Grab, the equivalent of Uber in France),
Train and
Boat.
How much does it cost to travel in Malaysia ?
Each of these means of transportation has its own advantages and disadvantages.
Buses are the cheapest and most popular means of transportation, but the most convenient is to fly.
The cab represents a very good alternative to the two means of transportation previously mentioned.
The good thing about Malaysian cabs is that they are faster and more comfortable than buses.
In most cities of the country, you will find long-distance cab stands.
These stations are usually located near the bus station.
Another advantage of Malaysian cabs is that they can take you to the cities but also to the villages.
When we talk about cabs, this can include "real cabs", as well as Grab drivers (the equivalent of Uber).
We recommend Grab, which is very efficient and clearly the most preferred solution here in Malaysia.
Grab, it's simple, efficient and fast !
If you are looking for more information on how to get around Malaysia, read the following guide : getting around in malaysia.
Expatriating to Malaysia, a unique experience
Living in Malaysia as an expatriate is an experience that will not only shape your career but also change your outlook on life.
Malaysia is undoubtedly, one of the most authentic destinations in the world.
Your stay will be marked by the gigantic skyscrapers, the splendid islands, the magnificent tropical forests as well as the vast business opportunities.
Remember that expatriation is a process that needs to be worked on, we hope that this article has been useful to you.
Please feel free to share your experiences and opinions with us.
Read also