Kapas Island – Pulau Kapas : an island in Malaysia worth a visit
Malaysia, this small country in Southeast Asia is full of breathtaking islands. The Malaysian islands are among the best islands in the world because of their natural wealth and geographical position. Kapas Island more commonly known as Pulau Kapas is one of the best islands in Malaysia and is located on the east coast.
The island of Kapas has beautiful white sandy beaches.
Pulau Kapas is one of the least popular tourist destinations in Malaysia.
It is well known among locals but not so popular among foreign tourists, who prefer to go to Perhentian Island or Redang Island.
Kapas Island is not an island for party people but a perfect place to read books, swim, scuba dive or hike in the rainforests.

I- Kapas Island: weather and transportation
When to go to Pulau Kapas ?
As in all the islands of the east coast of Malaysia, there are two seasons. The hot season is between March and July and the monsoon season between November and February.
The resorts close at the end of October and tourism resumes in March after the end of the monsoon season. The island is empty during the period from February to March.
Tourists flock gradually during the period from April to May.
Between June and July is the high season, the number starts to decrease gradually after July.
During the high season, it is best to make hotel and transportation reservations well in advance.
Like all the islands of Malaysia, Kapas becomes more populated thanks to the influx of local tourists during the weekend.
We went there in March 2021 and we had nothing but sunshine during the 4 days.
How to go to Pulau Kapas ?
To get to Pulau Kapas, there are different means of transportation.
By plane
The ideal choice is the air route. You can take a direct flight from Kuala Lumpur to Kuala Terengganu.
It takes 55 minutes: it's very fast but also very economical.
If you book in advance, you can find flights between 30 and 60 euros each way (depending on the period).
From Kuala Terengganu airport, take a GrabCar to Marang Jetty.
Keep in mind that there are two ports, Marang Jetty and Merang Jetty, you should leave at the first one.
Marang Jetty is the reserved port for Kapas Island.
While Merang Jetty is the port for the Redang Island (also beautiful, but more in the north, and totally different from Kapas Island).
By bus
The bus is a very good alternative to get to the island of Kapas.
We recommend taking the night bus if you are driving from Kuala Lumpur.
From the capital, take an overnight bus to Kuala Terengganu and get off at the MBKT bus station.
An advice, if you take the bus in Malaysia: keep a good jacket on you, the air conditioning is running at maximum and you will be very cold…!
From the bus terminal, there are several ways to reach the port of Marang.
By car
We have experienced it, and it is really very pleasant.
You have 5 to 6 hours from Kuala Lumpur, taking your time and taking regular breaks.
Ideal if you have time, and the road does not bother you.
As a reminder, the price of gasoline is very affordable.
Don't forget to apply for an international permit before you go to Malaysia.
Check there is you want to know how to rent a car in Malaysia (even if it should pass with your French B license in some cases).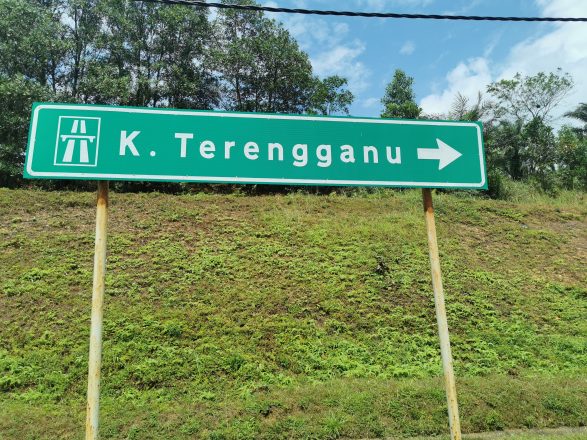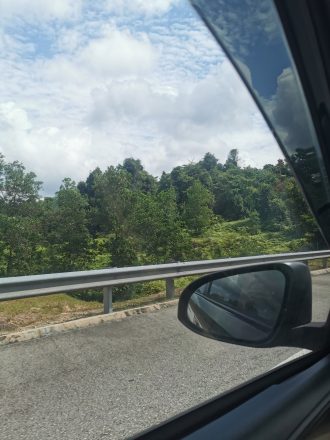 From the port of MARANG JETTY to Kapas Island
Once in Marang Jetty, all you have to do is buy a return ticket by ferry : the trip takes only 10 minutes by boat!
You can therefore choose to spend a day there and return to earth in the late afternoon.
To book, you can also ask your hotel (you will find more bungalows, or very simple accommodation) to arrange a transfer boat.
For information, to go to the Perhentian Islands. It takes 40 minutes by boat for example.
II – Kapas Island: tourist activities
Resting on the white sand
There are plenty of tourist activities to do on Kapas Island. If you're looking for a hammock with a beach view, head to the Beach bum. A beautiful and peaceful place, besides the beaches of Kapas are known to be among the best in Malaysia. The sand of Beach bum is fine and its water is turquoise blue.
If you are looking for relaxation and a renewed relationship with nature, Kapas is the ideal destination. There are several beaches, all connected by bridges. You can leave for a small visit from one side to the other, it will take you about ten minutes. Admire the sedimentary rocks and explore the rainforest on the other side of Kapas Island.
Snorkeling and kayaking
After a relaxing session at Beach Bum, head to the Marine National Park. You will have the opportunity to see beautiful underwater sites, large corals and fish of all colors. You can also admire the sea turtles and various other marine species.
For water sports enthusiasts, you have the opportunity to tour the islands by kayak.
You can also go scuba diving or snorkeling.
Kapas has several dive sites, they are perfect even for novices. While scuba diving, you will have the opportunity to see several marine species as well as wrecks from the Second World War.
Explore Gems Island
If you are looking for adventure in a more remote part of the world, take a trip to Gem Island: a tiny island next to Pulau Kapas.
It is an island that you can reach by boat in a few minutes.
You will find only one hotel on this island.
There you will find a resort with bungalows.
Go trekking
Finally, for the more adventurous and courageous, you can also make a trek all around the island of Kapas (you will find a map).
The island is small, but exploring it is not that quick.
Generally, the majority of tourists stay on the west coast of the island (where all the beaches and accommodations on Kapas are located).
You can explore the other side of the island or the northern tip (you can climb to a peak to take nice pictures), but also the southern tip.
Kapas Island : accommodation, budget and other general information
Where to stay on Kapas Island?
Kapas Island is undoubtedly one of the most relaxed islands in all of Malaysia. You will have a hard time finding rooms online, however once you are there, several hotels will welcome you. You will find several accommodation options at very good prices. Avoid leaving in high season, you may have difficulty finding suitable accommodation.
Also keep in mind that in Pulau Kapas, luxury hotels do not exist. However, it is the ideal place to find low-cost accommodation. You can sleep in camping tents or in dormitories. If you prefer a little more privacy, you can opt for private rooms.
Recommended hotel in Kapas
On our side, in March 2021, we stayed at the D Seris Kapas: they are individual bungalows giving directly on the beach.
The beach is beautiful.
You have a bungalow in front of the sea, which allows you to admire the sunset.
It also offers packages such as "full board": round trip boat tickets, snorkeling trips, catering (breakfast, lunch, and dinner).
That's what we took.
What we paid for
We opted for a"full board package".
This is a 3 day 2 night package, including breakfast, lunch, and dinner.
In this package we also have boat transfers, snorkeling, etc.
For information, we always prefer to take our own personal snorkeling gear (mask and snorkel in particular).
To book, you can contact them directly via their WhatsApp number or via their facebook page.
The rates we had were as follows:
D Seri Kapas Island Resort Package:
1. Air conditioning deluxe bungalows with 2 queen sizes bed and attached toilet
– 3D2N fullboard package RM498/pax only
– 4D3N fullboard package RM698/pax only
– 5D4N fullboard package RM898/ pax only

2. Air conditioning deluxe room with 1 queen size bed and attached toilet
– 3D2N fullboard package RM418/pax only
– 4D3N fullboard package RM578/pax only
– 5D4N fullboard package RM738/pax only

3. Fan Room with 2 single beds and attached toilet .
– 3D2N fullboard package RM358/pax only
– 4D3N fullboard package RM 488/pax only
– 5D4N fullboard package RM 618/pax only

✅package include
✔️ Accommodation
✔️ Boat transfer
✔️ All meals ( Start with first day lunch, breakfast , lunch , dinner and last day breakfast )
✔️ 1 steamboat and bbq meal
✔️ Snorkelling trip
* Package minimum 2 pax and 3days 2 nights onwards

D Seri Kapas Island Resort Room price:
1. Air conditioning deluxe Bungalow with 2 queen sizes bed attached private bathroom :
Seaview view
Rm358 for 2 pax
Rm438 for 3 pax
Rm518 for 4 pax
Garden View
Rm308 for 2 pax
Rm368 for 3 pax
Rm418 for 4 pax

2. Air conditioning deluxe room with 1 queen size bed attached private bathroom
– Rm228 per night

3. Fan room with 2 single beds and attached private bathroom.
– Rm138 per night
Note also that it is possible to negotiate (which was the case for our cousin on site).
For us, the 3 days and 2 nights, all included, cost us 100€ per person, that is 200€ for the 3 of us (our one year old daughter included).
This is an unbeatable rate compared to the Perhentian or Redang islands!
Remember that, as in most of the accommodations on the island, there is no hot water, and theelectricity is cut off between 8am and 12pm and 2pm and 6pm.
What we do not recommend
We don't recommend the Kapas Island Resort: we hesitated with this one, but the reviews on Google and Booking.com were finally right.
We confirm that the condition of this resort leaves much to be desired.
At the same time, we arrived really early in the season, but some points do not excuse that (the general state of the resort does not give us confidence at all).
Catering
In Kapas, don't worry about being hungry, you will find several local restaurants. On the other hand, meals are a little more expensive than on the mainland, due to the scarcity of resources. But don't worry, you can still find reasonable rates.
Depending on your accommodation, you can check if they offer all-inclusive packages.
Generally, you will find mostly local food.
Some tips for your trip to Pulau Kapas
Don't forget to bring enough cash with you, keep in mind that there are no ATMs on Kapas Island. In our hotel, we could pay by credit card, but with a fee. Think of withdrawing cash in the shopping malls or banks directly: on Marang, we had made 2 distributors which were out of order (and that was not the first time).
For the home, generally, there will be a power cut during the day. Hot water was not available (not needed, but if you have a newborn or something, it's hard to shower them with fresh water…).
If you sleep in a tent, bring a mosquito repellent with you.
If you like to walk along the beach at night, bring a flashlight.
You will find a few small stores that sell basic necessities. But it's best to stock up on snacks if you're not a fan of the local food. Kinder bueno are always good friends 🙂 (in moderation…)
The boat ride is only 10 minutes long, but make sure the sea is calm: the ride may be very rough (waves). In this case, ask them, if you are very sensitive to this (or if you travel with a baby or if you are pregnant), if possible, a cabin boat (rarer for Kapas, but for the Perhentian islands or Redang, it is possible without worries).
Finally, be aware that alcohol is limited. Malaysia being a Muslim country, the consumption of alcohol may be prohibited in various places. It is therefore better to forget about conservative places, if you are more of a party animal (it would be better to plan Thailand or Bali for that).
Video and blog on the island of KAPAS
Here is a small video made in March 2021.
This is a 360 degree video at D SERI KAPAS.
A short 20-minute summary of Kapas Island:
Read also