What you should know about Malaysia
It is difficult to know Malaysia as it should be.
Malaysia is vast, culturally and historically rich.
Malaysia, located in Southeast Asia, combines modernity and tradition.
The country is a place of mixing and blending bringing together three cultures: Malaysian, Indian and Chinese.
Over time, Malaysia has become a kaleidoscope of civilizations.
If you want to know more about Malaysia, we invite you to read our article Malaysia.
Before you travel to Malaysia, it would be wise to accumulate as much knowledge as possible to know Malaysia well.
Every year, this country intrigues and fascinates millions of tourists. If you wish to enrich your knowledge about Malaysia, this guide is for you.
Malaysia in brief: flag, map, climate, population
Discover Malaysia
In 2018, more than 10,000 French tourists visited Malaysia. In recent years, Malaysia has become one of the favorite destinations of the French in Southeast Asia. Moreover, you will find a large community of French expatriates in the country. Before going to Malaysia, you should know a few things. Malaysia is composed of 13 states, it is also divided into two parts (East and West side).
Climate of Malaysia
One of the characteristics of the country is that the temperatures are high and humid throughout the year. There are two seasons in Malaysia, the dry season and the monsoon season. The monsoon is characterized by heavy showers that may prevent you from traveling to the islands of Malaysia. On the other hand, the good thing is that the monsoon does not affect the whole country at once. For example, if the Monsoon affects the East Coast, you can always go to the West Coast.
Language, accommodation and food of Malaysia
The official language of the country is Malay. However, have no fear, the majority of Malaysian citizens speak English. In terms of accommodation, there are several types in Malaysia. You can stay in dormitories, hotels or luxurious residential complexes. As for the food, you will enjoy it. Malaysia is known for the great diversity of its dishes. For the gourmet tourists, we advise you to go to Penang or Melaka. These two cities are considered culinary paradises.
Transport and budget Malaysia
Regarding transportation, Malaysia has a very good air, rail, land and sea infrastructure. Generally, you will have no trouble getting from one city to another. Public transport prices are still quite affordable in Malaysia. We recommend that you budget an average of RM 150-200 for your daily expenses.
Malaysia and France
Another good news is that as a French tourist, you will not need a visa to visit Malaysia. Like other Schengen countries, you are entitled to 90 days without a visa. Several airlines serve both destinations. Among these airlines are: Air France, Malaysia Airlines, Turkish Airlines, Qatar Airways and others. The flight time between the two destinations is estimated to be between 15 and 25 hours.
About Malaysia: Malaysia flag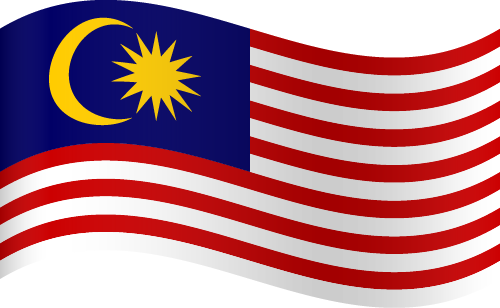 Malaysia flag, a historical heritage
Malaysia has a very rich historical heritage.
This richness is reflected in the many flags.
Indeed, Malaysia has a national flag and other state flags.
If you look at the Malaysia flag, you will notice at first glance that it is quite simple and straightforward.
However, the flag is full of implicit messages.
The flag of Malaysia reflects not only the history of the country but also the ideology of its citizens.
History of the Malaysian flag
In 1950, Malaysia flag had 11 stripes and an 11-pointed star.
In 1963, the flag of Malaysia took its new shape by adding 3 new stripes.
This is due to the recognition of the three territories (Singapore, Sabah and Sarawak) as federal states.
Although Singapore is no longer part of the territory of Malaysia, the Malaysian government has kept the 14 stripes of the flag.
Malaysia State Flag
All states in Malaysia have their own flags.
For example, the flag of Johor has been used since 1871.
The flag of the state of Johor is distinguished by its navy blue color, which occupies about three quarters of the flag.
The navy blue color represents the unity of the national government with the state of Johor. While the color red symbolizes the Hulubalang, which means the highest commander of the classical Malay kingdoms.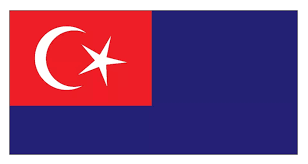 The history of Flag Malaysia is as fascinating as it is rewarding.
If you want to know everything about this subject, we recommend you to consult our malaysia flag.
Knowing Malaysia : Malaysia map
Discover Malaysia map
As mentioned earlier, Map Malaysia has 13 states.
The largest is Sarawak, while the smallest is Perlis.
One of the unique features of Malaysia is that it has hundreds of islands along its coastline.
If you want to recognize the islands in Malaysia you will find that their names are preceded by the word "Pulau".
Pulau means island in Malay, and the largest island in Malaysia is Pulau Langkawi.
Malaysia map: Mountain and river
If you like adventure and climbing, we recommend you to visit Mount Kinabalu.
The mountain is the highest point in the country with an estimated height of 4,095 m.
For nature lovers and family getaways, we recommend visiting the Rajang River.
With an estimated length of 563 km, the Rajang River is the longest in the country.
Malaysia map : caves
If you want to discover the underground world, you will be more than satisfied in Malaysia.
The Malaysia map is home to several beautiful caves. We invite you to visit the Mulu Caves on the island of Borneo.
The Mulu Caves are one of the largest cave systems in the world.
They are home to millions of bats and swifts.
We understand that Malaysia map is intriguing for you, to learn more we have made available this guide malaysia map.
About airport in Malaysia
Airport Malaysia, meeting the world
One of the determining factors in the attractiveness of a country for tourists is the quality of its air infrastructure.
Don't worry about that, Malaysia has several domestic and international airports.
Several airlines connect Malaysia to the rest of the world.
Hundreds of flights leave and enter the territory of Malaysia every day.
Airport Malaysia : KLIA
The vast majority of tourists will land at Kuala Lumpur International Airport (KLIA).
Each day, the airport handles the requests of approximately 35 million passengers.
Kuala Lumpur International Airport (KLIA) is located 50 kilometers from the capital city of Kuala Lumpur.
This airport is the main and largest airport in the country.
KLIA is also distinguished by its beautiful architecture, and was recently ranked among the top five airports in the world.
Airport Malaysia : other international airports
Besides KLIA, Malaysia has several other international airports.
Among these airports are, Malacca International Airport, Penang Airport, Langkawi Airport and many others.
As you can see, airports exist in the city as well as in the islands, which makes travelling in Malaysia much easier.
To plan your itinerary in Malaysia, we invite you to consult our guide airport malaysia.
About population in Malaysia
Population Malaysia, a multicultural kaleidoscope
Malaysia is a unique destination, this is due to the great diversity of its population.
The Malaysian population is made up of many civilizations that over time have created one of the most multicultural societies in the world.
History of the population Malaysia
The history of the Malaysian population is very long and rich, dating back several centuries and full of immigrants.
Several civilizations have succeeded each other in Malaysia and decided to settle in the country.
Among these civilizations are India, China, the Middle East, Great Britain, Portugal and the Netherlands.
These different ethnic groups have shaped the history of Malaysia.
While in the country, you will find several museums and buildings that attest to the influence of these civilizations on the culture of Malaysia.
Population Renewal Malaysia
Today, the Malaysian population is experiencing a second wave of immigration.
Immigrants from neighboring countries (Indonesia, Bangladesh and the Philippines) are increasingly flocking to Malaysia.
This new workforce works in the crafts, construction and agriculture.
The Malaysian government has launched several initiatives to encourage citizens from these countries to settle in Malaysia.
No doubt that in a few decades, the cultural sphere of the Malaysian population will take on a new dimension.
If you would like to know more about the population of Malaysia, we recommend that you consult our guide population malaysia.
Want to know more about Malaysia : additional information
In short, you will have understood, it is not for nothing that Malaysia attracts more than 10 000 French tourists annually. This country is unique and masterful, a perfect combination of modernity and tradition. Its beautiful cities, splendid islands and weather make the country a must-see destination in Southeast Asia. What are you waiting for? Live a unique experience, an experience that will mark you for life.
Read also

Need help creating your trip to Malaysia?
The ideal service if you have never been to Asia, or if you don't want to waste your time searching for tours, hotels or flights.

If you are already familiar with Asia and Malaysia, this service might be enough for you.
We will help you plan your custom tour in Malaysia.