Malaysian islands : discover the Malaysian islands
The Malaysian Islands evoke a dream vacation, they represent an escape to a fairy tale world.
This is a must if you want to plan a Malaysia holiday.
If you are interested in knowing as much as possible about Malaysia, follow us.
The islands of Malaysia are the perfect place to relax under palm trees and admire the turquoise blue sea.
The islands of Malaysia are a dream, they are suitable for any type of tourists.
Some Malaysian islands to visit : map of Malaysia and islands
First, be aware that not all Malaysian islands are the same. However, one thing is sure, they will mark you for a long time. The islands of Malaysia are distributed on both sides of the country (East Malaysia – Peninsular). The islands of Malaysia are commonly called Pulau which means island in Malay.
The islands of Malaysia captivate tourists from all over the world by the clarity of the sea, the many water sports available and the rich seabed. Some islands are distinguished by dense tropical jungles, lush vegetation and panoramic views.
Let's discover together the best islands of Malaysia.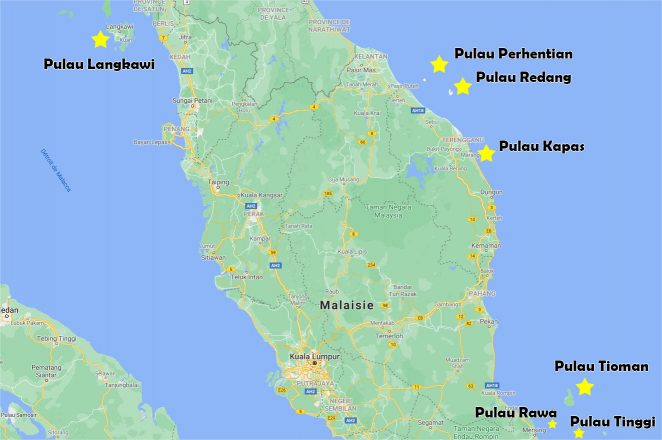 I- The peninsular islands
The Perhentian : the favorite island of tourists
The Perhentian Islands are among the most visited and popular islands in Malaysia and even in Southeast Asia. Pulau Perhentian is composed of two islands (Pulau Kecil and Pulau Besar). Pulau Kecil is the smaller island while Pulau Besar is the larger one. Each of the two islands has its own characteristics that distinguish them from the other island.
The Perhentian's twin duo is very popular because of the clear waters and the many water activities available. The two beaches (Long Beach and Coral Bay) of the two islands are of a masterly beauty. Don't hesitate to take some pictures there, you will have something to make your friends jealous.
You will find more details in our guide : perhentian island.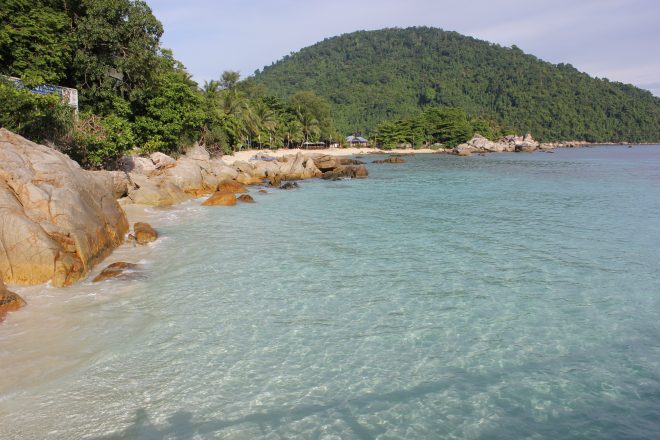 Pulau Tioman
Tioman Island is a beautiful destination located on the eastern side of Malaysia. Pulau Tioman is a popular destination because of the quality of its turquoise waters and the beauty of its views. Tioman Island is composed of 7 villages and includes several marine species and tropical forests.
On Tioman Island, you can practice scuba diving or snorkeling. You can also visit the beautiful Genting Bay or the authentic village of Kampung Tekek. Moreover, Kampung Tekek is the main village of the island.
More information in our article tioman.
For the moment, we have not yet had the opportunity to visit it.
Pulau Kapas
If you like relaxation, peace and quiet, then Kapas Island is the place for you. Kapas Island is located on the eastern side of Malaysia, it has several white sandy beaches and trails suitable for hiking. You will have the chance to enjoy a relaxing vacation like never before.
There are so many things to do in Pulau Kapas, for example you can visit the National Marine Park.
You can also kayak around the islands, scuba dive or even relax on a hammock overlooking the beach.
Tourists who come to Kapas are looking for the quietness, and the more preserved side compared to Perhantians or Redang.
Kapas is also more easily accessible (a flight from Kuala Lumpur to Kuala Terengganu, then a boat from Marang).
For more details, please visit our article : kapas island.
Pulau Langkawi : easy access and ideal between November and February
Langkawi Island is one of the most popular islands in Malaysia and is considered by many tourists as the paradise getaway of Southeast Asia. Langkawi Island was unknown to the general public until 1980 when the national government began to promote it. Today, Langkawi Island attracts thousands of tourists every year.
Pulau Langkawi is one of the global geoparks under the protection of UNESCO, the island has managed to preserve more than 65% of its natural habitat. On your way to Langkawi, you can wander through its tropical forests, sunbathe on its white sandy beaches or swim in its waterfalls. Finally Langkawi is home to a rich folklore and historical heritage, you will have something to entertain you for a long time.
For more information, go to our travel guide : langkawi island.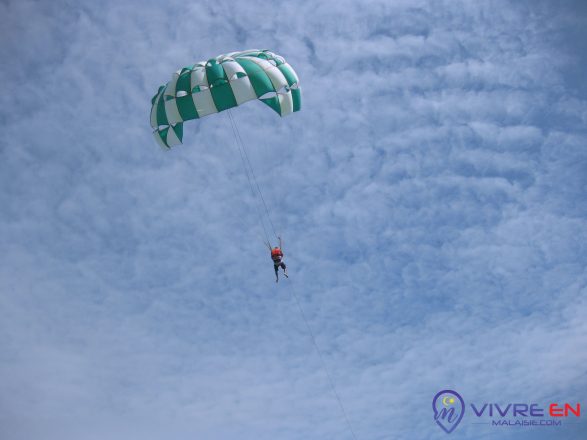 Pulau Redang
Pulau Redang is located on the eastern side of Malaysia, it is part of a marine park that consists of 9 islands. Redang Island is popular because of the quality of its water and the diversity of marine species that live there. Moreover, it is a superb place for lovers of scuba diving or snorkeling because of its belonging to the protected marine areas.
In addition to diving, you can practice jet-skiing or kayaking. If you are not a fan of water activities, you can go to the marine center or simply sunbathe on the beach. Whatever your choice of activities, you won't be disappointed.
You will find more details in our travel guide : Redang.
Penang: more than an island
Without a doubt, Penang Island is one of the most unique, popular and beautiful destinations in Malaysia. Penang is located on the northwest side of the country, the island is considered a culinary paradise. Penang has long been home to different ethnicities, which has enriched its culinary scene. On the island you have the chance to taste dishes of all colors and flavors.
Forget the paradise beaches, Penang is not an island where you will find the beautiful beaches of the Perhentians or Redang islands.
There are a lot of tourist places to visit in Penang Island. Without a doubt, the most popular is Georgetown. Georgetown is the historic district of the city, it is decorated by dozens of murals. You will feel like you are visiting an art gallery and not just a neighborhood. We also invite you to visit the Indian district (Little India) and the Chinese district (Chinatown). There are so many other things to discover in Penang, this destination will not leave you indifferent.
You will find more details in our guide : penang malaysia.
Pulau Pangkor
Pangkor Island is located on the western side of Malaysia, near Kuala Lumpur. Long inhabited by the Thai population, the island was nicknamed Pangkor (beautiful island) in Thai. Pulau Pangkor is a very good spot for lovers of relaxation and tropical climate.
Once on Pangkor, do not forget to visit the Dutch fortress. It is a witness of the Dutch colonization and the architectural splendor of the colonial era. You can also go jet skiing, parasailing, kayaking or even the mythical banana boat.
More information in our travel guide : Pangkor.
II- The Islands of Borneo
Labuan : a duty free zone
Labuan Island is a typical reflection of Malaysia's natural wealth, it is located on the eastern side of the island.
The island of Labuan has a very unique historical heritage. It is one of the few islands in Malaysia that are not overcrowded.
Today Labuan Island has more than 90,000 citizens, it plays a significant role in the offshore transportation in Malaysia.
Besides sunbathing on the beach, there are so many other activities to do in Labuan Island.
You can visit the war cemetery, the allied landing point, marine museum and others.
In short, one thing is sure, Labuan Island is not like other islands in Malaysia.
It is best known for its offshore status. It is an excellent place to open a company in Malaysia and optimize its taxation.
More information in our article dedicated to the Labuan island.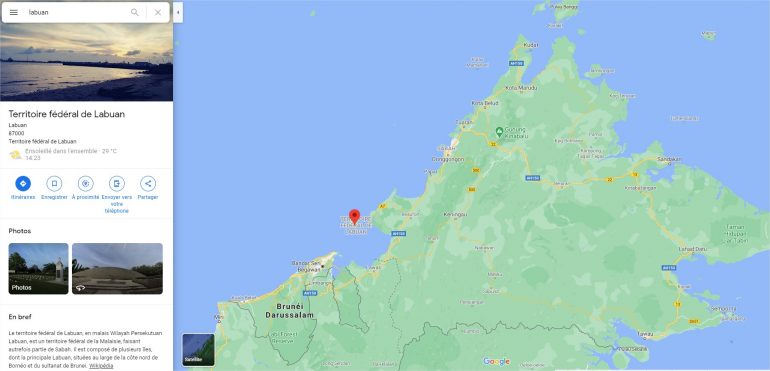 Kapalai : a hotel far from everything !
Kapalai, in Malaysia, is nicknamed the magic island by the local population. The nickname comes from the disappearance of the island following the rise of the tide. Traveling to Kapalai Island, you will feel like you are living on the water and not on the land. For this reason, if you are a novice swimmer, it is best to avoid the island's beach.
Kapalai Malaysia is located in East Malaysia near the island of Sipadan. Several water activities are available on the island including scuba diving, snorkeling and boat tours. You should also know that the island has only one place to stay, so you should contact the owners before going there.
For me, it is not really an island, but more a diving spot, with a hotel "Sipadan Kapalai Dive Resort".
The price is not cheap, but I'm sure it's worth it.
We stopped there for 2 hours to swim around this place, and it was beautiful.
To know more about it, we put at your disposal this guide : Kapalai Malaysia.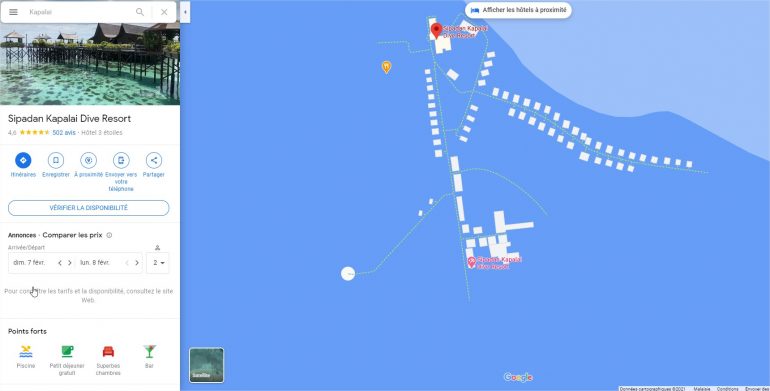 Pulau Mabul : the "paradise" of divers
We have already been in March 2017 and August 2022.
There is a beautiful beach and also some accommodation on stilts.
You will also find fishing villages.
The locals are not "rolling in it": there is a visible contrast between the tourist hotels and the local houses on the island.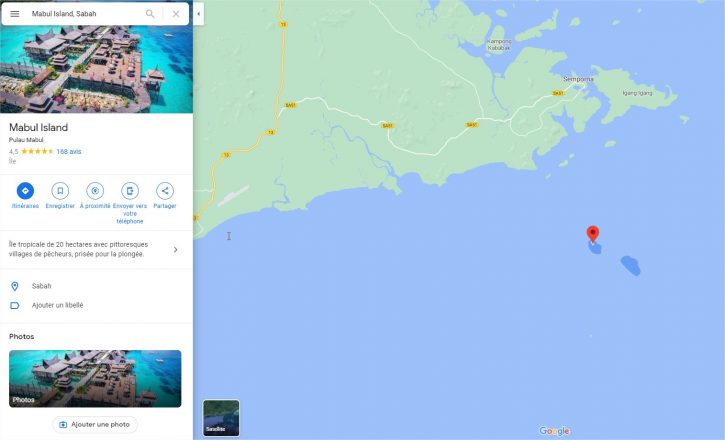 Pulau Sipadan : a perfect spot for divers
We will tell you more about Pulau Sipadan which for us is worth much more than the islands of the peninsula ????
We have already been in March 2017, and August 2022, at the same time as Pulau Mabul.
So, if you pass by Mabul, it is very interesting to do the 3 islands at the same time: Sipadan, Mabul, and Kapalai.
There are other must-see spots as well.
III – The other islands
There are many more islands in Malaysia.
We will try to tell more as soon as we have the opportunity to go there InShaaAllah.
We are not going to reveal everything, to avoid mass tourism and preserve some secret places.
Pulau Rawa
The island pulau Rawa, is an island that is located in the region of Johor, accessible by boat from the port of Mersing.
For the moment, we have not yet had the opportunity to go there.
Pulau Tengah
The island of pulau Tengah is an easy to reach island, still on the Johor side.
It is not very far from Pulau Rawa.
I think we will try to visit the 2 islands at the same time, if Allah allows us.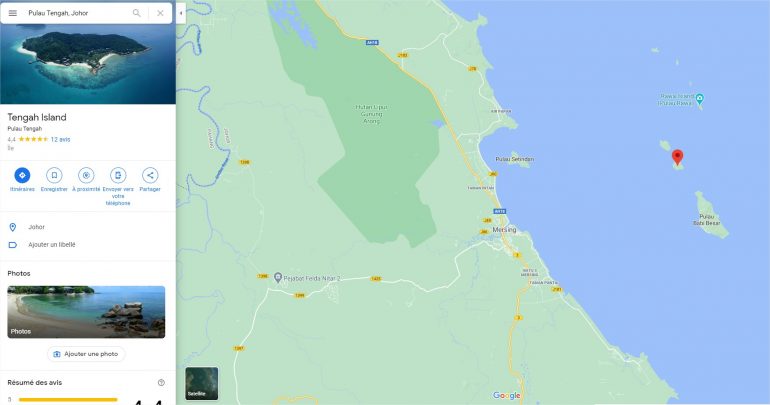 Additional information
Malaysia's tropical islands are home to lush rainforests, beautiful beaches and delightful cultures. The islands of Malaysia are very popular with scuba diving enthusiasts because of the diversity of marine resources that live there and the quality of the waters. By visiting the islands of Malaysia, you can discover all the beauty and splendor of coral reefs and fish of all colors.
The islands of Malaysia are not just destinations for water sports enthusiasts but are suitable for any type of tourist. For example, you can discover local villages, marked trails as well as historical monuments and places of worship. In short, it is clear that the islands of Malaysia offer a unique and diverse variety of activities and atmospheres. So what are you waiting for, go and live a unique experience in the Malaysian islands.
Our personal opinion
The islands of Borneo are, for us, the most beautiful islands of Malaysia.
More difficult to access, these places are home to world famous diving spots.
Even if you don't dive, a few days on these islands will give you an eyeful.
We had not yet done any scuba diving, but only rested on the beaches, and snorkeling.
However, the Perhentian, Redang, or Kapas islands remain beautiful and easier to access ❤️
P.S.: This guide will evolve over time. In the near future, we will add the missing islands namely: Rawa, Tengah, Mabul, Sipadan and others.
Need help creating your trip to Malaysia?
We offer different services to create your trip to Malaysia and discover the most beautiful beaches in Malaysia.
Save your time and money with these services.
Through private phone calls, we will prepare a customized tour for you, adapting to your budget and travel preferences.
The ideal service if you have never been to Asia, or if you don't want to waste your time searching for tours, hotels or flights.

If you are already familiar with Asia and Malaysia, this service might be enough for you.
We will help you plan your custom tour in Malaysia.
Read also