Discover the Local Malaysian cuisine
Malaysian cuisine or culinary paradise, a unique experience.
If you go on a trip to Malaysia, you will be treated to delicious food like never before.
The Southeast Asian country is a country of cultural diversity which is reflected in its cuisine. If you want to know more about the best places to eat in Malaysia, please read our article where to eat in Malaysia.
The culinary choices in Malaysia are very diverse, each dish has its own history and traditions.
Malaysian cuisine is a blend of Chinese, Indian and local Southeast Asian flavors.
If you want to know more about Malaysian cuisine, this guide is for you.
The origin and history of Local Malaysian cuisine
Migration throughout history has played a very large role in the development of ethnic diversity in Malaysia. Over time, this ethnic diversity has been reflected in the culinary style. Today, Malaysian cuisine is a very interesting mix. A mix of flavors that makes Malaysian cuisine extremely rich and diverse.
Everywhere in Malaysia, you will find Chinese food with all its authenticity (check if it is halal, if you are Muslim). You will also find the Indian cuisine exactly as in the country of origin. Malaysian cuisine is famous for its spicy (even very spicy…!) and aromatic taste. It combines the diverse flavors of natural herbs and spices from Southeast Asia. Meal preparation is usually done in groups. During big events, you can see neighbors and families all around a big pot of beef rendang.
Malaysian cuisine is generally eaten with the hands, the Malays rarely use forks and spoons. The locals perceive eating with their hands as an art. The manual movements are intended to prevent the rice from escaping. Besides, rice is the essential ingredient of Malaysian cuisine. It is usually eaten with meat and vegetables.
The best Malaysian dishes to try
Malaysian cuisine is very rich and diverse, among the most famous dishes in the country, we find :
I. Nasi Lemak
It is a very popular dish among the local citizens, you must eat it at all costs.
You will find different versions of the dish, some are made with coconut milk or with hot sauces.
II. Ikan Bakar
This is another very popular dish in Malaysia.
It is fish grilled on charcoal with banana leaves on top. The grilled fish is served with hot rice and some vegetables.
"Ikan" means fish in Malay.
"Bakar" means grilled.
III. Nasi Kandar
Another very famous dish in Malaysia, it originates from Penang.
The Nasi Kandar is made of rice with curry.
"Nasi" means rice (cooked) in Malay.
IV. Roti Canai
A dish made of dough cooked with oil and marinated in sauce.
Do not hesitate to try it, it is a pure delight. There are several variations, sweetened, or with curry, all equally appreciable.
"Roti" means bread in Malay.
V. Assam Laksa
It is a noodle soup with fish. Taste it, you won't regret it.
You can opt for Char kuay teow noodles: local citizens love this dish.
The dish consists of large rice noodles with seafood, soy, chives and eggs.
VI. Hokkien Mee
A dish originating from China. There are two ways to make it, either shrimp noodles or fried noodles.
VII. Nasi Campur
This dish is the Malaysian version of Nasi Kandar.
In many restaurants in Malaysia, you will be offered rice dishes and asked to choose the assortment.
You will probably come across the Bak kut teh which is a typical Chinese dish.
It consists of pork slowly cooked with soothing herbs and spices.
Not all restaurants are halal, so be careful if you are Muslim : don't eat with your eyes closed and with total confidence !
Of course, there are many other dishes that we cannot mention, such as the famous Nasi Goreng, Mie Goreng, etc.
Here are some terms with their translation :
"Nasi" means "rice".
"Mee" means "noodles".
"Ayam" means "chicken".
"Roti" means "bread".

The influences of Malaysian cuisine
As previously mentioned, Malaysian cuisine has been influenced by various regions. The cuisine of northern Malaysia is known for Thai flavors due to the migration of Thai and their marriages with locals. The Nordic dishes are mainly composed of coconut milk, beef, vegetables and very spicy peppers.
India has also influenced Malaysian cuisine, the Indian influence began with the British colonialists. They brought the workers from South India to work in the rubber plantations of Malaysia. The workers brought their culinary culture with them. Malaysian cuisine was enriched by various cooking techniques and new ingredients. Besides, it was the Indian workers who started the trend of dishes cooked with spices in oil. Several Indian ingredients are present in Malaysian cuisine. We can count, purple eggplant, brown mustard, curry leaves and others.
Speaking of ingredients, the Malays love to cook with seafood and other marine species. White and red meats are also an integral part of Malaysian cuisine. Often, meats and seafood are marinated with herbs and spices before being cooked. In Malaysian dishes, although it is also popular to find raw vegetables in the dishes, stir-fried vegetables are also very present.
Dried spices are also an important ingredient in Malay cuisine. Malacca was one of the great commercial centers of the spice trade in the 15th century. This has benefited Malaysian cuisine. Today, the Malays use several dried spices such as fenugreek, star anise, coriander and others.
With so many different influences from the region, Malaysian cuisine has become an interesting and varied adventure, something that can be savored and enjoyed with family and friends.
Some similarities with the dishes of the Maghreb
Some of the dishes are similar to those of the Maghreb.
Thus, the ROTI CANAI resembles the Melwi or the Msemmen.
The YOO TIAO, also called TCHA KWAI, is close to the Sfenj.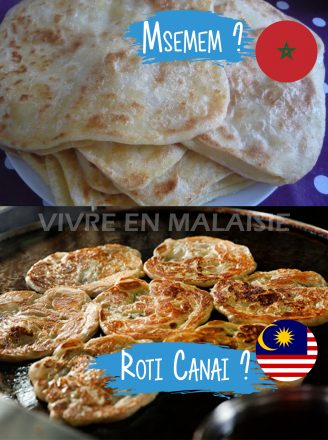 By the way, we tried a Moroccan restaurant in Kuala Lumpur, but it really disappointed us.
We will try all the Moroccan restaurants: it is always a pleasure to find the flavors of the country for Asmae, even if the dishes of the mother will always remain the best!
Our personal advice
In Malaysia, eating is a national sport. It can become very addictive, especially at the price of the dishes, in Mamak (which means "little mother" in Persian).
Here are some notes we would like to share with you:
You will find dishes for all budgets: from the Mamak to the luxury restaurant, from the 1€ dish to the 99€ dish
Malaysian dishes are quite caloric: be careful, the Roti Canaï every morning is not necessarily very good…
Malaysians walk very little (laziness?) because it is too hot (official version). They order almost everything via their app Grab Food or Panda Food: it's true that it's much easier but try to walk as much as possible.
Feel free to try all the dishes, but personally, before important days (flights the next day, or appointments etc.), we never take risks 🙂
Not all restaurants are halal: if you eat halal, be sure to check that the restaurant is halal AND does not serve pork. Generally, all restaurants will display a "pork" sign, etc.
We will add over time, some videos of restaurants in Malaysia.
Don't forget to follow our Youtube channel and our Instagram account!
Read also