Looking for work Malaysia
Working in Malaysia is a very rewarding experience for anyone who wants to discover a new way of working and living.
Malaysia has a large community of expatriates and foreign entrepreneurs.
Malaysia fascinates and intrigues with its financial and social opportunities and advantages.
If you want to know more about travel, expatriation and travel in Malaysia, please consult our guide Malaysia travel.
If you are looking for work Malaysia or you want to know more about the world of work Malaysia, this guide is for you.
Settling in Malaysia with a work visa
I. Working in Malaysia : Overview
Malaysia does not only attract French employees but employees from all over the world.
Working in Malaysia can help you reach new heights in your professional career.
Several French and multinational companies are interested in this country.
Working in Malaysia, you will learn about the culture, history and social characteristics of the country.
The desire to come and settle in Malaysia is multiple.
For some, it will be for the love of the country, while for others, it will be for a professional opportunity only.
II. Working in Malaysia : the advantages
Working in Malaysia will also help you understand the Malaysian job market.
This is a great advantage for you if a French company decides to set up in Malaysia.
You will certainly be in the front line to land the job.
Working in Malaysia is an incomparable experience and could only enrich you, both professionally and socially.
For others, especially the most qualified, signing an expatriate contract in Malaysia could also launch their career internationally and also seize opportunities of much more attractive salary than in other countries.
III. Working in Malaysia by creating your own company
If you don't want to work for someone else, you can always open your own business.
Moreover, the Malaysian government encourages technology start-up initiatives.
You can benefit from financing and visa assistance, in theory.
Indeed, it is quite difficult to find up-to-date and reliable information on the different ways of doing business in Malaysia.
On our side, we have opened 2 companies, for local and international business.
Many opportunities exist in Malaysia, provided that you are rigorous, diligent, and resourceful.
Of course, as a foreigner, the financial contribution will be almost indispensable to obtain a work visa, for example, through your newly created company.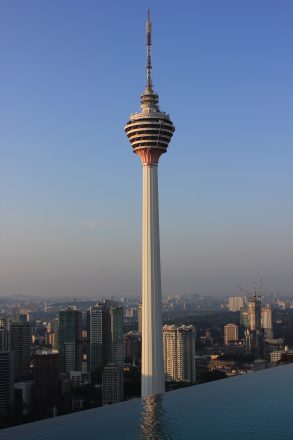 The job market Malaysia
I. Employment Malaysia : a delicate process
Working in Malaysia can redefine your professional career and your personal life.
Several Malaysian companies are recruiting foreign employees.
Finding a job in Malaysia is a delicate process.
It is necessary to multiply the requests to find a possible entry door.
Everything will depend on your profile, your CV, but also the market at the time of your research.
What is certain is that without a diploma, you will have great difficulty finding a position here.
Priority is given to Malaysians: if the company does not find a suitable profile, it will turn to foreigners.
Keep in mind that Malaysia has a lot of labor from neighboring countries, especially Indonesia, but India, Pakistan and Bangladesh.
II. Is it necessary to learn the local language (Bahasa Melayu)?
To land your job in Malaysia, we advise you to start by learning the local language (Malay), this will drastically increase your chances.
Most of the French employees in Malaysia are fluent in English and French, but few are fluent in the local language.
Learning Malay is a great advantage for you.
We reassure you, it is not really necessary to speak Malay.
This is only a PLUS!
Mandarin is also undoubtedly an excellent advantage for you.
Being able to speak several languages will automatically set you apart from all other profiles, whether in Malaysia or elsewhere.
III. How to find a job in Malaysia : recruitment sites
We also advise you to contact companies either directly through their website, or via a recruitment website.
There are several job websites Malaysia.
Among the most famous are Indeed, GlassDoor and JobStreet.
Each website has its own disadvantages and advantages.
One thing is for sure, your presence on these websites will help you immensely in knowing the characteristics of the Malaysian job market in order to adapt your profile to the recruiters' requirements.
Also, don't hesitate to expand your address book thanks to Linkdn.
You will be able to contact many companies directly through this professional social network.
If you want to increase your chances of getting your new job in Malaysia, check out our guide job Malaysia.
Work visa in Malaysia
I. Work visa Malaysia :  "Employment Pass", the classic visa
You have managed to find or get a job in Malaysia but you don't have a clear idea about the work visa?
Don't worry, we will assist you.
First of all, it is important to know that there are several types of work visas, more commonly called work permits.
These visas may also be called "Employment Pass" (EP).
Several categories of PE exist, depending on several parameters, including your salary, position, and length of visa.
II. The "normal" work permit
The Malaysian work permit is divided into three categories (Normal Work Permit, Temporary Work Permit and Professional Business Card).
The normal work permit allows foreign employees to work in the country for more than 12 months.
It is issued to expatriates with specific skills in a particular field, usually for technical or managerial positions.
To obtain this work permit, you need to receive a monthly sum of more than RM3,000, or even more depending on the business sector.
To obtain this work visa, it is up to your company to manage all this.
There are fees and a multitude of conditions that must be met.
For these reasons, many companies prefer to recruit, when possible, a person who already has a residence card (via a social visa, for example, through marriage etc.).
III. The temporary work permit
The temporary Malaise work permit is intended for semi-skilled employees in specific fields.
This permit allows you to work in Malaysia for up to 12 months.
However, as a French national you are not entitled to this work visa.
Indeed, the temporary work permit is only granted to certain nationals of Asian countries.
IV. Professional business card
The last type of Malaysia work visa is the professional business card.
To obtain this work permit, you must have an employment contract with a company in France and provide your services to a Malaysian company through the French company.
This Malaysia work visa allows you to work in the country for a maximum of 12 months.
This is more or less the same as the portage salarial.
To know the conditions of each work visa Malaysia, read our article working visa Malaysia.
Conclusion on the Malaysia job : a golden opportunity
Working or starting your own business in Malaysia is a very rewarding experience.
While the process is very long, the opportunity is worth the effort.
We invite you to learn more about the Malaysian job market and the requirements for a Malaysia work visa.
This will make it easier for you to start your own business or find a job that suits your profile and career aspirations.
Many expatriates and entrepreneurs have decided to settle permanently in Malaysia because of the high salaries, low cost of living and the benefits granted to foreign expatriates and entrepreneurs.
Do not hesitate to start a new professional experience in Malaysia.
Keep in mind that the joy of life comes from new experiences.
Our advice
Here are some tips for your job search:
Subscribe to job boards and set up an alert for jobs that match your profile.
Multiply contacts if possible: word of mouth is international ????
Do not hesitate to contact directly the different French organizations to help you: the CCI or the embassy.
Also to be read