The best islands in Malaysia
Many of you have asked us for our recommendations for Malaysia islands and Malaysia beaches.
What is the best beach in Malaysia ?
What is the best island Malaysia ?
We have been traveling regularly to Malaysia since 2009, before finally settling down in 2020.
Through our personal experience, we will share with you our ranking of the Malaysian islands, with their advantages and disadvantages.
Feel free to comment with your own ranking
Before you start
Small remark before starting: this classification is purely personal.
We based our decision on our own experience in Malaysia, and also on the opinions of our Malaysian relatives.
Depending on the expectations of each person, this ranking may not be the same for everyone!
For each island, we will give our advantages and disadvantages.
Let's get to the heart of the matter by starting with the island ranked number 9 in our ranking.
Top 9 : PENANG Island
We did not plan to put it in our ranking initially.
But as we receive a lot of messages about Penang Island, we decided to put it in the top 9 of our ranking.
Advantages Penang
It is easily accessible by air from Kuala Lumpur. The round trip ticket is not very expensive either.
But you can also reach the island by car. It will take about 4 to 5 hours to drive from Kuala Lumpur, depending on traffic.
Many enjoy Penang, especially for the local cuisine.
In terms of accommodation, you have a lot of choices, for all budgets.
Disadvantages Penang
If you are looking for beautiful beaches, forget it.
It is not the ideal place to find the most beautiful beaches in Malaysia.
At worst, you can go to the south of Penang.
You will find some "so-so" beaches.
Top 8 : DESARU beach
It is not an island, but we wanted to include it in our ranking for the following reasons.
Advantages of DESARU
Little known by locals and tourists
For us, outside the islands, Desaru beach is one of the most beautiful beaches in Malaysia.
Beware, we are far from the crystal clear water of the islands, but the long sandy beach of Desaru is very appreciable.
The water is clean and clear.
And we appreciate the overall atmosphere.
It is a little-known area, and the big hotels have only recently been established.
You have the Hard Rock Hotel, but also the Westin which we highly recommend.
These opened their doors around 2019.
For smaller budgets, you will find other hotels available.
Great water park
The other advantage is the Desaru water park: a perfect place for children.
It is connected directly with the Hard Rock Hotel.
You will find other activities, whether with family or friends.
A strategic point for Singapore – Malaysia tours
One last advantage: Desaru is a popular place for Singapore residents.
If you have for project to realize a Singapore – Malaysia tour then Desaru could easily find its place in this circuit.
In addition to that, if you have enough time, you can also drive all the way up the East Malaysian coast and enjoy all the other East Malaysian islands.
We had the opportunity to do it with our 2 children, and we do not regret it at all.
The disadvantage of DESARU
Unfortunately, this corner remains difficult to access.
The nearest airport is Johor Bahru, which is about 1 hour away by car.
Is it worth it to take the plane + one hour of car to reach Desaru?
We don't think so.
Not because of the area, but because if you have very limited time, there are other better beaches to do in Malaysia, which will be more easily accessible.
Top 7 : TIOMAN Island
The island of Tioman is in position 7 of our ranking.
It is a very large island, which is about 136 km².
For comparison, the Perhentian Islands are about 15 km².
Benefits of TIOMAN
The activities in TIOMAN
Tioman is a large island of volcanic origin.
You can find some very nice spots, and some not so nice ones.
You have many activities : diving, trekking, climbing, fishing, etc.
In addition to that, you will have a multitude of choices in terms of accommodation, from simple bungalows to 4 star hotels like the Berjaya or the Tunamaya.
Access by flight
Finally, the very good news is that from May 1, 2022, the airline SKS Airways will offer direct flights from Kuala Lumpur to Tioman Airport.
Since 2014, there was no air connection.
The other islands around
The beaches of Tioman are also less beautiful than the beaches of our top 5. Again, this is a subjective opinion.
However, you will have access to very beautiful islands, from the port of Mersing: Pulau Tinggi, Besar, Tengah, Hujung, etc.
So if you take a driving tour to Mersing, you can combine several islands at the same time.
Disadvantages of TIOMAN
Before 2022, the biggest disadvantage was clearly the access, because it was necessary to plan between 4 and 5 hours of road, to arrive at the port of MERSING (one of the ports of departure, with Endau – Jetty Tanjung Gemuk).
Then to that, we had to add between 1h and 1h30 of boat, depending on the weather.
Today, this is no longer the case, but the price of a round trip ticket between Kuala Lumpur and Tioman is at least 100 euros.
Top 6 : LANGKAWI Island
Langkawi island is the largest of Malaysia: it is 478 km².
Another classifies Banggi Island, which is an island in the northeast of Sabah, as the largest in Malaysia.
We hesitated to place Langkawi in the top 7, instead of Tioman, but both have their advantages and disadvantages, which we will see right away.
Benefits Langkawi
Many activities
Whether you come as a family, a couple, or solo, you will have plenty to keep you busy.
Some think that after 4 days on Langkawi, they will end up bored: those stay unfortunately, generally, only on the beach of Pantai Cenang.
An advice: it is absolutely necessary to rent a car and enjoy the whole island.
The price of gasoline is also very affordable!
You can go jet-skiing, tour all the beaches, go to the night market, go on excursions to the different small islands around Langkawi, visit the farms, do the Langkawi Sky Bridge, etc.
Accommodation in Langkawi
This is one of the other advantages of Langkawi: you will really find all types of accommodation.
Whether it is a very rustic accommodation to luxurious hotels like The Datai, or The Danna that we had the chance to stay.
Very easy and economical accessibility
Finally, to reach Langkawi, it is very simple by plane, from Kuala Lumpur for example.
The ticket price is affordable, if you book in advance.
You can find round trip tickets, starting at RM 130 each way, which is about 28 euros.
The journey takes only about an hour.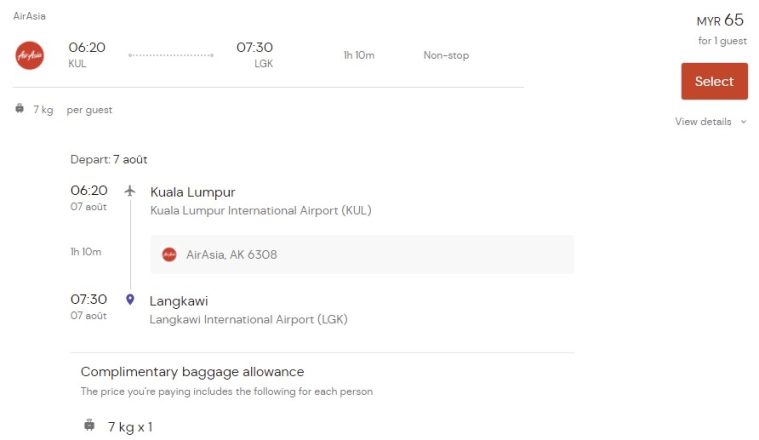 Little extra for Muslims
For Muslims, Langkawi is mostly populated by Malay Muslims.
So you will find many mosques, and villages of Malay locals.
For non-Muslims, no worries, you will also find your happiness, without any doubt.
Perfect Thailand Malaysia Tour
Last advantage: you can easily make a small Thailand Malaysia tour.
Indeed, you can reach Langkawi Island from the Thai islands, especially KOH LIPE.
This allows us to make the transition with the disadvantages of Langkawi.
Disadvantages Langkawi
Personally, the beaches of Langkawi are not the most beautiful in Malaysia.
We had the opportunity to go around the beaches of the island, and we will make a video for that.
If you are looking for beautiful "paradise" beaches, forget about Langkawi.
On the other hand, if you take the boat, you will have access to beautiful small beaches, on the nearby islands.
You have for example Pulau Beras Basah, or even more distant, Pulau Payar.
Bonus : KOH LIPE, the Thai island
But if you absolutely want a very beautiful beach, you will have to make 1h30 of boat minimum, in direction of KOH LIPE!
On the other hand, KOH LIPE is a Thai island: you will have to go through the customs controls, and you should not forget your passport.
For our Moroccan friends for example, a visa is required to visit Thailand.
It is really worth the detour!
Top 5: KAPAS Island
Advantage of KAPAS

KAPAS is a very small island of less than 4 km².
We really liked this small island, for its still a bit wild side.
You will find only a few accommodations.
You can also go camping.
The beach of Kapas is very pretty.
It is little visited, if we compare it with its neighboring islands like Redang or Perhentian.
One of the advantages of this island is that it can be reached in only 15 minutes by boat, from the pier of Marang.
Disadvantage of KAPAS
The island is very small, and you quickly go around the island.
This may be suitable for people who want to be isolated for a while.
It would also not be suitable for people who want to do daily activities.
The access is less simple than Langkawi.
You will have to take a flight to Kuala Terengganu airport (1h), then count on a 45 minutes drive to the JETTY MARANG.
Top 4 : REDANG Island
Advantage REDANG
Direct air access from Kuala Lumpur
Since 2022, it is now possible to reach the island of REDANG by plane.
This is a very big advantage today.
For those who have the budget for flight and accommodation on Redang, then we will place this island in top 3 instead of top 4.
Very beautiful beach
Redang is about 25 km².
You will find very beautiful beaches on Redang.
For snorkeling enthusiasts, this is a very nice spot too.
The beaches are much nicer here, than on Langkawi.
Disadvantage REDANG
The budget
If you don't have the budget to fly from Kuala Lumpur (minimum 100 euros round trip), you can opt for a flight between Kuala Lumpur and Kuala Terengganu.
Then you have to take a car to the JETTY MERANG.
Then take the boat.
We will have to do the calculations and see which solution would be the most economical in terms of money but also in time.
Hotels in Redang are generally more expensive than in neighboring Kapas or Perhentian.
Overall, the total budget for accommodation + food + activities is higher in Redang.
Again, of course, you can find low prices if your criteria are low.
Top 3 : the 2 PERHENTIAN islands
Perhentian islands are divided in two islands :
Pulau Perhentian Kecil,
Pulau Perhentian Besar.
You can take cab boats to travel between the two islands without any worries.
It only takes 5 – 10 minutes to get there.
Benefits of PERHENTIAN
The beauty of the beaches
Perhentian is well known for its beautiful beaches.
Whether on Perhentian Kecil or Perhentian Besar, you will find beautiful beaches.
For all budgets
Unlike Redang, the overall budget, in our opinion, is lower in Perhentian.
You generally have more choice in terms of accommodation on these 2 islands.
Disadvantages of PERHENTIAN
The access
Still in comparison with other islands that have direct access by air (Langkawi, Redang, Tioman, etc.), to access the PERHENTIAN islands, it will be necessary to take a flight + car trip + boat.
For the flight, you can opt for a flight between Kuala Lumpur and Kota Bharu airport.
Then, count between 1h and 1h30 of journey by car.
Then, add 30 to 45 minutes of boat trip (speedboat).
You will have to check your arrival time by plane, then the departure time of the boat from Besut.
Avoid the high season
These two islands are very successful.
It is better to avoid the high season, if you don't like the crowd.
There are no other real disadvantages except that the island usually closes between November and February, +/- 1 month, because of the monsoon.
It's the same for REDANG / KAPAS / TIOMAN etc.
Top 2 : the islands of KOTA KINABALU
For our favorite island top 2 of MALAYSIA, we will switch to East Malaysia : BORNEO.
And more precisely, on the region of SABAH.
And even more precisely on the city of Kota Kinabalu.
Advantages of KOTA KINABALU
Access by plane then access to the islands of the park fast
In top 2, we decided to place a set of islands: it is the 5 islands of the national TUNKU ADBUL RAHMAN Park.
The Kota Kinabalu Islands are increasingly visited, both by locals and international tourists, including Chinese and Koreans.
These are the following islands:
Pulau Gaya,
Pulau Sulug,
Pulau Manukan,
Pulau Mamutik,
Pulau Sapi.
From Kuala Lumpur, it will be enough to take a flight towards KOTA KINABALU.
Count about 2h30 of flight.
Then from the airport to the center of Kota Kinabalu, you will only have about 15-20 minutes of travel.
From the main port, access to these islands is 10 minutes by boat.
You can go around 3 islands for only RM 40 (9 euros).
And it is also for this reason that we have decided to group these islands into a top 2.
Accommodation : from simple Airbnb to accessible luxury hotels
The other advantage that we appreciate on Kota Kinabalu is the wide choice of accommodation, at very affordable prices.
You will find many whole apartment type accommodations on airbnb.
If you go in a group, the costs will be very easily reduced.
If you prefer more luxurious hotels, you will have for example the Shangri-La in Tanjung Aru, or the Shangri-La in Rasa Ria, which is located further north.
You will find the big hotel chains such as Hilton, Novotel, Marriott or Meridien.
The price for one night, for 2 people is very reasonable, if we compare with other cities.
As an example, a night at the Hilton (5 stars) can be found for less than RM 300 (65 euros).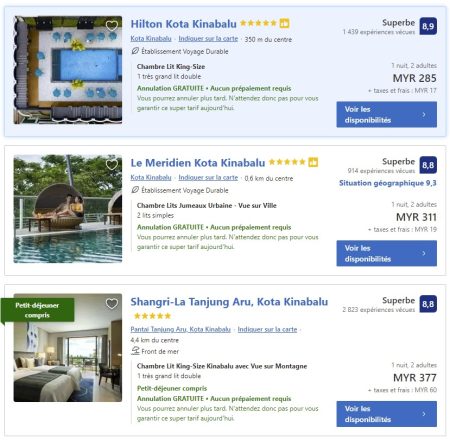 The beaches are beautiful
If you are lucky enough to go during the low season, you can enjoy these beautiful islands.
If you want to make the most of it, it is now possible to spend several nights on these islands.
The ultimate bonus : MANTANANI island
The other advantage of coming to Kota Kinabalu is that there is no lack of activities.
Contrary to the previous islands (Perhentian, Redang, Kapas), where you quickly make the tour, on KK, you have many excursions.
It is for all this that we have placed it in the top 2 of our ranking.
And one of the islands accessible from Kota Kinabalu, through local agencies, is the MANTANANI island which is beautiful.
It is now possible to spend nights on this island (good news or bad news?).
This was not the case in 2013, when we first visited.
The ultimate bonus ++ : MENGALUM island
For the lucky ones, you can also access this private island: Pulau Mengalum.
In 2022, access was unfortunately impossible.
Disadvantages of KOTA KINABALU
Kota Kinabalu is a victim of its own success: there are more and more tourists, local and international.
In recent years, you will find more flights from Kuala Lumpur to Kota Kinabalu, than from Kuala Lumpur to Langkawi.
Personally, we don't recommend going to the islands of Tunku Abdul Rahman National Park in the middle of the weekend.
The islands are full of tourists.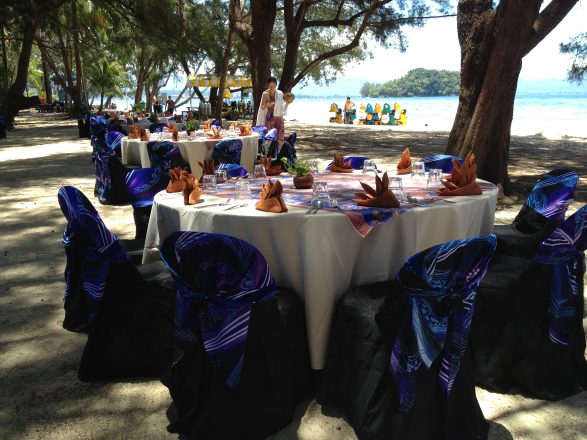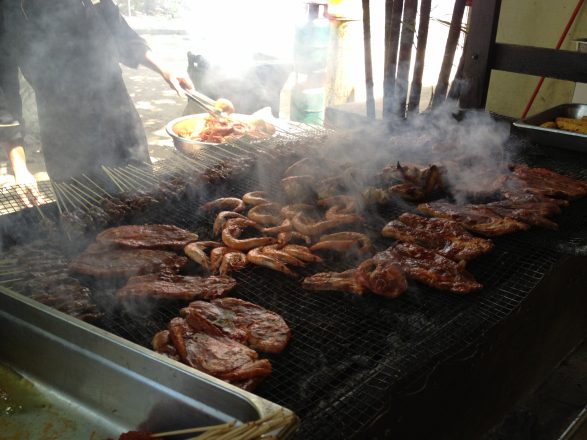 Apart from that, we do not see any other disadvantages.
Top 1 : SEMPORNA Islands
Many suspected (well, especially the connoisseurs), the most beautiful islands of Malaysia are located on the north-east of SABAH, especially from the port of SEMPORNA.
These Semporna Islands dominate the ranking, in our opinion.
SEMPORNA Islands Benefits
This area is known to be one of the best diving spots in the world.
You will find a multitude of islands, all beautiful.
Here are some names of islands that are worth the trip:
Kapalai (there is only one resort left),
Sipadan,
Mabul,
Mataking,
Bohey Dulang,
Pom pom,
Timba timba,
Maiga, etc.
We won't mention them all, but there is no lack of choice!
Disadvantages of SEMPORNA islands
We can mention several disadvantages:
the area is classified as a dangerous zone by the French Ministry of Europe and Foreign Affairs.

Sabah and the danger zone

It is necessary to know the area well, because there are many islands.
We do not recommend this type of trip for young children, nor for pregnant women: you will often travel by boat, and we feel that this is not suitable for young children.
It is necessary to book in advance if you want to go snorkeling.
Our advice before booking
Here are some tips, as usual, about the Malaysian islands:
Check the right period before booking your ticket to Malaysia. The islands of the peninsular east coast are usually closed between October and February, due to the northeast monsoon.
If you are traveling with a young child, check that the destination is appropriate: we do not recommend the SEMPORNA islands if you are traveling with a young child.
These pages may be of interest to you
For more information, you will find below, informative pages that may also be of interest to you:
Need help creating your trip to Malaysia?
We offer different services to create your trip to Malaysia.
Save your time and money with these services.
Through private phone calls, we will prepare a customized tour for you, adapting to your budget and travel preferences.
The ideal service if you have never been to Asia, or if you don't want to waste your time searching for tours, hotels or flights.

If you are already familiar with Asia and Malaysia, this service might be enough for you.
We will help you plan your custom tour in Malaysia.