How to rent a car in Malaysia : car rental Malaysia
Car rental Malaysia can be a very rewarding and convenient experience. Malaysia has a road infrastructure that makes it an excellent destination for tourists. If you want to know more about transportation in Malaysia, we invite you to read our article getting around in malaysia.
For many tourists, driving in Malaysia is one of the best experiences. The country has buses, cabs and planes, but car rental Malaysia is still a great way to make your way with panoramic views. If you want to know more about car rental Malaysia, this guide is for you.
Car rental Malaysia : roads, drivers
I. The roads
Malaysia is a great place to explore with a rental car. Peninsular Malaysia has very well maintained highways, you can easily reach all the attractions. You will find an excellent road network around major cities in the two federal states of Sabah and Sarawak. Malaysia's roads are full of scenic landscapes that make the country a destination not to be missed.
Car rental is very easy to arrange in advance. Rental prices are very low, and oil is not very expensive. Rental cars in Malaysia are generally fairly new and modern. Driving in the country is generally safe. You will have the choice to opt for cars ideal for couples or large cars for families. You can even rent coaches if you are traveling with a large group.
II. The drivers
For tourists who are afraid to drive in unknown territories, have no fear. In Malaysia, it is possible to rent a car with a driver and a tour guide. This option is especially recommended for tourists under 21 years of age as they are not yet allowed to rent a car. Malaysia is home to several car rental companies.
The majority of these car rental companies offer the same rates and cars. Generally, there are small differences in cost for additional options. The rental companies do not necessarily offer cars with a full tank: gasoline is not expensive, especially if we compare with France!
How to pay for your car rental in Malaysia ? Prices and bank cards
I. How much does a car rental in Malaysia cost ?
Car rental prices in Malaysia are generally lower when you book online with one of the popular companies that list available cars via comparison sites. This is especially true for high season rates. The best price per day is available when you book at least 7 consecutive days.
If you book a car for two or three weeks, you can expect significant discounts. Generally, you pay between 150 RM/ Day for a small car. If your reservation is close to your departure date, prices will be higher and cheaper cars will be sold out.
If you are really looking for the cheapest ones, you will have to look for local agencies.
Please note that they do not offer the same services as international agencies.
The cars are also not necessarily new.
II. Bank cards
Keep in mind that the price mentioned on car rental websites and comparison sites is usually not the final price. Often, it is only at the final stage of the booking process that the mandatory VAT (6% in Malaysia) is calculated.
You may also be charged an application fee and a reservation fee.
It is important to know that a credit card is necessary but not MANDATORY to rent a car in Malaysia.
For example, we have rented a vehicle twice, without a credit card, but by making an immediate bank transfer.
However, it was a local rental company.
The big brands, such as Avis, will ask for a deposit with a credit card.
You will need to check this with your bank before you leave. It should also be noted that the credit card you will be using when making the reservation must be presented at the time of pick-up. If you don't want to use your credit card, you can simply use a prepaid credit card such as Visa Electron or Skrill.
Which car rental agency in Malaysia : local and international companies
There are several international car rental companies in Malaysia.
International rental agencies : more expensive, but easier and less risky
Companies such as Sunnycars, Europcar, Alamo, Avis and many others.
You will usually find them at the airport and in the city center.
The advantage is that you can rent online, as in France.
The cars are generally recent and well maintained.
Local rental agencies: less expensive, but different services
There are also local companies that have a very good reputation such as Hawk Malaysia, Iprac, Kasina and Mayflower.
Domestic car rental companies are generally cheaper than international companies.
However, reservations and credit card payments are often required in advance. In many cases, this procedure is cumbersome. This creates a competitive advantage for comparison sites. You will only have to pay a small amount in advance and the rest will be paid on the spot at the time of pick-up.
Car rental by the hour in Malaysia
Socar.my is also a great alternative.
It offers car rentals from the hour.
Their big advantage: you will find pick-up/drop-off areas in many places in Malaysia.
You are not obliged to return the vehicle to the same place.
Where to pick up your rental car in Malaysia ?
Generally, you will have several pick-up locations in the same city.
The city center and the airport are excellent examples. The pick-up locations affect the price of the car rental.
With local agencies, in many cases, delivery and pick-up from your hotel is included in the rental price.
A representative of the rental company will be waiting for you in the hotel lobby at an agreed upon time to settle the payment and hand over the keys.
In Kuala Lumpur and other major cities, it is easy to get out of these cities thanks to the many one-way streets.
When picking up or delivering the car, it is a good idea to take a few pictures of the car, especially if there is some minor damage.
This is a very good choice to avoid getting into trouble, especially if you are going to leave the car in a place where the company representative will not be able to check it.
Car rental Kuala Lumpur : our experience
Context of our experience
We rented a vehicle, as part of our expatriation.
We fell in the middle of the coronavirus period, and "thanks" (unfortunately…) to that, we had been able to benefit from several MCO promotions (rules introduced in some Malaysian regions during the COVID19).
The prices I will share below may not be the same on the day you apply.
We wanted to rent a van to make various bulky purchases (furniture, mattresses, etc.) but especially to move our personal belongings without having to make several round trips.
It was very difficult (impossible?) to find a utility.
In France, we can rent a van without any problem but I could not find one in Kuala Lumpur.
This can be seen on the roads: there are very few (if any) commercial vehicles.
Generally, you can find local moving companies. It is very efficient and economical.
Where did we book ?
I did some research directly on Google.
By taking the time to sort out the companies, I kept only those with enough positive reviews.
You should also know that it is very difficult to "cheat" on Google reviews.
Unlike Facebook reviews, it is difficult to remove / delete a customer review on Google…
Never trust reviews found on Facebook!
Our criteria were as follows:
competitive rates,
drop-off and pick-up : the rental company brings the car back to our hotel, and then picks it up at the address we want. In our case, since we were moving, we asked to drop it off at point A and pick it up at point B. If these addresses are far from their center, the renter may ask you for an additional fee.
responsive and accepts payment by bank transfer.
We have selected the following rental companies:
paradisecars.my: the rates are clear. We did not choose it in the end, because we found a good promotion at the rental company below.
nexxcarrental.com: we found a good promotion at this rental company, which also offered to drop off and pick up the vehicle anywhere in Kuala Lumpur
suriacarrental.com.my: they don't offer a free pick-up and drop-off service, but the site and the prices look good. We will do a test at our next location, in sha Allah. They have good opinions anyway.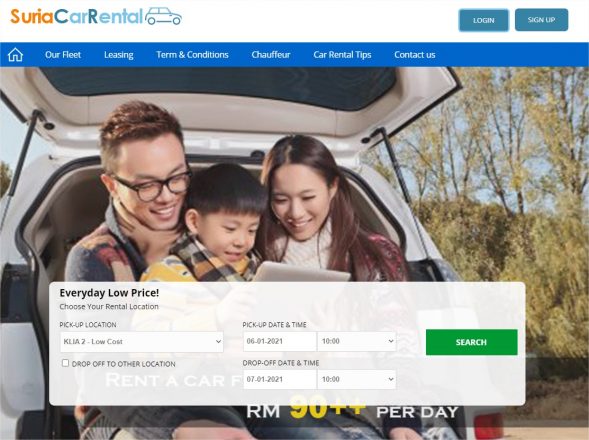 What price did we pay?
With Nexx, we were able to rent a 5-seater sedan, with automatic transmission, for RM500 7 days.
With luck, we finally got, for the same price, an MPV (kind of ludospace, or small 7 seats minivan): a Perodua Alza instead of a Perodua Bezza.
It also offers promotions on long-term rentals (one month etc.).
They offer 3 day, 5 day, and 7 day deals.
The site and the prices are clear.
However, do not expect new vehicles: you will have a vehicle in good condition, but you will not breathe new as it can be with other international rental companies 🙂
Here are the "usual" prices, excluding promotions:
For 7 days, the price for a sedan is RM590.
Per day, the price is RM99.
What payment method did I use?
I paid by bank transfer, with Wise (formerly called TransferWise) : the transfer was done in a few minutes!
I will do an article later on this online bank.
If you want to open an account with them, know that it is free, that the bank card is free, and that you have the best exchange rates, and ESPECIALLY, you can open a multi-currency account immediately (after opening the account). So I had an account with Wise in euros, dollars, and Ringgit.
If you want to open an account by signing up here (affiliate link) : open an account with Wise.
I closed my N26 account because it was no longer a match for Wise.
Our final opinion on Nexx
We have rented from them twice.
They are responsive, and like many companies in Malaysia, reachable on WhatsApp at any time (calls and messages).
We are satisfied.
However, except for promotions, the rates are identical to other rental companies.
The second car we got had a lot of mileage (70,000 km, but it seemed to have 150,000 km…).
If we have to rent a vehicle again, we will refer a new research and why not, test another renter: it is always good to be able to compare to give more accurate opinions!
Our advice and recommendations
Here is a small summary of our personal tips:
Think about applying for an international driver's license: in France, it is free, but it takes time. It takes several months, so it's something to plan ahead. Even if you don't have immediate use for it, do it to get rid of it!
Check the limits of your means of payment: if you pay with your credit card, and a deposit is required, you should check the payment limits.
Check your credit card insurance: details in case of accidents, coverage, etc. You may be asked to pay for insurance at the time of rental, which would already be included with your payment method (credit card). So you will pay for a double service…
Driving in Malaysia is on the left, and the steering wheel is on the right: don't neglect this big detail and be careful on the roads!
Definitely get a car with an automatic gearbox: this comfort is priceless (for me at least)!
Most of the cars run on petrol ("petrol unleaded"): if like me, you have driven for 20 years on diesel in France, don't miss the petrol pump. Normally, the diameters of the tank and the gun are different to avoid this mistake, but it only takes a moment of inattention to make a mistake (I speak with my personal experience…).
Need help creating your trip to Malaysia?
We offer different services to create your trip to Malaysia.
Saving time and money, these services will take into account your situation and your budget.
Through private phone calls, we will prepare a customized tour for you.
The ideal service if you have never been to Asia, or if you don't want to waste your time searching for tours, hotels or flights.

If you are already familiar with Asia and Malaysia, this service might be enough for you.
We will help you plan your custom tour in Malaysia.
Read also