Malaysia Tunisia Visa: What you need to know
We have posted information about visas for Moroccans and Algerians.
Here is some information for Tunisians ???????????????? (you are many to follow us on the networks, we will not forget you!) 🙂
Tunisian tourists who wish to travel to Malaysia do not need a Malaysia Tunisia Visa. Malaysia, this small country in Southeast Asia has quickly become a tourist destination par excellence. Millions of tourists and expatriates visit the country annually. If you want to know more about the tourist visa to go to Malaysia, we invite you to consult our article
tourism visa malaysia.

Tunisia is located on the North African coast. This small country is known for its beautiful beaches and the warm welcome of its citizens. In recent years, Malaysia has become one of the favorite destinations of Tunisians. This is due to several factors including the sharing of the same religion as well as the natural wealth of Malaysia. Malaysia has splendid tropical islands, beautiful beaches and many lush forests. If you want to know everything about the Malaysia Tunisia visa, this guide is for you.
Some information for Malaysia Tunisia visa
I. Exemption from the visa requirement
Just like our Algerian and Moroccan brothers, Tunisian tourists do not need a visa to stay in Malaysia.
Also, the duration of the visa is 90 days maximum.
The current health situation is changing the conditions of entry significantly.
It is best to contact the Malaysian embassy in Tunis, Tunisia.
Currently, with the COVID19, it is impossible to enter Malaysia, if you do not have a particular visa (other than tourist): work visa, labuan visa, permanent visa, MM2H visa, etc.
II. Joining Malaysia from Tunisia
Tunisian tourists can travel to Malaysia from any international airport in Tunisia.
Tunisia has several international airports including the international airport of Tunis and Sfax.
Several airlines serve both destinations.
Among these companies are: TUNISAIR, Malaysia Airlines, Singapore Airlines and Turkish Airlines and others.
The estimated flight time between the two countries is between 15 and 25 hours.
You will have one or two stops to make.
The stopovers depend on the airline chosen.
Generally the stopovers are in the countries of the Middle East and Asia.
Once you arrive in Malaysia, you will land at Kuala Lumpur airport (capital of Malaysia).
Internal flights are very affordable, you can check the prices on airasia.com for example.
III. Tunisian passport and visa extension
In 2020, the Tunisian passport was ranked 51st best passport in the world. It allows Tunisian tourists to travel to 63 destinations without a visa or with a visa on arrival.
You cannot apply for a visa online.
If you wish to stay longer than the 90 days allowed, you will have to justify this to the authorities.
If you have found a job in Malaysia, then check with the employer to make sure that all the steps to obtain the work permit (and therefore, the authorization to stay in Malaysia) are well managed on their side: fees, administrative steps, appointments, etc.
IV. The Embassy of Tunisia in Malaysia
If you are a foreigner, it is always useful to have an embassy in the country you are in.
Unfortunately, Tunisians are not lucky enough to have the Tunisian embassy in Kuala Lumpur (unlike Algerians and Moroccans).
However, in 2018, a project to open an embassy was planned.
For the moment, I have not had more information on the progress of this project.
If necessary, you will have to go to Indonesia, to Jakarta.
For information, here are their coordinates:
Address
Wisma Dharmala Sakti, 11th Floor, 32, Jalan Jenderal Sulaiman
Jakarta
10220
Indonesia
Phone
+62-21-5703422
+62-21-5708200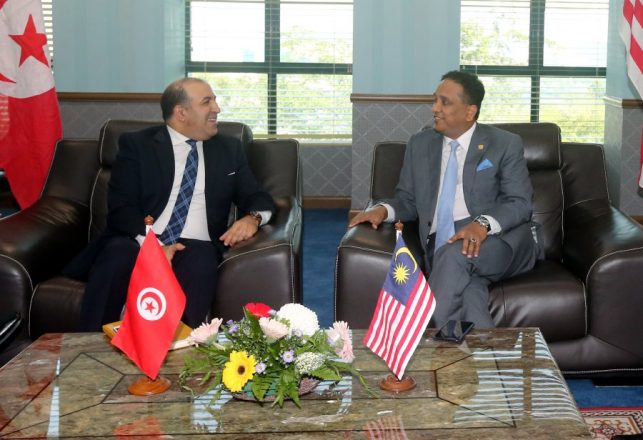 In addition, you also have the Tunisian consulate (they have less "power" than an embassy) in Kuala Lumpur:
Address
Pengedar Bahan Pertanian SDN.BHD, Level 17, PJ Tower
Kuala Lumpur
Malaysia
Phone
+603-795-77644
Don't hesitate to check the latest news: you never know if the Tunisian embassy will open in Malaysia (I hope so!).
It is always more convenient when you have administrative procedures to perform (passport application, certificate, etc.).
Visa Malaysia Tunisia : criteria to enter Malaysia
As with all travel, you should check the following points:
Passport valid for at least 6 months upon arrival in Malaysia, with at least one blank page for visa stamping.
Have and print your return ticket and hotel reservations: this can always be useful.
Have a bank statement that proves they have enough funds to support themselves for the duration of the trip (although I don't think it's ever asked…)
Any amount of money equal to or greater than $10,000 must be reported to the appropriate authorities.
Tunisian tourists considered personae non gratae (People who are not welcome in the country) by the Malaysian government will not be allowed to enter the country.
Remember to be up to date with your vaccinations for Malaysia.
Some remarks about the visa
This information was retrieved from the internet.
We have tried to verify as much as possible these data, but remember, especially during this pandemic period, to verify all information with the authorities.
It is very difficult to communicate up-to-date information, as the current situation changes regularly!
Don't hesitate to follow us on social networks.
We regularly publish the daily newspaper in Malaysia.
We also try to keep our community informed of all the news in Malaysia.
Our instagram page vivreenmalaisie.
Read also