Port Dickson : the most beautiful beach in Kuala Lumpur at 1h
The most beautiful beach of KUALA LUMPUR : Port Dickson
After testing several beaches within 80-90 km from Kuala Lumpur, it is time to test the beaches of PORT DICKSON.
Before that, we had tested the beach of Pantai Morib, in January 2022, or Pantai Balang Lalang in October 2021.
Unlike the 2 previous beaches, Port Dickson is not only frequented by Malaysian locals, but also by many tourists, or expatriates.
Many activities have been developed and you have a wide choice of accommodation.
So, what are the beaches of PORT DICKSON worth?
Let's see it in our video and through our article!
Port Dickson: Where? How do you do it? When?
Where is Port Dickson?
Port Dickson has a multitude of beaches all along the coast.
It is a coastal town located in the state of Negeri Sembilan, about 80-90 km south of Kuala Lumpur.
Allow about 1h10 driving time from the south of Kuala Lumpur.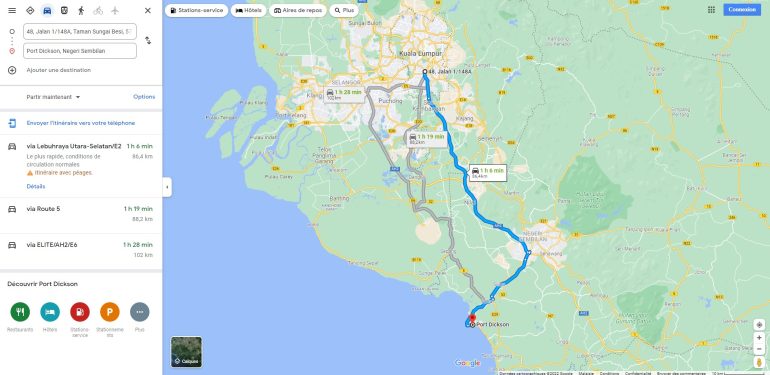 How to reach Port Dickson?
To reach Port Dickson, it is very simple by car.
The best would be to rent a car in Malaysia for the day or more.
You can also take a driver for the day.
The nearest airport is Kuala Lumpur.
When to go to Port Dickson?
You can go there all year round.
However, the weather remains unpredictable.
However, to enjoy decent beaches, it is advisable to go early in the morning / late morning (low / high tide).
In our case, in February, all day long, we had sun, except 1h of small rain around 5pm (the sun sets around 7:20pm).
Our hotel in Port Dickson
You will find many hotels in Port Dickson.
The best known are the following:
Avillion Port Dickson, 5*****,
D'Wharf, apartment hotels on the waterfront (not the most beautiful of the seas in front, but it remains pleasant for the eyes),
Lexis Port Dickson, 4****,
Lexis Hibiscus Port Dickson, 5*****, with its rooms with private pools,
Grand Lexis Port Dickson, 5*****,
Thistle Port Dickson, 5*****.
We opted for the Avillion Admiral Cove Hotel, 4****.
The superior room (larger than the standard) cost us RM 280 per night (about € 59).
Knowing that we booked at the last minute, and that we were in the middle of the Chinese New Year.
Indeed, during this period, many Malaysians, especially Chinese Malaysians, take their vacations (1 to 2 weeks or more).
Hotels are usually full during this period.
What to do in Port Dickson?
You have many activities, whether as a couple, solo or with your family.
In our case, we were a family, with small children.
Visit the different beaches
There are a multitude of them, such as:
Blue Lagoon (in our video),
Pantai Cahaya Negeri,
Pantai Purnama,
Saujana Beach,
Teluk Kemang Beach (in our video).
Visit the ostrich farm
This is an activity to be done mainly with the family.
You can visit an ostrich farm, but not only.
You will find rodents, different species of fish and birds, etc.
You can refresh yourself with the small indoor restaurant.
The most curious will be able to taste the ostrich meat.
Enjoy the sunset
For this, one of the most visited spots is Teluk Pelanduk.
It is located after the beach of Tanjung Tuan.
Taste the seafood
You will find many seafood restaurants.
On our side, we took the opportunity to go to a Chinese halal restaurant.
We recommend it:
The hidden beach of Port Dickson
As you now know, there are many beaches in Port Dickson.
But the prettiest, at least for us, is a hidden beach, "difficult" to access.
Difficult of access because it will be necessary to make a little trekking (30-45 minutes) before reaching it.
This range is located at the CAPE RACHADO LIGHTHOUSE.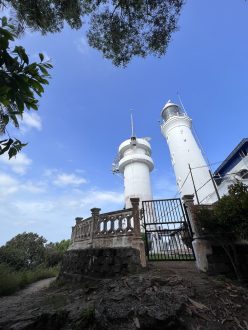 In the same area, you can find a spot, in height, for a great aerial view of PORT DICKSON.
Need help creating your trip to Malaysia?
We offer different services to create your trip to Malaysia.
Saving time and money, these services will take into account your situation and your budget.
Through private phone calls, we will prepare a customized tour for you.
The ideal service if you have never been to Asia, or if you don't want to waste your time searching for tours, hotels or flights.

If you are already familiar with Asia and Malaysia, this service might be enough for you.
We will help you plan your custom tour in Malaysia.