A new visa for digital nomad MALAYSIA is being prepared
VISA MALAYSIA for digital nomads
Good news in sight for people who wanted to come and live in Malaysia to settle in Malaysia and live in Malaysia as we have been doing for over two years now.
A new Malaysia visa is being prepared.
For the moment, we have a lot of information: stay tuned for more in the coming weeks!
Why Malaysia: some advantages of Malaysia
Malaysia is attracting more and more foreigners, especially digital nomads.
The country has what it takes to attract the world: a cost of living much lower than in Europe, with an infrastructure that has nothing to envy to all European countries.
For digital nomads, the connection speed is perfect, and the rollout of 5G continues apace.
We can name many more advantages:
The price of housing in Malaysia much lower than in France among other things
The price of gasoline: currently, we are still at 0.42 cts per liter of gasoline
The geographical location, out of seismic risk areas unlike many areas in Indonesia
The beauty of the landscape
A tropical climate
A cultural richness with a mix of several countries
The quality of hospital care, etc.
The problem: obtaining a right to stay in Malaysia: the VISA
On the papers, Malaysia is a dream, but unfortunately, the access conditions are very difficult.
Until now, you had several options, including (but not limited to) the following:
Find a job in Malaysia
This is the easiest way to get a visa. But you need to have skills that are in demand or a degree that is in demand in Malaysia.
Opening a company in Malaysia: provided that you meet all the conditions to obtain a work visa, including the minimum capital. The other solution would be to switch from to open a company in Labuan.
Apply for a MM2H visa
The new 2022 conditions have seen the financial requirements skyrocket, and since then, very few people are eligible. Other solutions exist such as the MM2H in Sarawak.
The Talent Pass is also a solution that could be suitable for some future expatriates.
Getting married with Malaysian: this is a solution that could suit some people
We are not going to list all the solutions in this article, but you will understand that the doors of Malaysia are not open if you do not have the right profile.
The DIGITAL NOMAD VISA for Malaysia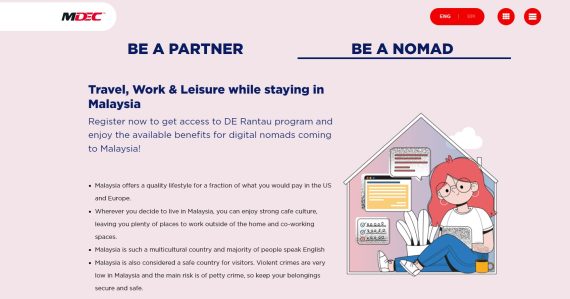 After two difficult years following COVID, Malaysia had to and must find new solutions to attract foreigners.
Yet in 2021, with the new requirements to obtain the MM2H visa, it didn't seem like a win-win.
For our part, we believe that these measures will be reviewed in the years to come: Malaysia can change the rules of the game at any time, for better or worse…
In any case, Malaysia is looking for alternative solutions, especially since its neighboring countries such as Indonesia, Thailand and Cambodia are also planning to issue new visas for foreigners.
The Malaysian government is therefore seriously studying solutions, especially for digital nomads who would like to set up their suitcase in Malaysia.
Many"online workers" dream of working from an island in Malaysia like Tioman or Langkawi.
The MDEC (Malaysia Digital Economy Corporation) will communicate in the coming weeks, the conditions to obtain the future DE RANTAU visa, which could be the ideal solution for digital nomads.
This solution is called the DE RANTAU PROGRAM.
Our opinion?

This will probably be an ideal solution to stay a few years in Malaysia, but probably not a very long term solution.
And again, this program could not fit many profiles.
We can't tell you enough: if you want to expatriate, whether to Malaysia or elsewhere, working online is one of the best solutions!
Stay connected!
If you would like to know more, or if you have any questions regarding the
expatriation in Malaysia
We offer a personalized service to answer all your questions.