Kuala Lumpur Beach: Pantai Morib
Kuala Lumpur Beach : visit Pantai Morib
At the end of January 2022, back from France, we took the opportunity to visit a beach in Kuala Lumpur at 1 hour drive.
We had already visited Pantai Balang Lalang, in October 2021, which is another beach at 1h from Kuala Lumpur.
Here, in this video, we visit some local friends, who were running a street food stand, on the seaside, on PANTAI MORIB.
Afterwards, we took the time to visit a city at 1 hour drive from Pantai Morib: Nilai.
With a local Malaysian friend, we went to one of the most popular markets in the area, as well as the Nilai night market.
Pantai Morib: what is this beach worth at 1 hour from Kuala Lumpur?
Let's be clear and direct: no, this is not a postcard beach.
You don't visit Pantai Morib for the beach.
Pantai Morib remains a nice beach to visit with your family, but not worth the detour if you are traveling in Malaysia.
There are many more things to visit in Malaysia!
We went there because we have family on Banting, and friends who had set up a street food stand for two weeks on Pantai Morib.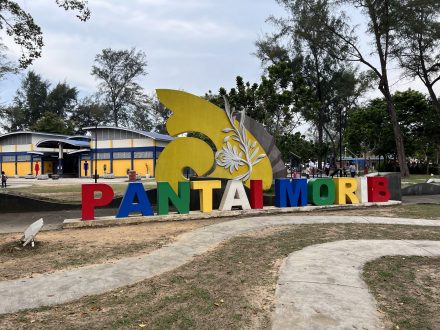 How to get to Pantai Bagan Lalang
The beach is only 70 km south of Kuala Lumpur.
It takes about 1h10 of driving: it depends on where you start from Kuala Lumpur.
The road is simple: a good part of it is on the fast lane, then for the last 20 km or so, you will have to take small roads.
Our advice
If you're on vacation, forget about this beach if you're hoping to find a dream location.
If you like to go off the beaten track, this place could please you: it is also that to discover Malaysia!
Need help organizing your trip to Malaysia?
Do you need help to organize your vacations in Malaysia?
We are here to help you!