VLOG MALAYSIA – Feedback review Hilton Hotel Kuala Lumpur : worth ?
Here is a quick Malaysia blog post following our 2 night stay at the HILTON KUALA LUMPUR.
It is Tuesday, March 30, 2021.
We have appointment with a friend on the hilton of Kuala Lumpur, and we are going to make a small video on the Hilton.
In France, we would never have booked a 5 star Hilton, etc. just to rest.
So we took the opportunity to make a little video about the 3 days and 2 nights.
Don't hesitate to subscribe subscribe to our Youtube channel.
Subscribe to our Youtube channel, so you will be notified as soon as we release a new video about Malaysia (Vlog, Blog, vacations, etc.).
ACCOMMODATION : the room of the HILTON KUALA LUMPUR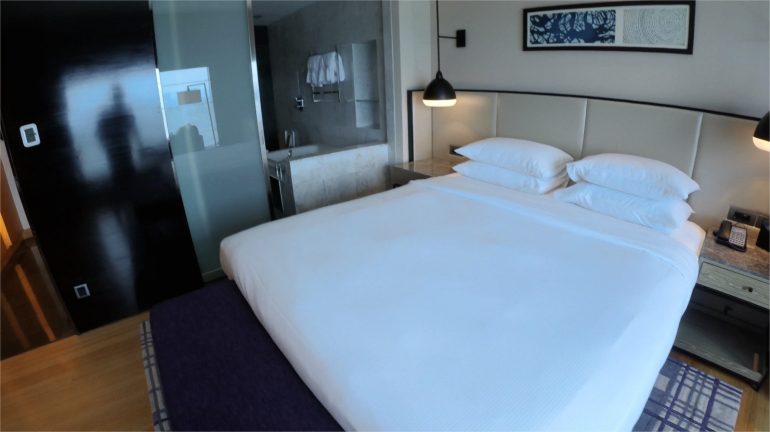 We booked the first room (not the family suites, or the lake view versions, etc.).
There is a small bathtub
What is good since we live in Malaysia, it is that we travel now just with two backpacks and the small stroller for Lili: no more need of big suitcases!
This video will be for information purposes only : it's not to show off fortunes, swimming pools, rented Ferraris etc.
This is really to show you what you can have here in Malaysia.
We booked this improvised weekend mainly to rest and to test the breakfast, because it's been at least seven months that we wait to have a real breakfast.
In Turkey, we did not succeed in having good Western breakfasts (baguette, viennoiserie, etc.).
LOCATION : an interesting geographical location
The hotel has several advantages, including its geographical location:
5 minutes walk from the central station, which can take you to KLIA2 airport in 35 minutes,
10 minutes walk from the NU SENTRAL mall: you can shop and eat in different restaurants,
5 minutes drive from Perdana Botanical Gardens: several parks including the KL Bird Park,
5 minutes drive from the national museum,
10 to 15 minutes drive from the Petronas Tower.
It is therefore an interesting place if you want to stroll and relax with family or friends, or even alone!
BUDGET : the HILTON KUALA LUMPUR MALAYSIA prize
We paid about 125 € for 3 days 2 nights, including breakfast.
You have free wifi and access to the different facilities:
The gym is pretty good but you will be denied access if you come without sportswear and shoes.
Schedules are changed due to the coronavirus.
Under normal circumstances, access is 24 hours a day for hotel residents.
The outdoor pool is very nice.
However, during the day, it is full.
The amenities (pool, restaurants, gym, etc.) seem to be common spaces at the Hilton and Le Meridien.
There is also a SPA.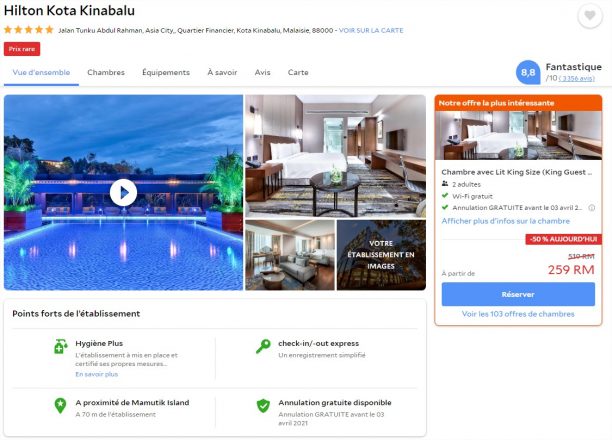 Comparison with Hilton Kota Kinabalu
The HILTON of KOTA KINABALU (which is located in Malaysia, on Borneo, in Sabah) is much more recent (2017).
It is excellent and a step above the one in KUALA LUMPUR.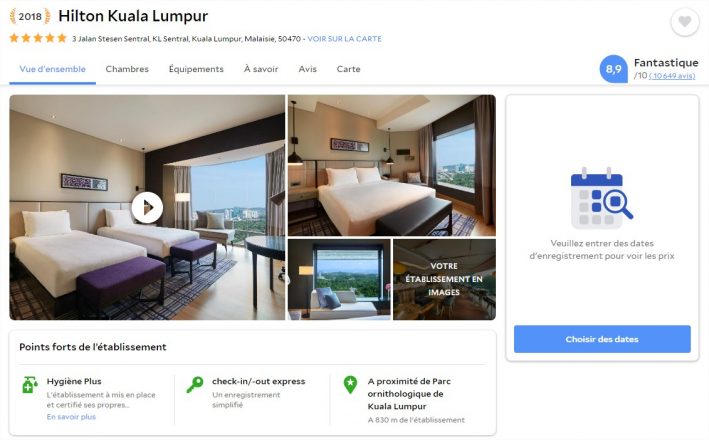 FOOD / EATING : restaurants at HILTON KUALA LUMPUR
IKETERU Japanese Restaurant
We have not tested it.

VASCO'S Restaurant
We tested it, for a dinner.
Very disappointing, especially for the price.
Poor quality / price.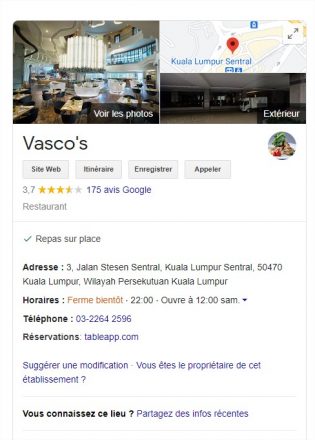 There are 3 restaurants here:
Chinese restaurant,
international restaurant (Vasco's),
Japanese restaurant (Iketeru).
Very disappointed with the dinner at Vasco's : we do not recommend it.
Waiting time: 1 hour, while the restaurant was far from being full…
Taste: leaves something to be desired for the price!
The breakfast is very good though.
Our complete MALAYSIA VLOG on the HILTON Kuala Lumpur hotel
Some quick details about our experience at the HILTON 5* hotel in Kuala Lumpur, in March 2021.
Conclusion and advice
The restaurant is not great (Vasco's): avoid it, even if you get a 20% discount if you book a room.
The breakfast is very good: you can enjoy the breakfast without having to book a room.
The pool is very popular: try to enjoy it at staggered hours.
If you want to take advantage of the gym: don't forget your belongings, especially your sport shoes, otherwise you will not be admitted.
NU Sentral Mall is 5-10 minutes away via the tunnel and Kuala Lumpur Central Station.
The KLIA2 airport is 35 minutes by train from the central station.