How to travel in Malaysia during COVID: Langkawi International Travel Bubble
Travelling to Malaysia during COVID with the Langkawi International Travel Bubble
UPDATED March 02, 2022
The SOP conditions have been updated by the Malaysian government on February 16, 2022 and March 02, 2022.
All the details HERE.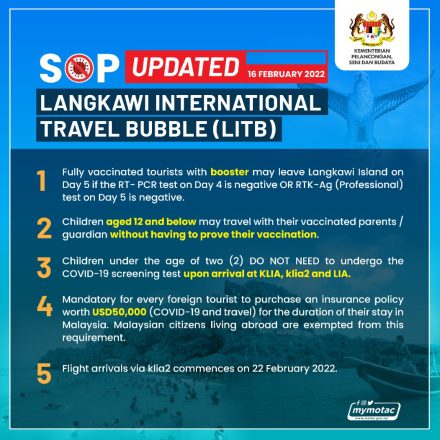 You can't wait any longer and you absolutely want to go to Malaysia?
You live in Malaysia but you miss your friends or family and you want them to join you in Malaysia?
So here is a solution that could meet your needs: the Langkawi International Travel Bubble (LTB).
Thanks to this "program", you will be able to travel in Malaysia, in particular on the island of Langkawi, but especially, in the rest of the country, under certain conditions which we will detail in this article.
Langkawi International Travel Bubble: what is it?
Malaysia's borders have been closed since March 2020.
It is now impossible to enter Malaysia as a tourist.
Only Malaysian citizens, or residents with long-term visas such as foreign employees, dependents (spouses, children, parents) etc. can enter/exit Malaysia.
Since November 15, 2021, the Malaysian government has implemented a program to reopen the borders in a progressive manner.
It starts with the Langkawi International Travel Bubble (LTB).
The advantage of this program is that you can travel anywhere in Malaysia (except Sabah and Sarawak), once you have spent 5 days on the island of Langkawi (for the triple vaccinated, otherwise it is 8 days for the double vaccinated).
What are the conditions?
The link to the official website of the Ministry Of Tourism, Arts and Culture Malaysia (MOTAC) : HERE.
We advise you to consult it regularly, to be kept up to date with any changes.
Below are the official guidelines, dated December 8, 2021.
Be fully vaccinated
As you can read, this program is only for fully vaccinated people.
The vaccines currently recognized by Malaysia are: Pfizer, Moderna, Sinovac, Astrazeneca, Janssen, CanSino, Sinopharm.
Other vaccines are in the approval phase, such as Novavax (a more "traditional" vaccine that should also be recognized shortly by France, unlike Sinovac), or Gamaleya.
Persons under 18 years of age must be accompanied by fully vaccinated parents/guardians.
Update February 16, 2022:
If you receive the booster (3rd dose), you can leave Langkawi after 5 nights instead of 7 nights.
Passport and flight details
It is essential to have a return ticket, with the details of your stay.
In addition, you will also need to download the MySejahtera application (do it in advance): this is an application that will allow you to scan all the QR codes before entering stores, hotels etc. but it is also the application that will keep your situation up to date (pcr test results, vaccinations, etc.)
Your passport must be valid for more than 6 months.
Insurance
You must have an insurance that covers you up to $50,000 (updated on February 16, the insurance goes from $80,000 to $50,000): check this with your insurance / health insurance.
If you do not have any insurance, you can choose the one proposed by AIRASIA by clicking
here
.
Attention: this is not a sponsored article, we put links only to guide you, but it is up to you to check all the conditions in their contract.
The insurance must cover you during your entire stay, not just during your stay in Langkawi!
For example, for one person, for two weeks, it would cost you RM 337.50, or about 72 euros PER PERSON.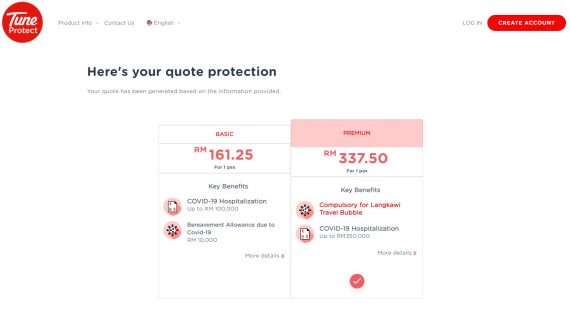 Also complete the mandatory Health Declaration Form
HERE
.
Update on COVID testing
This passage was updated on March 2, 2022.
As of March 3, 2022, you will no longer have to take tests every day.
The tests are therefore summarized as follows:
If you are doubly vaccinated (did not receive a 3rd dose)
You must stay 8 days and 7 nights on Langkawi, before you can leave the island.
The first covid test must be done 48 hours before your departure flight to Malaysia.
Then, here are the details:
Day 1: Arrival at Kuala Lumpur airport. You will be tested at the airport. You can book and pay in advance with https://airport.doctor2u.my/
Day 8 : you will be free.
If you are triple vaccinated (with the 3rd dose)
The stay increases to 5 days / 4 nights on Langkawi, before leaving the island.
The first covid test must be done 48 hours before your departure flight to Malaysia.
Then, here are the details:
Day 1: Arrival at Kuala Lumpur airport. You will be tested at the airport. You can book and pay in advance with https://airport.doctor2u.my/
Day 5 : you will be free.
Where and how to get tested?
You won't have to be tested on the island anymore.
However, we leave you below, the centers where you can carry out these tests, if necessary.
You will be able to go with your guide to the test centers of the island.
There are several centers to do the antigen or PCR tests, including the following:
https://www.gettestfast.com/

https://safetravelpass.com.my/
Children under the age of 2 will not be tested.
They will not have to do any test to come to Malaysia.
However, check if the airline requires a test for children under 2 years old or not.
Remember to prepay your COVID test at KUALA LUMPUR airport in advance
You have the possibility to pay in advance, the PCR/RTK test on arrival.
By paying in advance, you will waste less time.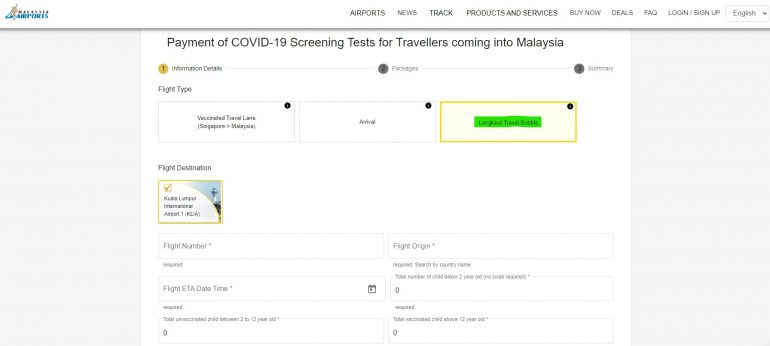 For example, here are the rates of an agency offering this service.
The price is RM 470 for a rapid test, which is about 96 € (high price…).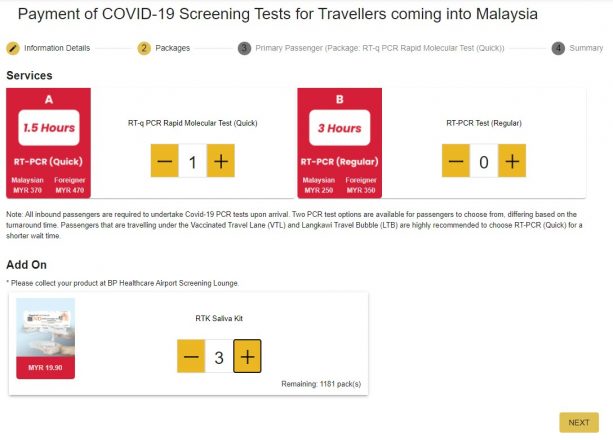 You will also be able to add the RTK tests for the self-tests to be performed on days 2/4/6.
Download the official Malaysian application
You need to download the MySejahtera application: it is the application needed to scan QR codes, update your status, etc.
The application will display if you are a safe person.
It will also allow you to record the results of the self-tests performed on days 2/4/6.
For Android: here,
For iPhone : here.
Fill out the official form
Complete the mandatory health declaration form.
You can download it here.
How much does it cost?
Buy a plane ticket to Langkawi
Just compare prices on the internet for tickets between your airport and LANGKAWI (LGK).
Please note that you must choose a ticket with a minimum of 5-6 hours of transit in Kuala Lumpur.
This includes time for procedures (covid testing, registration, etc.).
This is what is recommended on the official guidelines.
Perhaps in practice, this time is reduced…
If your transit time does not allow you to get a flight to Langkawi on the same day, you can stay at the Sama Sama Express Hotel.
How to search for your ticket?
As a general rule, we go on skyscanner.fr, and we make a first analysis.
Once we found the approximate dates (we are fortunately not 3-4 days away), we prefer to book directly through the airline, even if it means paying a little more.
Let's just say that it's the price of"tranquility": in case of last minute changes, it's much easier to organize.
If you go through an intermediate site, it will add communication difficulties, if a change of plan appears (especially with the current sanitary condition).
Some examples of prices
Here are some prices for the next months in 2022, with Qatar Airways, departure from Roissy CDG.
Between January and February
On the website
Qatarairways
you will be able to view the prices over several days.
You can then find the cheapest prices to travel from Paris to Langkawi.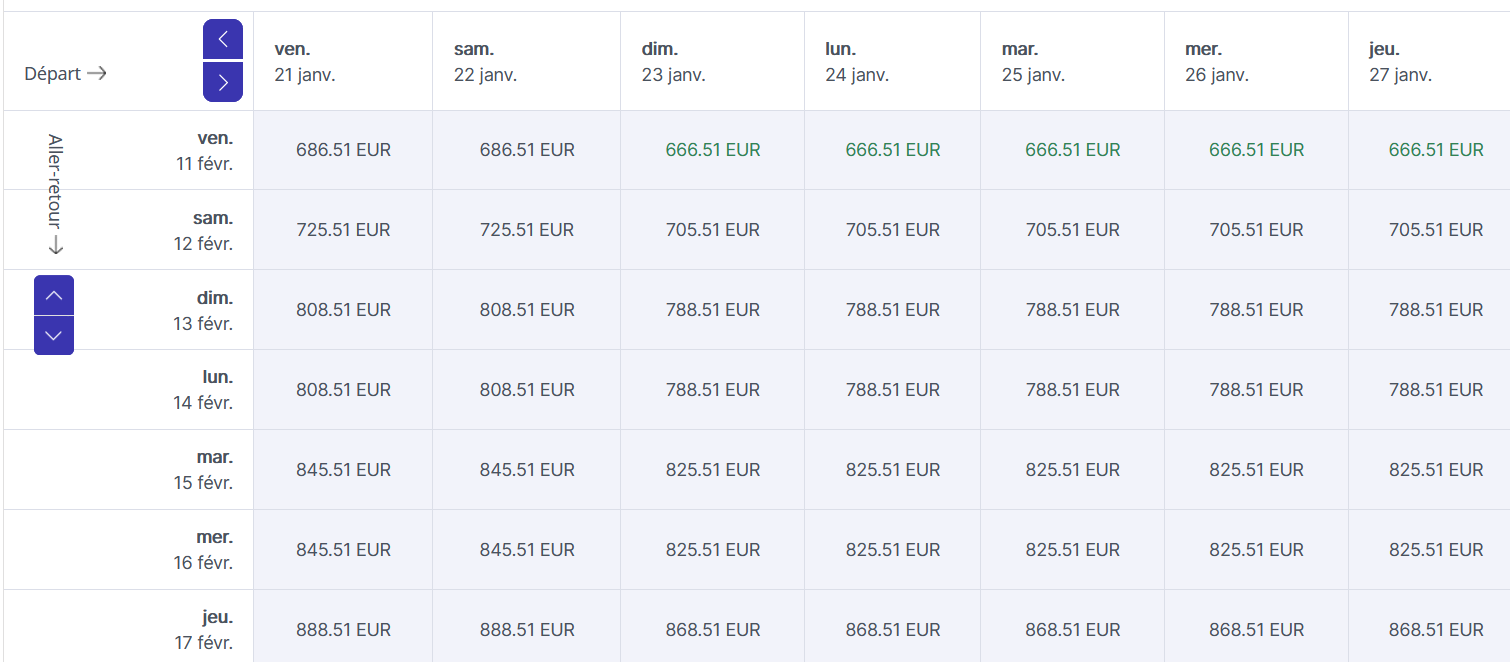 Between February and March
We will choose a ticket around February 19 to March 7, 2022, which would correspond to the school vacations of zone C (Paris region in particular).
Between March and April 2022: during Ramadan
The month of Ramadan is expected to begin around April 2, 2022.
If like some, you want to spend the month of Ramadan in Malaysia, here are the ticket prices.
We will not look at prices beyond May 2022.
We hope that the borders will reopen completely by then, which would avoid going through Langkawi and all those procedures!
Hotels, covid tests, transfers: obligation to use an approved agency
To book your hotel, you will have to go through an agency approved by the MOTAC.
Generally, in their package, they will propose several types of hotels.
Here are some examples (found via google in particular):
For the more affluent, here are the 5 star hotels: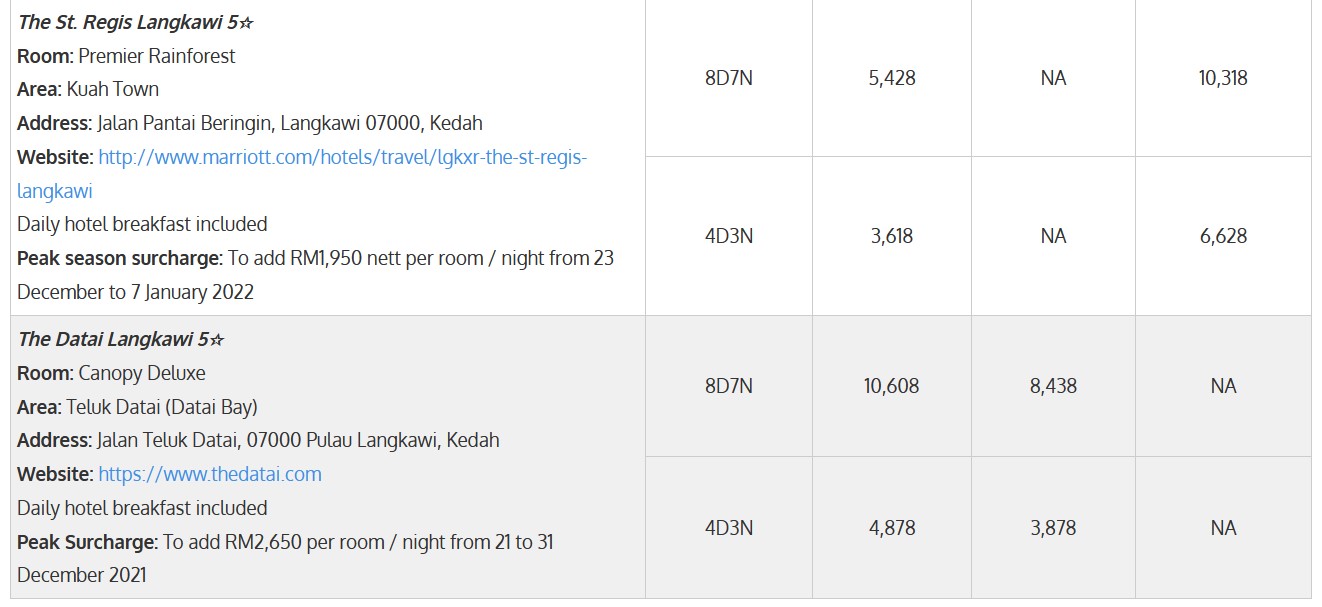 Please note that we do not know these agencies at all.
These prices were retrieved from the website of CIT TRAVEL.
So we see offers starting at RM 1078 or, 230 €.
The price for a couple
The total price, flight + hotel is therefore around (667 € + 230 €) x 2 persons = 1800 € for 2 persons.
To this, you will have to add the cost of the tests if they are not covered by the agency.
By the way, you can also apply for reimbursement of covid tests with your mutual insurance company if you are eligible: you will have to contact your health insurance company directly.
Which agencies did you go through?
There are more than 4000 agencies licensed by the Ministry Of Tourism, Arts and Culture Malaysia (MOTAC).
You will find the official list
here
.
We will add the recommended agencies.
Here is an example of an agency's program: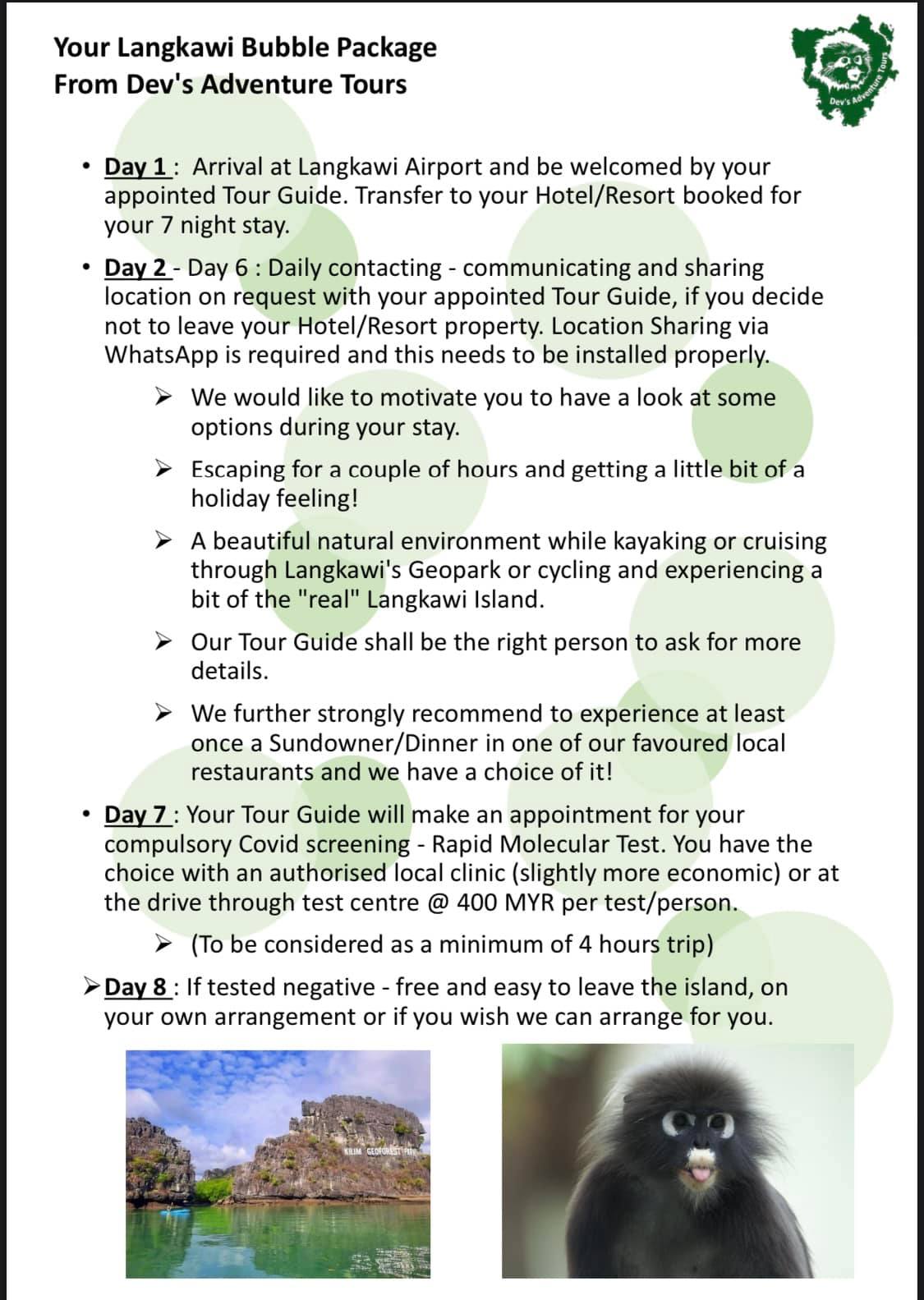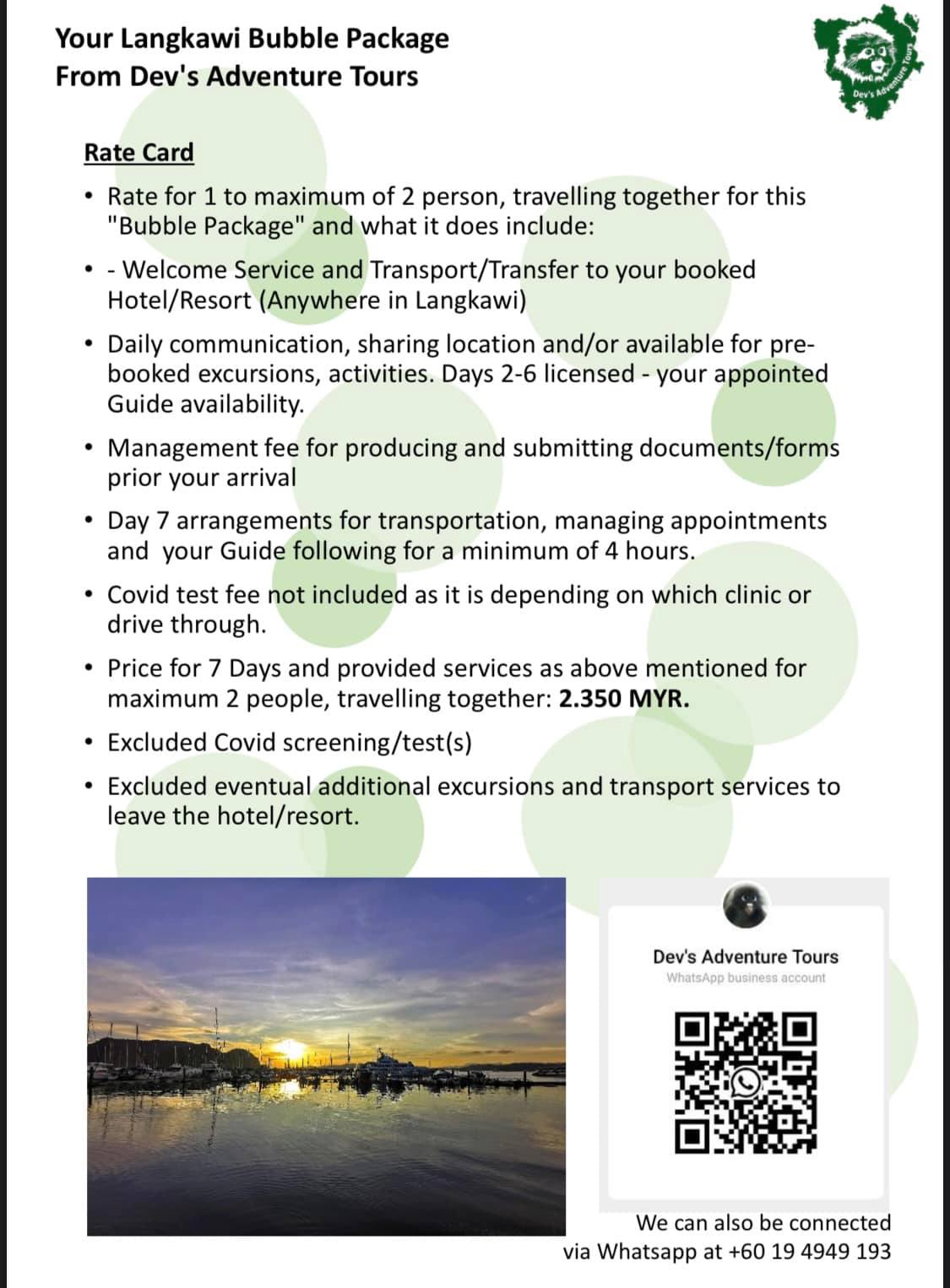 Another example of a price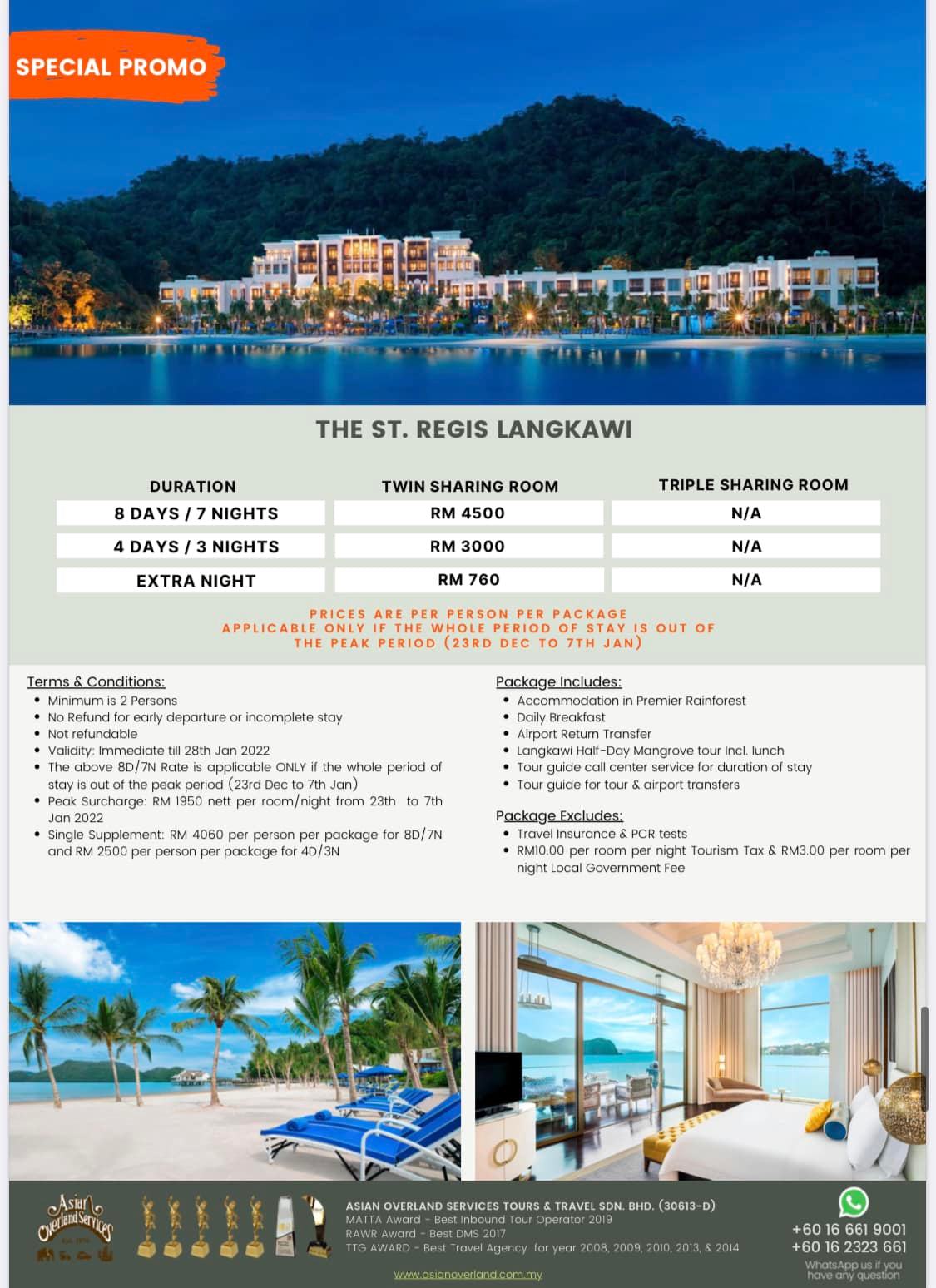 By comparing each agency, you will see that the prices differ.
Don't just focus on the price, but also check their quality of service.
Good quality of service is paramount in the current health situation.
What the agency must provide you
Check the following points before you book and pay for anything:
Contact information for the tour operator or tourist agent (including license number),
Accommodation details: name and address of the hotel, what is included and excluded, etc.
Booking and/or payment for mandatory PCR tests: included or excluded?
The itinerary of the tour proposed by the agency
What to do in Langkawi?
Langkawi Island is big, and you should not be bored during the 7 days.
The beaches of the main island are certainly not the most beautiful in Malaysia, but you can reach small islands around, which are very pretty.
Here is a list of some activities:
Langkawi Sky Bridge + Langkawi Cable Car : the famous 125 meter bridge, accessible by the Langkawi Cable Car for RM35 for adults, or RM25 for children between 2 and 12 years old. With the cable car, you can go up to 708 meters of altitude to enjoy the fresh air.
Dataran Lang : the place where you will find the famous statue of the eagle emblematic of Langkawi. It's nice to take some pictures and it's very easy to access (and free!). You will also find restaurants in this area.
Langkawi Wildlife Park & Bird Paradise : ideal if the weather is rainy, or if you are a nature fan. Also ideal for families (and children who could not stand the heat during the day for outdoor activities)
Underwater World : you will find this time the species of the marine world: sharks, turtles, fish, etc.
Gunung raya : a mountain of 881 meters, reserved rather for the adventurers. At the top, you will have a breathtaking view of Langkawi.
Island Hoping : you will find several stands offering a tour of the small nearby islands. You will spend a day in different islands. It is at this time that you will have the opportunity to discover some beautiful beaches.
Tanning and doing nothing : a free activity on public beaches. The most beautiful beaches are generally private beaches (accessible under certain conditions).
Our advice
Finally, here are some recommendations before you book your ticket or hotel:
Check the official Malaysian websites regularly to be aware of any updates/changes etc.
Only book your flight once you have found an approved agency you can trust.
To choose your travel agency, consult the reviews on the internet, especially on Facebook (feedback from other travelers). There are scams like everywhere.
Check with your agency for the exact details of the package: price of tests, whether saliva testing is possible, etc.
Get organized in advance. The first few days would be best spent by the sea. : you will certainly arrive exhausted, with all these procedures, and the JET LAG (jet lag)
Print out all the necessary documents: PCR test results, round-trip air ticket, details of the tourist agent's package, health form to fill out, confirmation that your insurance covers you for at least $80,000, vaccination certificate.
All documents must be in Malay or English.
Do you have personalized help?

If, despite all this information, you still need help, we can assist you in organizing and planning this trip (only booking, checking, and connecting you with the cheapest reliable travel agencies)