Elephant Sanctuary and Farm KUALA LUMPUR
This article is dedicated to the last days we spent during our road trip, by car, in Malaysia, between KUALA LUMPUR – MELAKA – JOHOR – KUANTAN – CHERATING.
This road trip in Malaysia, with my family, lasted 2 weeks.
We finish our tour of Malaysia, with a visit to the elephant conservation center (elephant sanctuary), not far from KUALA LUMPUR.
We took the opportunity to spend 2 nights in a totally privatized farm.
If you are in the area, and you are wondering what to do in KUALA LUMPUR, then you might like this little tour, especially if you are traveling with your family in Malaysia.
The elephant sanctuary : 1h10 from KUALA LUMPUR
If you are planning a vacation in Malaysia, and will be staying in Kuala Lumpur for a few days, then the elephant sanctuary might be a good idea for an activity, especially if you love elephants and are with your family, with children.
It was one of Asmae's dreams to visit an elephant conservation center.
A center where the elephants seem to be well treated, far from the circuses and tourist agencies offering elephant rides…
This place is a must if you are in KUALA LUMPUR, especially with your children.
How much does it cost?
The access is totally free!
You can pay for a guide to take the tour, and you can also make donations.
Parking is also free.
How to get there?
Address of the elephant sanctuary

Kuala Gandah National Elephant Conservation Centre,
28500 Lanchang
Pahang
MALAYSIA
The easiest way to get there is by car.
It is about 1h10-1h30 from KUALA LUMPUR, depending on the traffic and your exact departure location.
You can make the tour of the park in 1h-2h or more.
It all depends on your pace.
When to go?
It is best to get there a little before the opening.
Generally, around 10 am, you can attend the washing of elephants.
You will find the program at the entrance. This program can change depending on several parameters.
We advise you to contact the center, a few days before your arrival in Kuala Lumpur, to have the latest information.
You can check the opening hours and the program in detail.
The center may close for various reasons.
You can also follow their Facebook page KUALA GANDAH NATIONAL ELEPHANT CONSERVATION CENTRE.
As usual, avoid as much as possible holidays, weekends, and school vacation periods.
Also avoid going in the afternoon, if you want to avoid the heat "a little" (in the morning it is already very hot).
A few tips
When visiting the elephant sanctuary, always remember to keep 2-3 bottles of water on hand to hydrate yourself. Especially if you are with children.
Take a mosquito repellent with you if you are regularly targeted by them.
As with all outdoor activities, be sure to bring an umbrella just in case, a hat, sun protection, etc.
Bring some cash if you want to buy food for the elephants for example, or buy drinks and snacks.
The visit can be done in 1 to 3 hours, depending on your pace and what you want to do or see.
Therefore, you can count on half a day for this activity, and then return to Kuala Lumpur.
If you want to extend the pleasure, then we recommend you to stay one night in a large privatized farm.
This is what we are going to see right now in detail.
Our accommodation : a large privatized farm
During our road trip in Malaysia, by car, we decided to take our time, especially with two young children.
And that's why we decided to spend a night in this area.
When we were younger, we used to travel and try to see as much as possible: we usually came back from our vacations tired.
Taking your time, with children, is a real pleasure.
When you also travel by car, you remove all stress: you manage the rhythm in your own way.
You're not an hour away.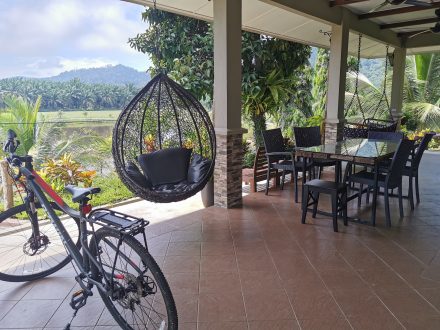 Why go there?
We recommend staying one night at a private KUALA LUMPUR farm, which is 20-25 minutes from the elephant sanctuary.
Originally, we had gone for a night in a classic hotel.
But while searching google map, we came across a great accommodation.
We didn't regret our stay at all: that's why we share it with you.
How to get there?
Just enter the address in the GPS, and you will easily find this great spot.
This farm is really hidden: without google map, we would never have spotted it.
Address of the farm

Kampung Bongsu Farm Stay
LOT PT.5939, Kampung Bongsu, Lanchang
ahang, 28500 Paya Rewak
Malaysia
Telephone: +60 17 891 2224
GPS coordinates: N 003° 29.318, E 102° 13.949
Description of the farm
We booked directly on booking.com
Please remember to book in advance: this accommodation is often full.
The house can accommodate up to 4 adults and children.
We booked for 2 nights, with friends (couple with 2 children too).
It can accommodate more people, but permission must be sought from the owner.
Benefits of the farm
You are really in the middle of nature.
Besides, the internet connection is not great at all.
It is therefore an ideal place if you want to cut yourself off from the world, and enjoy nature.
Bicycles are at your disposal.
You have a big lake.
You can also fish: the staff present on the spot, during the day, will provide you with the material and will explain you how to fish.
You will find a nice tree house, built in a tree: many children would dream of spending some time in this place.
You will share your stay with some animals, such as cows and rabbits.
To eat, you can also use the barbecue area, at your disposal.
The owner also offers the service of a chef, to prepare your meals: it is necessary to think of warning him in advance.
Disadvantages of the farm
As mentioned above, you will be in the middle of nature.
So, you will cohabit with insects that can be annoying for some people.
Personally, we had not found any cockroach (Asmae's phobia).
But you will surely come across ants, and flying insects like mosquitoes.
You have a wifi connection, but don't rely on it too much.
It works well enough for social networking, messaging, calling and emailing, but don't expect more.
Bring some snacks with you: the nearest town center is about 20 minutes away.
At the time of our visit, all the local shops were closed, probably because of the covid.
Our Kuala Lumpur tour ideas
If you decide to go to this elephant conservation center, and spend a few nights on the farm, then here are some additional ideas:
On the way back, you can spend the end of the day at Genting Highlands (provided you arrive in the early afternoon): you can do some shopping and enjoy the cooler temperatures than in Kuala Lumpur. A new theme park also opened in 2022: Genting SkyWorlds.
If you prefer to go on a road trip, you can take the road to the Camerom Highlands or Ipoh, to continue on the theme of nature in Malaysia.