Living in TURKEY : back to Istanbul
A year and a half after leaving France, we decided to return to France, for professional reasons and also for vacations.
We took the opportunity to make a one week stop in Turkey, also for work and vacations.
We booked a hotel in the same area of Istanbul, where we had stayed several months before our departure to Malaysia : PENDIK.
PENDIK, our district of Istanbul
A few words about PENDIK, Istanbul

Istanbul has 37 districts.
The city of Istanbul is divided into two parts: the European part, and the Asian part.
The Bosphorus Strait separates these two sides.

The Pendik district is located on the Asian side, far away from the historical center of Istanbul and the tourist areas.
However, Pendik is home to Istanbul's second airport: Sabiha Gökçen International Airport (coded SAW).

Many people spend a few hours here, or even a few days, before catching their flight from SAW airport.

What we like about PENDIK, Istanbul

Its proximity to the airport is an advantage for us, who travel regularly.
From SAW, you can travel almost anywhere in Turkey, but also to France (Roissy CDG and Orly in particular).
We found everything we needed in Pendik: markets, shopping centers, beautiful new residences, mosques, parks and activities for children, etc.

Our hotel in PENDIK, Istanbul

We stayed at the MIRACLE HOTEL ISTANBUL ASIA for 6 nights. It is a 5***** hotel but don't expect great luxury either.
For the price, we are quite satisfied.
However, some staff behaviors leave something to be desired:

The cleaning lady who comes to give 2 bathrobes. Then, a few hours later, comes back without knocking on the door, without speaking, without apologizing, and picks up every other bathrobe, and leaves without saying a word.
Another evening, at 00:30, a hotel staff rings the doorbell, insisting twice (the children were sleeping…) to give 2 toothbrushes. Again, without uttering a single word.
VLOG ISTANBUL : DAY 1
Our neighborhood : LENS ISTANBUL
LENS ISTANBUL is an area composed of several residences and many shops down the blocks.
Everything is almost new. New businesses are still opening today but others have also closed, after only a few months of activity…
If you decide to stay at LENS ISTANBUL, a car will not necessarily be necessary: we lived several months without a car, and using cabs when the distances were too long.
Having a car is a big advantage, especially when you have children.
Living in Turkey, about Istanbul : our Youtube video
We tried to give you a quick overview of this area, through two Youtube videos.
We could make a video of several hours but we had to summarize in a few minutes.
The places we visited in our video
In our video, we went to these places:
Metropol Istanbul
It is a very nice shopping center at 20 minutes drive from Lens Istanbul.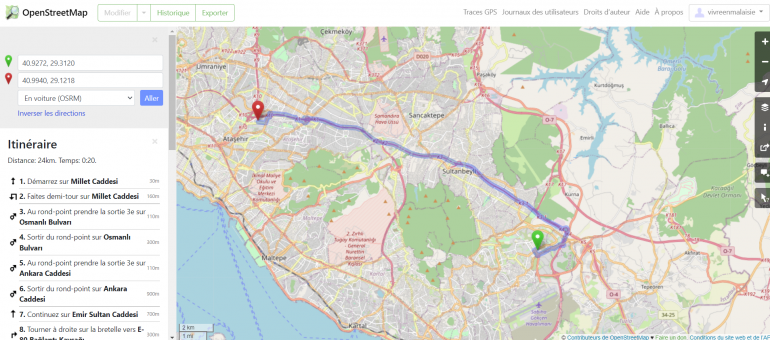 https://www.openstreetmap.org/directions?engine=fossgis_osrm_car&route=40.9272%2C29.3120%3B40.9940%2C29.1218#map=12/40.9612/29.2271
IST Marina
It's a small shopping center, but it has the advantage of being right on the sea.
You will find several restaurants with a great view.
Very pleasant, provided you find a terrace without too many smokers ????
VLOG ISTANBUL : DAY 2
Our Youtube video on PENDIK ISTANBUL
If you followed the first video on Istanbul, here is the continuation and the end.
It was the last day before our departure for France.

Here are the places we visited in this video:
Breakfast at MOVENPICK PENDIK
The breakfast is in the form of a buffet.
It costs 15 euros per person.
Due to the COVID, we were not able to serve ourselves but the waiters brought us a variety of dishes.
You can ask for whatever you want: pancakes, pastries, drinks, etc.
Here is the address below:
Pendik Park
You have many restaurants in this area.
In high season, parking will be quite complicated on the seaside.
You will have to park inside the city.
You will find paid parking (very affordable), and this could save you time.
You can picnic in the many green spaces (as long as it is not forbidden).
There are playgrounds for children.
Pendik Sahil Cami Mosque
Baklava at Gaziburma Mustafa
The baklava was excellent.
We recommend it.
You will find many stores with the same name in Istanbul.
Ours is here:
We return the rented car
For the car, you will find the car rental agency Turkey here :

Last year, this same agency was called 5S Car rental.
The customer service was deplorable… The cars were in excellent condition and the price was right.
This is still cheaper than international rental companies such as AVIS, HERTZ etc.
Car rental Istanbul
Here are the contact details of the Istanbul car rental agency.
We are happy with it: you can contact them by Whatsapp too, in English or Turkish.
We had paid the insurance in addition, as well as a child car seat. Check with your bank card to see if it insures you or not. Normally, GOLD cards offer car rental insurance. The standard bank card does not offer any insurance at this level.
Our advice
As usual, here are some tips, if you ever want to go to Istanbul for a few days.
Download applications for your cab rides: you have for example iTaksi or BiTaksi.
This will prevent you from being ripped off by dishonest drivers (it can happen…)
If you want to travel by public transport (metro, train, boat, etc.): take the ISTANBUL KART card. It is not very expensive (about 1 euro depending on the exchange rate). It is a magnetic card that you can recharge through the many terminals.
Use a bank card that does not overcharge you for payments or withdrawals. We recommend for example N26 or WISE.