Prepare your trip Malaysia July August : hotel, flight, bank card, weather
Prepare your trip Malaysia July August
This is a summary of our LIVE YOUTUBE of May 25, 2022.
If you haven't already done so, don't hesitate to subscribe to our Youtube channel VIVREENMALAISIE and activate the bell to receive a notification as soon as a new video is released.
In this article, we will answer some questions that we are often asked, concerning the organization of a trip to Malaysia.
At first, we will focus mainly on the months of May, June, July, August and September.
We will deal quickly, without going into too much detail, with the weather in Malaysia, FLIGHTS to Malaysia, how to get around in Malaysia, HOTELS in Malaysia, and banking solutions including the choice of the Malaysian BANK CARD or change cash in Malaysia (change Euros into Ringgit).
Weather Malaysia July August
This is the question that comes up most often: if I come in June or July or August in Malaysia, will I have monsoon and therefore rain every day? What is the weather like in Malaysia during July?
Monsoon in Malaysia: 2 types of monsoon to distinguish
The
monsoon in Malaysia
is divided in two :
the NORTHEAST monsoon from October to the end of March,
the south-west monsoon of Malaysia, April to October.
Weather Malaysia for May, June, July, August and September
During this period, the best destinations THEORETICALLY, remain the Malaysian east coast (Perhentian, Redang, Tioman, etc.), and Borneo (the state of Sabah, especially for the city of Kota Kinabalu and the second state which is Sarawak).
This does not mean that you should banish the islands of the Malaysian west coast, including Langkawi.
The best season for Langkawi, again theoretically speaking, is from November to March (+/- 1 month).
Consult the archives to learn more
To give you an idea, the best is to check the
weather Malaysia
about the previous years: just check the archives on the weather websites.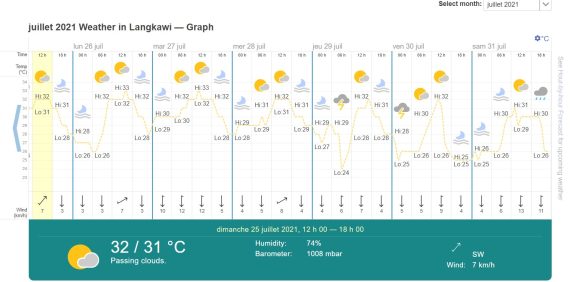 The same example for Pulau Perhentian, over the same period: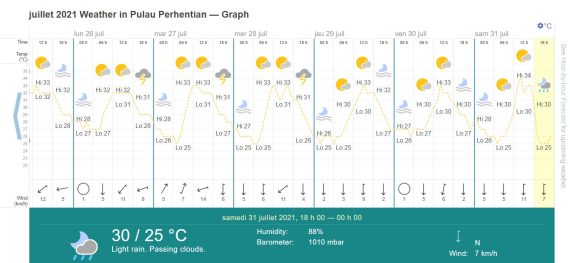 How to choose your flight ? Which company?
We use several flight comparators, mainly Skyscanner.
We make a first research, then according to the proposals, we book directly via the airline, without going through intermediary sites.
Intermediary sites usually offer lower prices, but this adds an intermediary to the customer service.
The prices displayed also depend on the payment method.
Generally, paying with a Visa or Mastercard is more expensive than what can be displayed: you should check before placing your order, if you want to go through these sites.
For example, when we needed to change the dates of our tickets, we just needed to contact the airline directly to make the changes.
When to book your flight from Paris to Kuala Lumpur ?
You probably know the answer: as soon as possible!
The earlier you get started, the better your chances of getting the best rates.
Holidays and school breaks should be avoided, if possible.
From mid-August for the first price reductions
If you want to come this summer, generally the best prices will be offered from mid-August.
As you can all imagine, ticket prices in July are expensive.
Which airline to choose for the flights PARIS – KUALA LUMPUR ?
We are going to base ourselves on our personal experience.
We have never had any problems with the following companies:
Turkish Airlines,
Emirates : but the prices have increased too much in the last years, and the service is not as good as before, but it is still ok.
Etihad,
Qatar,
Singapore Airlines: probably the best for us, but also the most expensive.
Saudia Airlines. At the moment, Saudia Airlines is the company that generally offers the best fares. The quality of their airports (Jeddah and Riyadh) are however, well below other airlines.
Malaysia Airlines flights are operated by other companies such as Qatar Airways, Turkish Airlines, etc.
How to get around in Malaysia
Getting around by car, over long distances: rent a car in Malaysia
The car is our preferred means of travel:
much less stress,
less tight timing,
cheap gasoline (0.40 € currently for gasoline),
very economical if you travel with several people, and if you share the costs.
You can rent a car.
However, you should not forget to take a toll card / parking.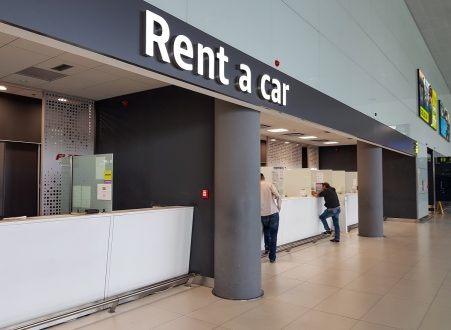 Rent a car with a local agency
You can search for local agencies, directly on google map, and you compare reviews and prices: check all the details, including insurance, and take pictures of the vehicle before signing.
Prices vary greatly, but so does the quality of the cars.
So take the time to compare.
Rent a car with an international agency
Otherwise, you can use international agencies such as Hertz, Avis, etc.
The prices are higher, but the cars are generally much newer.
You can find the agencies especially at the airport.
Rent a car via apps
You can also use the SOCAR application, which allows you to
rent a car in Malaysia
You can also use the SOCAR application, which allows you to rent a car in Malaysia very easily.
Again, compare prices and don't hesitate to look for promo codes.
SOCAR offers regular promotions.
There are other applications but we won't give them all: some are good, others not so good.
You can find them on the PlayStore or AppleStore.
Getting around by car, for a short distance: cabs and GRAB
GRAB, the most used application
The easiest and fastest way is to use the GRAB application, which is the equivalent of UBER in France.
You will choose the method of payment when you make your reservation.
You can enter your credit card and pay for the shopping automatically.
You can also pay in cash.
This application is indispensable, because it is not only used to rent a car, but you can also order food, or have packages delivered, etc.
AIRASIA, an excellent alternative to GRAB
With the AIRASIA application, you can book flights, but also use it to find a car.
The advantage of this application is that you can book a car for a trip in advance: this is great if you want to plan your trip the next day, or in the middle of the night, if you have to go to the airport at unlikely times for your return flight.
The rates are also slightly cheaper than on Grab.
Travelling by bus: an economical and easy way
The bus is also a very good solution.
You can book on different websites like :
Easybook. It offers not only buses, but also ferries, trains, flights, etc. – https://www.easybook.com/en-my/bus
BusOnlineTicket. Same as above – https://www.busonlineticket.com/
There are other sites, you can look on Google.
Don't hesitate to look for the coupon codes either. They offer them regularly.
Travelling by train: an excellent alternative to flying
You can also travel by train.
There is for example the company INTERCITY, or ETS TRAIN which offers an excellent business class:
Free Wifi,
Touch screen with games, movies etc.
USB and electrical socket, to recharge your phone for example,
Coffee, lunch and/or snacks included,
Prayer room, etc.
ETS Train leaves from KL Sentral and can reach Padang Besar, which marks the border between Malaysia and Thailand.
All the details on their website : https://online.ktmb.com.my
Travelling by air
You can use Airasia for domestic (and also international) flights.
This is the fastest way, and the most economical if you book in advance.
There are also regular coupon codes, like a few days ago: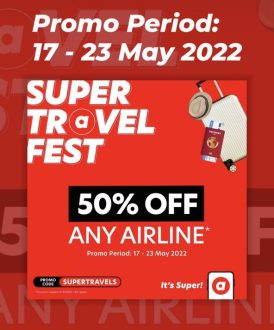 Which hotel to choose? How to choose your accommodation in Malaysia?
Here are some guidelines and advice for choosing your accommodation in Malaysia.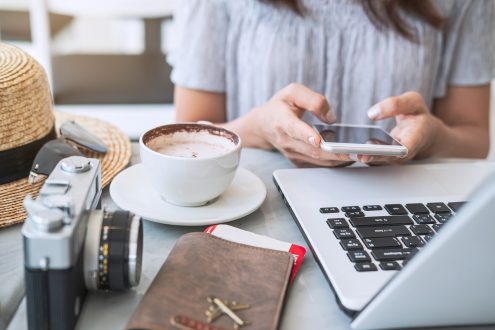 When to book hotels in Malaysia?
Many people ask us if we should book in advance or not?
It will depend on your personal situation:
What date? high or low season ?
Are your standards high or low? Are you demanding?
Unlimited or tight budget?
With family or alone?
For us, since we travel with family and/or a group of friends, we always book in advance.
This avoids any stress, and to get rid of this task: we can spend hours to compare and days before booking…
Which hotel booking sites?
There are many ways to book your hotels.
We won't go into details but we will share with you the sites we use most often:
Booking.com
Agoda.com
Traveloka.com
Airbnb
How to pay less?
Several solutions are available, but nothing is guaranteed:
Consult local agencies, which may have better rates in some cases.
Check the hotel's website directly: some offer packages that may be more advantageous, especially for island accommodations.
Sign up for hotel group loyalty programs, and get promotional codes by email.
Use CASHBACK programs, like iGraal etc.
Check out the private travel sales.
Travel in group: rent villas or large apartments for several people and share the costs. This can be a great deal.
Book FLIGHT + HOTELS: it is important to compare the offers, and you can get lower rates if you choose this option, depending on the period and the hotels.
Book from the application: it can have promo codes on hotels.
Take cash ? Which bank card?
Cash or credit card / visa / Mastercard ?
To spend money in Malaysia, you have the choice between using cash or using your bank card.
We advise you to always have cash on you, and to have one or two bank cards.
Why have cash?
For example, to enter some islands, you have to pay an entry tax. They may only accept cash.
Some grocery stores or stores do not accept credit cards, although this is becoming increasingly rare.
Your French bank card may be blocked for X reasons, and you should always have an immediate solution available.
Where to change euros into ringgit?
There are many "Money changer" (exchange office).
Not all of them apply the same rate.
Some also charge high commission fees.
We generally advise against the airport, whether in Malaysia or elsewhere.
At worst, if necessary, change the minimum possible. Then change the rest in town.
Our tips for changing your money in Malaysia
We will list some addresses below, to change your euros into Malaysian ringgit.
Always check the exchange rate of the day before deciding anything, then compare on your own.
Also check if they don't charge you extra for currency exchange.
The best currency exchange offices in Malaysia
Here are some addresses of currency exchange offices in Kuala Lumpur:

Max Money
. They have 2 exchange offices. The advantage is that they have a website, with the current exchange rates, so no bad surprises. You can compare their rates with the current exchange rates immediately.
As an example, the current exchange rate is 1 Euro = 4.69 Ringgit.
If you go to their exchange office, in the MID VALLEY shopping center, the exchange rate will be 1 Euro = 4.652 Ringgit.
MV Forex. You will find a currency exchange office in the same MID VALLEY shopping center.
My Money Master. Likewise, you will find a currency exchange office in MID VALLEY.
Vital Rate, on Bukit Bintang: opinions are divided, so take the time to compare.
Placid Express Sdn Bhd, at Central Market.
You can also use a
online comparator
which will give you all the exchange rates of the exchange offices in KUALA LUMPUR.
Then choose according to your location.
Don't drive miles just for a few cents difference either: it probably wouldn't be worth it (cost).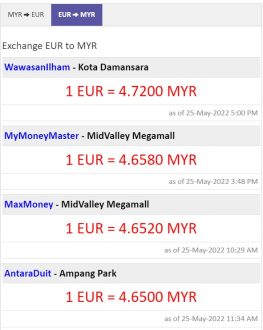 Which bank card is used in Malaysia?
Before arriving in Malaysia, check with your bank to make sure that your credit card is unlocked for international transactions.
Some banks leave international restrictions (as a security measure) by default.
Remember to keep your bank's emergency phone number in case of theft or loss, so that you can stop the payment.
2 bank cards are better than one
Personally, we prefer to use 2 bank cards.
A first bank card associated with our MAIN bank: your millions of euros rest in this bank. This bank card has a very "high value".
A second credit card, with only the funds needed for your trip. This bank card is associated with your secondary bank. If you ever lose it, or have it hacked, you will minimize the damage, if you do it right.
Which banks do we choose?
There are a multitude of banks, including online banks.
As our main bank, we used to use (which is no longer the case, as we now live in Malaysia, all our French banks have been closed) HELLO BANK, which is the online bank of BNP Paribas. Why? Because it is very simple to contact them (compare to Boursorama, at the time), and notifications are immediate.
It's very easy to make a transfer from their application to your secondary bank. And it's immediate. Check on your side though, as we no longer use these banks as of 2020.
As a secondary bank, we advise you to
WISE
. The credit card is free (you only pay the shipping costs). The management of the account is free. Their application is perfect. They offer excellent exchange rates. But be careful, don't use it as your main bank (we won't go into details). At the time, we were also using N26, but since then, many problems exist with this bank (see google). It is still usable as a backup solution, but never put all your money into these types of bank accounts.
With Wise, you will be able to convert euros into ringgit immediately, via their application.https://wise.com/u/0106251
When we needed to spend money (paying at a restaurant for example), we used the Wise bank card.
There are no additional fees when we pay merchants directly with our VISA WISE card.
Need help to prepare your trip to Malaysia?
You want to go to Malaysia but you don't know where to start?
Are you traveling with your family or a young child and have many questions?
If you are lost, and need help to organize your vacation in Malaysia, we offer two services for a fee.
You will find all the details by clicking on these services below.