Salam alaykoum to all, hello to all,
I am writing a short article to share some information about ZAKAT in Malaysia.
Today is May 9, 2021, and it is the 27th day of the month of Ramadan 2021.
This may be of interest to some people who have the goal of making hijra Malaysia.
ZAKAT EL-FITR : Why? for whom?
Remember that the ZAKAT EL-FITR is an obligatory alms for all Muslims.
Often translated as "purifying tax" or "breaking alms" (also marking the end of the month of Ramadhan), the ZAKAT EL-FITR must respect several conditions: the time, the recipient, the quantity, the amount, the persons concerned by the obligation, etc.
We are talking about the ZAKAT EL-FITR: you can of course give donations to non-Muslims without any worries, at any time of the year, of any amount or other, but it will not fit into the Zakat el-fitr box.
There are differences of opinion as to how it should be given: in the form of foodstuffs? with money?
I invite you to direct yourself to the people with the religious skills to give you an answer.
On our side, in Malaysia, we distribute it in the form of foodstuffs.
We pay it through an official organization, which will then use the money to distribute food.
Here, it is usually rice.
There are also 3 qualities of rice offered, which we will see below.
ZAKAT in Malaysia : How to pay? Where to pay? How much is it?
Who to pay?
This year 2021, we have decided to pay the ZAKAT directly through a site in Malaysia : zakat2u.com.my
The site is in Bahasa Melayu. You can use google translation if necessary.
You must register on the site.
You can also pay the ZAKAT to the staff managing the mosques: it will be necessary to be precise as for the nature of the donation, not to have any misunderstanding. Generally, at the mosque, you can find different boxes for donations. For example, a box for Ramadan meals, for the imam, etc.
You can also pay at :
your local bank (if it offers this service).
people in booths in different public spaces (like you can find in the mall, KLCC for example)
at the post office, etc.
as everywhere else, to Islamic associations: we did not have time to check all the details concerning these associations.
Tax deduction
You will then receive a receipt, which can be used for your tax return (here in Malaysia, there is a special ZAKAT box in your tax return).
Example for ZAKAT AL-MAAL and ZAKAT AL-FITR
Here is the receipt for the ZAKAT AL-MAAL:
You will have to calculate it yourself, depending on your personal situation.
Then you enter the amount to be paid.
Regarding the tax deduction, I don't have all the details yet about the limits etc. (if any).
NB: When you will have to pay it, there will be several types of Zakat to select: Zakat on the salary, Zakat on the company, on your savings, on your gold, on your silver, etc.
As for the payment of the ZAKAT EL-FITR, as mentioned above, you can choose 3 different amounts, which correspond to 3 qualities of rice ("Kadar Fitrah"):
RM5, RM7, and RM14 (i.e. 1€, 1.4€, 2.8€)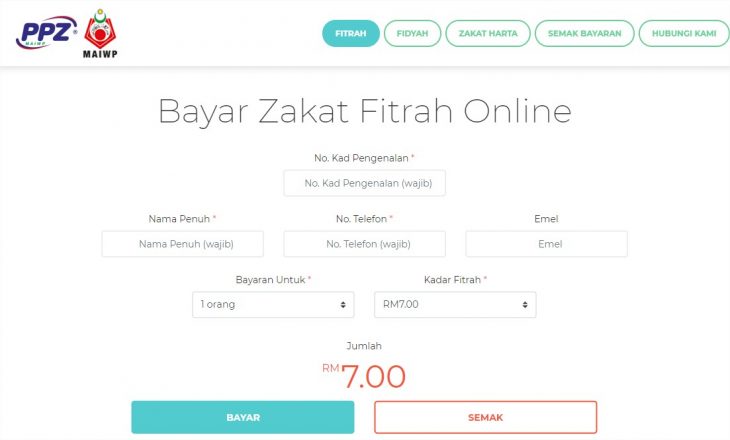 You can also choose the number of people(Bayaran Untuk).
1 orang : one person
2 orang: two people, etc.
Payment is then made either by FPX or by credit card.
FPX is a very popular online payment method in Malaysia: you will be redirected to your Malaysian bank and you will be able to log in with your login details, to validate the payment immediately. Generally, you will have to validate the payment with a security code that you will receive on your phone number.
You will then receive an official receipt.