TOP 6 best beaches in Langkawi
Our TOP 6 Langkawi beaches: which beach to choose?
Our TOP 6 best beaches in Langkawi
We had the opportunity to travel several times on Langkawi, between 2009 and 2022. With friends or family, in December or in March.
That's why we decided to share with you our ranking of the best beaches in Langkawi.
We also share with you in this article, several recommendations for a successful vacation on Langkawi.
Langkawi : when and how ?
How to go to Langkawi ?
The easiest way is to fly from Kuala Lumpur.
You can make reservations for example on airasia.com
There are other companies, also from other airports.
When to go to Langkawi?
The best period, according to the theory, is between November and March.
This is the driest period, but there is no guarantee that you will avoid rain: the weather is never predictable in advance, it remains random.
Langkawi, in summer, is it possible?
In theory, this is not the best period because you will be in the middle of the monsoon Malaysia.
However, the island remains accessible, and many holidaymakers choose these months for a vacation on Langkawi.
Just be prepared for a little (or a lot) of rain: nothing is predictable in advance, you all know that already!
Our ranking of Langkawi beaches
Our beach ranking is purely personal, as usual.
We have stayed several times on the island of Langkawi, and we decided to establish a ranking of the beaches of this island.
First of all, you should know that Langkawi is not known for the most beautiful beaches in Malaysia.
We can find, despite everything, some "correct" beaches.
In our opinion, if you are looking for the most beautiful beaches in Malaysia, it is not on Langkawi that you will find them.
Number 6: Pantai Datok Syed Omar
It is a beach in the southeast of Langkawi.
We had stayed at the Westin in Langkawi, and we were able to enjoy this beach.
The beach is "OK" but nothing extraordinary.
Moreover, few people bathed there.
The majority preferred to use the pools at the Westin, a hotel we recommend.
You will also find The St Regis next door, with its Pantai Beringin beach, which is identical to that of the Westin.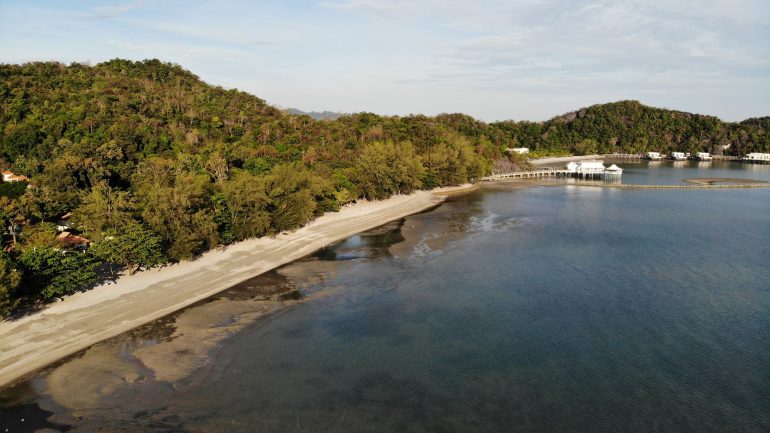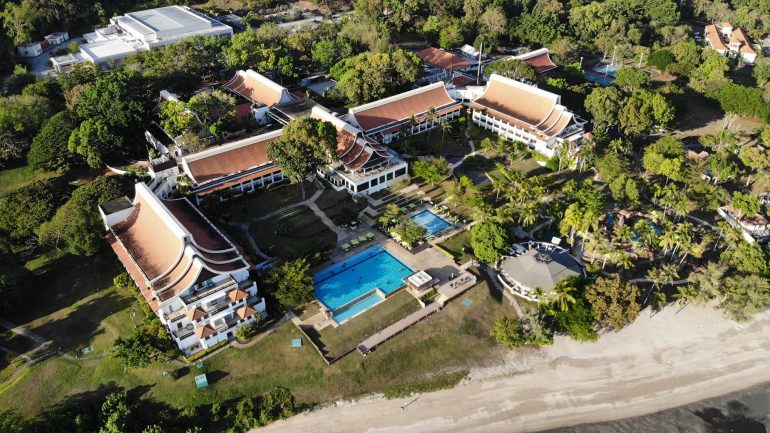 Number 5: Pantai Kok
This beach is located near the Langkawi Skybridge.
We were able to enjoy this beach because we stayed at The Danna Langkawi, a beautiful hotel, perhaps one of the most beautiful hotels we have done at our level.
This beach is close to the Berjaya Langkawi Resort.
The beach is correct.
Again, we preferred to enjoy the beautiful hotel pool, which is right on this beach.
A tip for mothers: it is possible to hire a nanny to look after children of all ages.
Parents of newborns, for example, will be able to enjoy the beautiful surroundings and rest.
Number 4: Pantai Cenang and Pantai Tengah
These are the most famous beaches of Langkawi.
We preferred to group them together, because these two beaches are located in the same place.
They are stuck together, and run along part of the west coast of Langkawi.
The advantage of this area is that you will find many restaurants along the beach.
You will also find a French creperie: My French Factory.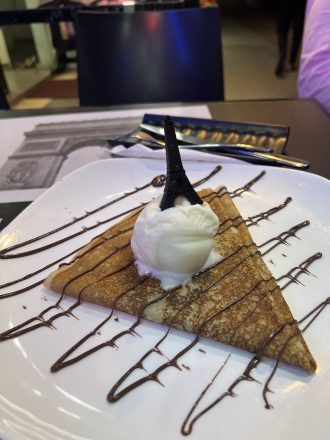 You can also do many activities including jet-skiing, and shopping.
If you prefer a quiet place, Pantai Tengah is more quiet than Pantai Cenang.
You will also have a nice view of the sunset.
In the evening, it is the most animated area of the island.
Some people stay almost only at this level of Langkawi.
We recommend renting a car and driving around the island.
Number 3: Pantai Tanjung Rhu
This beach is located in the north of Langkawi.
It is a long beautiful beach.
If you do the Mangrove Tour, this is where you will usually start.
You will also find the best rates for this kind of excursion directly at this level.
Also in this area, you will find the Four Seasons, a beautiful hotel that we recommend.
The price is not cheap but, like THE DANNA, it is worth the detour.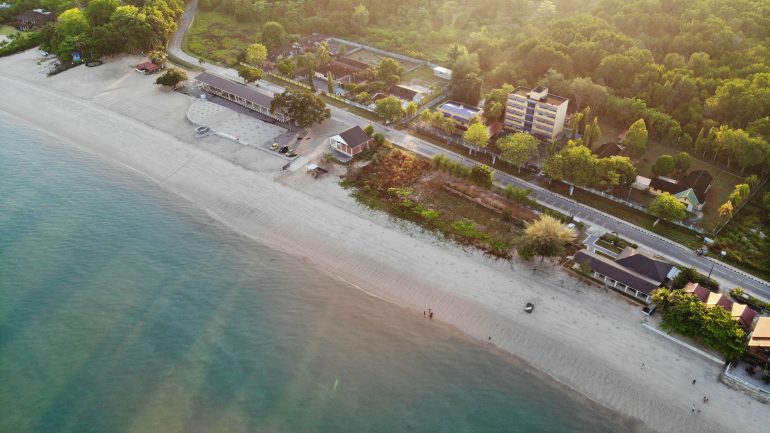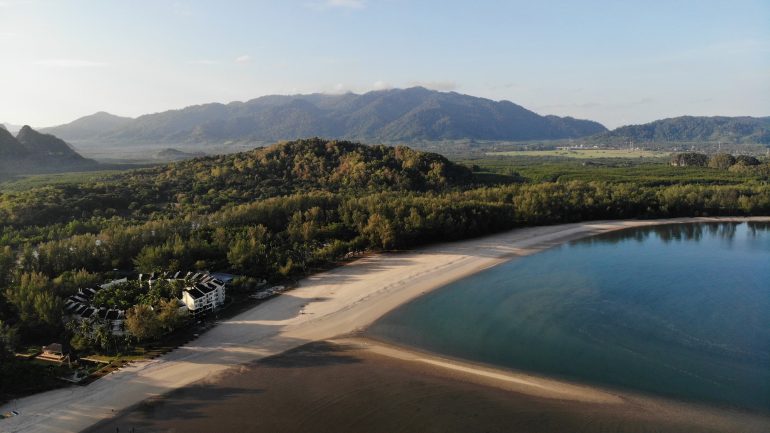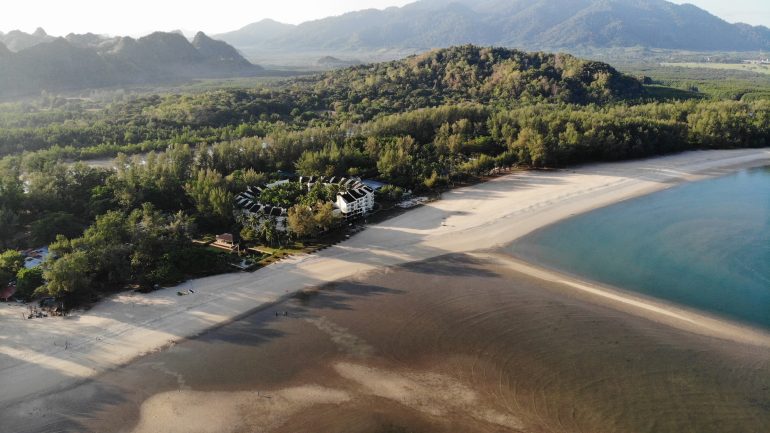 Number 2: Pantai Pasir Tengkorak
This is a very small beach, still in the north of Langkawi.
This is our favorite beach on the island of Langkawi.
There are few people, the water is clear, and the sand very pleasant.
On the other hand, probably as a result of the covid, the place seems totally abandoned: the lodgings are abandoned, the toilets and showers are unusable.
If you go here, bring a small picnic basket or something to snack on.
Number 1 : Pulau Beras Basah
Finally, the nicest beach in Langkawi, for us, is Pulau Beras Basah.
Yes, you will have to take the boat, but it is very simple and fast.
This beach is much more beautiful than all those mentioned in our ranking.
You can stay there all day: you will find some activities and some restaurants.
It is best to go by private boat, not via group tours.
You will then avoid the crowd, and will be able to enjoy the island more peacefully.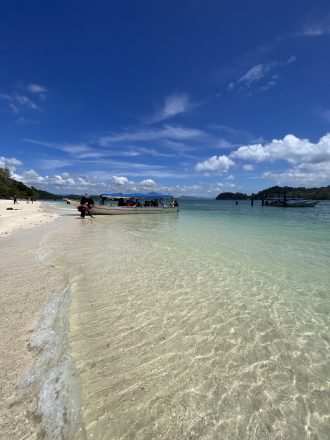 Other beaches
Teluk Datai : a beautiful private beach in the north of Langkawi
This beach is located in the north of Langkawi.
It belongs to the hotel THE DATAI.
We could not test this beach because it is a private beach.
The access to the beach was not possible without any reservation of a room (very high price, out of our budget): during our stay in Langkawi, the beach was exclusively reserved for the customers of THE DATAI (one of the best Langkawi hotels).
Normally, it is possible to enjoy the beach if you come to consume (dinner, lunch, bar, etc.), subject to availability.
Paradise 101 : a private island west of Langkawi
Langkawi has about 104 islands. This is one of the private islands among others.
It is easily accessible, either by booking a tour or a package via the paradise101.com website
Shark Bay Beach (Teluk Yu)
Small beach in the north of Langkawi, nothing extraordinary either.
You won't find any sharks there, don't worry.
This beach is quiet and relaxing.
Ideal if you want to rest far from the crowd.
Black Sand Beach (Pantai Pasir Hitam)
This beach is a black AND white sand beach: it is not a black sand beach as one would expect…
It is located north of Langkawi.
You will find few people there.
You can walk from Tanjung Rhu beach to this beach.
Personally, we do not find any interest (as a tourist in search of beautiful beaches) to go there.
Our advice
As usual, if you want to avoid the crowds, you should prefer weekdays, except for school vacations and public holidays.
Remember to book in advance, especially if you choose the high season.
Apart from the beaches, you will find many other activities to do with your family or alone, or even as a couple.
The island is very active, and especially very cheap, if you organize yourself properly.
The beaches are certainly not not the most beautiful in Malaysiabut Langkawi is very easy to accessIt can easily be integrated in a tour between the south of Thailand and Malaysia: you will find indeed, maritime connections between Koh Lipe (Thai island) and Langkawi, but also between the Thai land and Langkawi.
Moreover, if you are looking for a beautiful beach, we highly recommend KOH LIPE!
Some recommendations for Langkawi
Some beaches have few shaded areas: bring an umbrella for the children, and above all sun cream.
Some beaches do not have eating facilities: bring something to eat if you plan to stay part of the day.
Renting a car is the best option if you want to discover all these beaches.
Useful links
For personalized help and customized vacations in Malaysia
If you wish to be accompanied in your organization of vacations in Malaysia, we also propose our services of assistance and advice.
We help you to organize and create your tour in Malaysia: you will save time and avoid making mistakes.