Looking for a student room in Malaysia in a shared apartment
Looking for a student room in Malaysia in a shared apartment
You are a student and you have decided to continue your studies in Malaysia?
Great, you have a good choice!
Now you will have to move on to the next step: preparing for your arrival in Malaysia, organizing your expatriation to Malaysia and looking for an accommodation in Malaysia.
You probably have a very limited budget, and looking for a shared student room in Malaysia could be a good solution for you.
We are going to give you some information on how to come and study in Malaysia and how to find a shared student apartment.
Where and how to look for a shared student room in Malaysia?
There are many sites to search for a student room in Malaysia.
You will obviously have more choice in the capital Kuala Lumpur and its suburbs than in the provinces.
Indeed, if you have decided to study in Malaysia, you must have seen that the majority of schools and universities in Malaysia, are mainly located in Kuala Lumpur.
Find a student room via search sites
We have selected the following websites to help you find a student room in Malaysia.
On these sites, you can also search for apartments in Malaysia, if your budget allows it.
Propertyguru
The propertyguru.com website. The best would be to use the application on your phone. You can select"ROOM" in your search criteria. On the computer version, this option does not appear. However, you will be able to search with a price filter.
Generally, a decent room in Kuala Lumpur, neither too big nor too small, will run between RM500 and RM900 (which is about 100 to 180 euros per month). So you can put in your search filters, a maximum price of RM900, and the searches should show rooms.
For example, below, a search for a maximum budget of RM900 (180 euros), on Kuala Lumpur, displays more than 1200 results.
Note that this research was conducted on June 4, 2021, during the COVID.
Since the "end of COVID", prices have generally risen again.
Ibilik
The word "bilik" in Malay, means "room".
The ibilik.my website: you can focus your search on rooms. There are many more filter options. For example, you can choose the type of room (Master Room, Middle Room, etc.).
The ads will also display information that could be very useful for roommates: Muslim only, or Chinese only, or female only, etc.
Roomz.asia
my.roomz.asia : the website offers apartments, short term rentals, but also parking spaces or event rooms for rent in Malaysia. There is also a category to search for roommates, but the choice is not really huge. You can take a look at it, it costs nothing, you never know!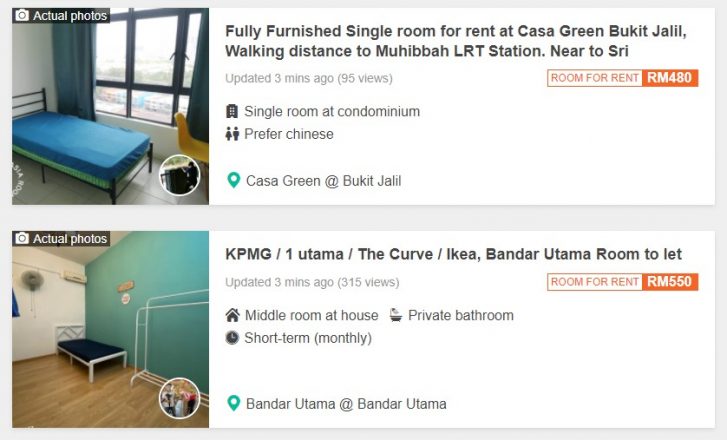 Mudah
The mudah.my website is the equivalent of leboncoin.fr in France.
You can also find rooms for rent.
There are many more offers from individuals on this type of site (unlike the previous sites) : you may be able to find interesting offers.
Nevertheless, be careful not to fall for scams… You must always be vigilant, whether in Malaysia or elsewhere!
A search for rooms in Kuala Lumpur, for example, displays more than 5,000 listings: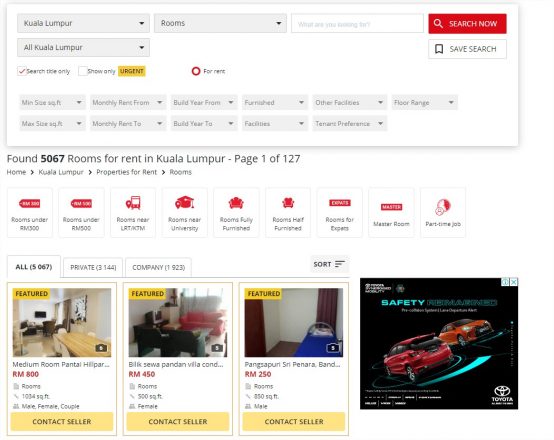 Find a roommate via Facebook
Facebook is widely used in Asia, especially in Malaysia.
You can find groups for apartment or room rentals in Malaysia.
Just do a search on some keywords like "room kuala lumpur", or "room malaysia" and you will get several results.
For example the following Facebook groups:
Room For Rent In Kuala Lumpur 找房间
Condominium & Room for rent in KL and Selangor
Room For Rent / Bilik Sewa (KL & Selangor) | 租房 (吉隆坡 & 雪兰莪)
Rooms For Rent – Klang Valley – KL & Selangor 雪隆区 房间出租
You will find a lot of real estate agents' ads on these pages.
On what criteria to rent a room in Malaysia?
The location
This is the number one criterion.
Indeed, being close to your university or school is an undeniable advantage.
You will save on travel time, but also on your monthly budget.
It's a daily comfort!
Therefore, you will have to weigh the pros and cons with the other search criteria in order to make the most judicious choice, according to your personal situation.
Being close to a commercial area can also be very interesting.
Otherwise, having a grocery store or mini-mart (7 eleven, 99 mart, etc.) right down the street is a great convenience!
The area
You will spend most of your time between school and your room.
Having a large room is part of the great comfort, but for tight budgets, you will probably have to fall back on the other types of rooms in the apartment.
In condominiums, you will find apartments with several rooms, not necessarily identical.
You will have rooms of different sizes: the "Master bedroom", the "Middle bedroom" or for some apartments, the "small bedroom".
The Master usually has a private shower/toilet.
For the other rooms, this is not necessarily the case: you will have to share these common spaces.
Hence the importance of roommates.
Roommates
We could put it in TOP 1 of the criteria.
Indeed, sharing your daily life with people who are in the same state of mind as you, is essential for your well-being!
Imagine for a moment being in a luxurious apartment, but with 2-3 roommates you don't like…
Unfortunately, you won't get to know, or at least get to know your roommates well before living with them for several months.
However, in the ads, you can search on different criteria that could be interesting indicators.
For example, it is common to see apartments reserved only for Chinese, or Malays, or Arabs etc.
Other apartments will be mixed, others for men only, and others for women only.
The comfort
If you have a large budget, you can easily indulge yourself.
You can opt for the largest room, or for the room with a balcony / terrace, or have a private shower room, etc.
The rooms are generally all furnished: check the condition of the furniture, and particularly the bedding (personal hygiene…).
Also check the common areas: the kitchen, the living room, and if the apartment has a washing machine for example, etc.
Outside of the apartment, if the gym or pool are part of your daily needs, it is worth checking out these amenities.
Check the opening hours and details of the rules, etc.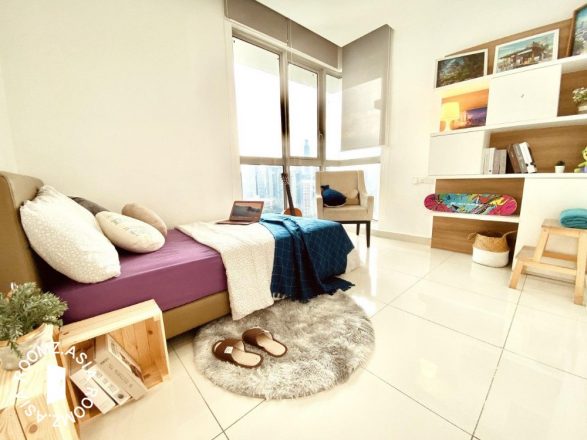 How much does a room in Kuala Lumpur cost for a student ?
Student room in Kuala Lumpur and Selangor
On average, you will be able to find rooms between RM500 and RM1000 per month (100 to 200 euros per month).
TheMaster Bedroom is the largest room, and usually has its own private shower and toilet. This is the most expensive room in the apartments.
If you are a student couple, or if you get along very well with a close friend, you can even rent it to 2 people (there will probably be a small extra charge requested by the owner).
The"Middle Bedroom" is the medium sized room. You can also find some with a private shower room, but the majority will not have one.
You can also expand your search to the "studio", but this is more for higher budgets.
For very tight budgets
If your budget is really limited, you have several options:
You can get away from Kuala Lumpur.
You can look for another roommate and share a Master Bedroom.
You can reduce your comfort to a minimum.
You will find rooms between RM200 and RM300 (40 to 60 euros per month).
For example, here is a room at RM250 (50 euros per month):
What you should pay
If you rent a room in Malaysia, the charges are usually included: always ask the owner / real estate agent for confirmation.
However, if your room is equipped with air conditioning (A/C), you will be responsible for these costs.
The fees that are usually included are electricity (except for air conditioning), water, broadband internet, and access to the various services of the condominium (gym, pool, etc.).
Some apartments include a package for Netflix etc.
Before signing, some landlords may ask for an advance of 1 or more months.
Others do not ask for any "Deposit".
Our advice for finding a student room
Be patient (but not too much): you will find many rooms available, especially in Kuala Lumpur. There is no "shortage" as in many capitals in the world.
Keep in mind that you are here to study: you can quickly be distracted by other occupations or "create" other priorities and your final choice could be influenced in the wrong direction.
It is better to rent through a professional real estate agent than a private one, especially if you don't want to take risks: there are no agency fees for you.
Before signing, do some research on the condominium on Google or Facebook: you will be able to find interesting information, especially in the Google reviews and ratings.
Having a trusted person on site can be very useful: if you are doing your research from your country of origin (France, Algeria, Morocco, Senegal, etc.), you can ask this person to come and do the visit for you.
Read also
We also offer a service to help you find your apartment in Malaysia, remotely.
We take care of contacting the real estate agents, then we will make the visits for you.
We will then provide a 15 to 30 minute video (depending on the size of the property) within 48 hours of the visit.
You save time and reduce stress!