Flight Paris Kuala Lumpur Saudi Airlines
Flight Paris – Kuala Lumpur with Saudi Airlines : our advice
If you are planning to travel to Malaysia in the next few days, here is an article with some recommendations from us, following our personal experience.
We are going to share with you our return on our flight from Paris to Kuala Lumpur with Saudi Airlines, in July 2022.
As usual, you will find a detailed video on our Youtube channel.
Flight Paris – Kuala Lumpur : Why Saudi Airlines ?
Many of you have chosen Saudi Airlines, which offered (and still offers) the best prices between France and Malaysia.
We have also shared with you through our various social networks and our Youtube channel, these good plans FLIGHT PARIS KUALA LUMPUR, in March and April 2022.
Prices were around 460 euros round trip, even for the month of August!
A month later, prices have risen to more than 800 euros a round trip, for the same flights, on the same dates.
This is not the first time we flew with Saudi Airlines, so we chose this company, especially for the low prices offered.
Especially since we had an exchange or refund guarantee for our tickets at no cost, at the price of saving money.
Our flight Paris CDG – Kuala Lumpur in July 2022
This trip took place in July 2022: a very busy period, but above all with many problems in various European airports, especially in France, at Paris CDG.
Paris Roissy CDG : between strike, lack of staff, and large crowds
If you have been following the French news, you are surely aware of the many current problems atCDG Paris airport.
Undelivered or lost luggage, strike, lack of staff, post-covid activity, you can easily guess: travel at the moment is more difficult than in "normal" times.
Even more difficult to manage when you travel with your family in Malaysia, with young children, as it is our case.
In order to facilitate this long journey, here are some recommendations.
Before going to Paris Roissy CDG airport
We have already detailed the prerequisites for travel to Malaysia during COVID in another article and a Youtube video.
We invite you to read and watch the video if you have not already done so.
In summary, before you go to the airport, check the following:
You are fully vaccinated
You must download the MySejahtera app, register, and upload your vaccination certificates. Vaccination status on the application should read FULLY VACCINATED. This will be verified by the check-in agent, when you go to check in your luggage.
You are not vaccinated or partially vaccinated
You must download the MySejahtera application, and register. Your vaccination status on the application will indicate "Not vaccinated" or "Partially vaccinated". You will need to show your negative PCR test.
As a reminder, if you are not vaccinated, you will have to undergo a 5-day quarantine (self-isolation, in the place of your choice). This will not be the case for the fully vaccinated.
In both cases, you will also have to fill in the "Traveller Card" section on the MySejahtera application. This is a series of questions (flight number, date, vaccines, etc.). You will only be able to answer them within 7 days before your flight. It will take you 5 minutes to do it.
Remark :
At no time in Malaysia did the authorities check our vaccination status, nor our Traveller Card.
The only control was done at Roissy CDG airport, by the check-in agent.
All set ? Direction Roissy CDG airport: our advice
At this time, we absolutely recommend that you arrive at least 4 hours before your flight takes off.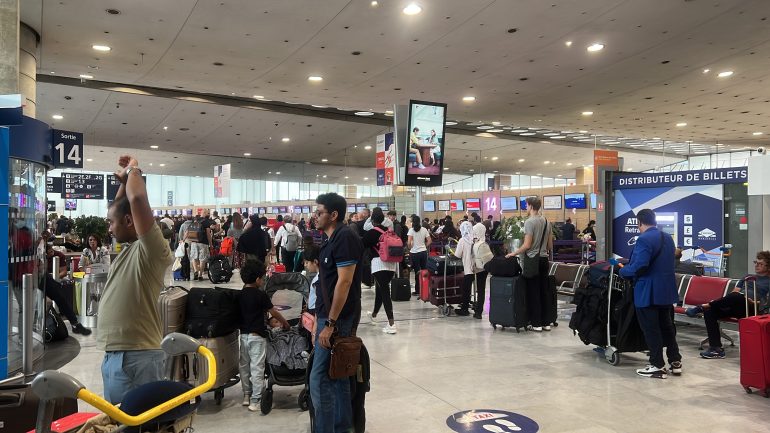 At Roissy CDG, you will have to be patient.
There are many travelers. Between the strike, the lack of staff and this very busy summer period, we strongly recommend that you come early.
If you are traveling with Saudi Airlines, your departure terminal is normally Terminal 2C.
The wait will be long at the registration level, but especially at the immigration level, after you have registered.
Another tip: if you are traveling with your family, be sure to pack everything you need during this long wait. With a newborn baby (as for us), think for example of traveling with a stroller compatible with the cabin, like the Yoyo stroller. Don't forget to prepare bottles and bring enough diapers etc.
Advantages and disadvantages with Saudi Airlines
We will share with you our opinion on the company Saudi Airlines.
This is not the first time we have chosen this airline.
Benefits with Saudi Airlines
Here is a list of some of the benefits:
The very competitive price: we have clearly not seen better fares than those offered by Saudi Airlines.
Short stopover: we have booked far enough in advance, to be able to get the best rates with the shortest stopovers.
Muslim" company: for those concerned, it is always more comfortable to travel with a company that provides a prayer area in the plane, as well as halal meat, and does not serve alcohol.
Very pleasant staff: during all our trips with Saudi Airlines, we were always welcomed by the cabin crew (steward and stewardess).
The disadvantages with Saudi Airlines
As with any airline, we can point out some negative points:
The biggest disadvantage, compared to competitors such as Emirates, Qatar or Turkish Airlines, is the airport in Jeddah (or Riyadh). Although Jeddah's airport is new, it is much smaller (for now) than these other competitors. However, between 2020 and 2022, there is clearly a clear improvement (work is progressing well).
The wifi is also a big weak point: it works only rarely and randomly.
Customer service by phone or email: if you need to change your ticket, or if you need information, it is very difficult to reach the customer service. To change our ticket, we had to wait more than 30 minutes on the phone: it's really random, and you have to avoid peak hours.
Delays. We were more than 2 hours late. The flight history also shows frequent delays.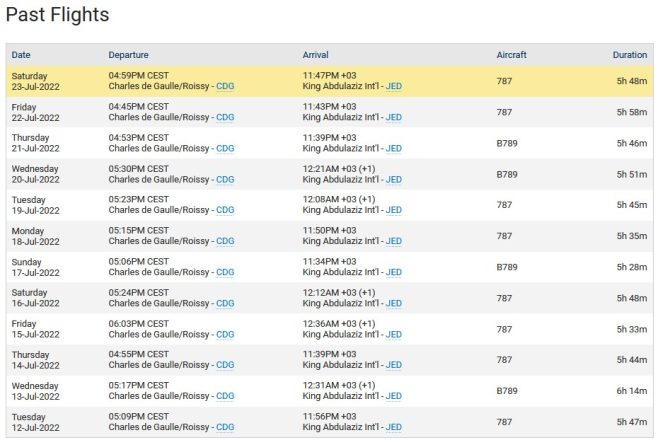 How to book your flight Paris Kuala Lumpur ?
Do a first search on Skyscanner, and check which company offers the best rates.
Then, we always book with the company directly.
Even if there can be price differences of about 50 euros with the flight comparators, we always prefer to book on Saudia.com.
By experience, we always had the best prices directly on the site, than via the flight comparators.
Conclusion: do we recommend Saudi Airlines?
Personally, yes, without any hesitation.
The stopover is almost halfway and also allows for a comfortable break:
Paris – Jeddah: it takes about 5h30-6h flight
Jeddah – Kuala Lumpur: the flight will last around 9 hours
Our favorite airline is still Singapore Airlines, but the prices are much higher.
Here, Saudi Airlines wins the battle with its competitors, thanks to the fares it charges.
The other airlines are also of good quality, notably Qatar Airways and Turkish Airlines.
And you, which company do you prefer?
Need help to prepare your trip to Malaysia?
If you wish to be accompanied to prepare your trip to Malaysia, we offer two services to help you.
Ideal if you don't know Malaysia at all, or if you don't have time to take care of all these tasks (itinerary research, hotel research, flight research, etc.)
A tailor-made help for a Tailor-made trip to Malaysia!